Coronavirus
Social distancing and mask wearing isn't limiting just COVID-19 spread, Baker says
"Germs don't have the ability necessarily to travel the way they have in years past."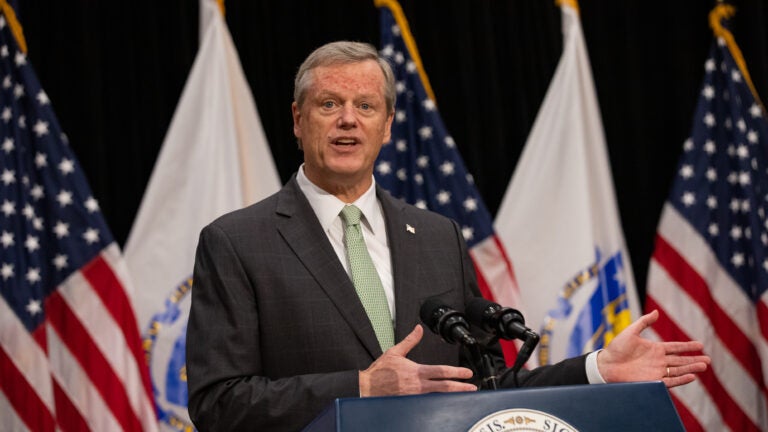 Social distancing is preventing more than just the spread of COVID-19.
The months that residents across the commonwealth have spent relatively hunkered down, keeping to themselves, and following a stricter hygiene regimen have also led to a dropoff in other, more common illnesses, according to Gov. Charlie Baker.
"Because people are doing such a good job in Massachusetts for the most part, around wearing masks and distancing and all that sort of thing, ear infections, sore throats, strep throats, traditional respiratory infections — a whole bunch of things separate and apart from COVID — are just way down," Baker said during a press conference on the state's pandemic response Wednesday.
To be clear, the phenomenon does not have to do with ailing patients fearful of approaching emergency rooms because of potential virus spread — a trend the state saw earlier this year, according to Baker.
"People aren't moving around the same way," the Swampscott Republican said. "They're treating each other differently. Germs don't have the ability necessarily to travel the way they have in years past."
When the pandemic hit New England in March, state officials ordered a halt to elective health procedures and in-person, non-urgent health care treatments — a move that was loosened under the reopening plan.
Since then, Tufts Medical Center has seen a "steady increase" in patients returning for those types of procedures, according to Jeremy Lechan, the hospital's media relations manager.
As a whole, Tufts has experienced a year-over-year decrease in ambulatory and Emergency Department volume, particularly in pediatrics, for August, Lechan wrote in an email. But whether visits dropped because demand declined or because many providers were on vacation is currently unknown.
"We will have a better sense later this month," Lechan wrote. "However, anecdotally, things like sports injuries and 'routine' infection activity does seem to be down — likely a direct result of mask wearing, hand washing and social distancing measures, as well as many cancelled sports activities."
Baker offered his insight in response to a question highlighting the Department of Revenue's August report, which showed the state collected $1.992 billion for the month — up $6 million or 0.3 percent more than actual collections during the same time last year, with the large majority — save for $13 million — set to be recorded for the 2021 fiscal year.
When considering the amount that can be counted toward the current fiscal year, however, the state recorded a drop in revenue last month compared to August 2019 of $7 million, or about .4 percent.
Throughout the pandemic, state officials have speculated tax collections for the 2021 fiscal year could drop between $2 billion to $8 billion from the previous fiscal year.
Baker told reporters Wednesday there are many "moving parts" to forecasting the economic landscape — including, for example, those visits to the doctor.
With fewer residents sick from common illnesses "health care expenses — which the commonwealth has a ton of, right? — are continually coming in below where we thought they would come in," Baker said.
"And there's just a lot of other elements to this that make it very hard … to say that this is an easy one to answer," he added. "It's not."
In August, state officials locked down a $16.5 billion interim budget to carry the commonwealth through the end of October as lawmakers assess the financial blow dealt by COVID-19 and consider what comes next.
"We'll know a lot more in 30 days than we know now," Baker said Wednesday.
Get Boston.com's browser alerts:
Enable breaking news notifications straight to your internet browser.