COVID
This Massachusetts town moved into the COVID-19 'red zone' this week. Here's why their superintendent is still reopening school.
"It doesn't take many cases to move one of our towns into the 'red zone.'"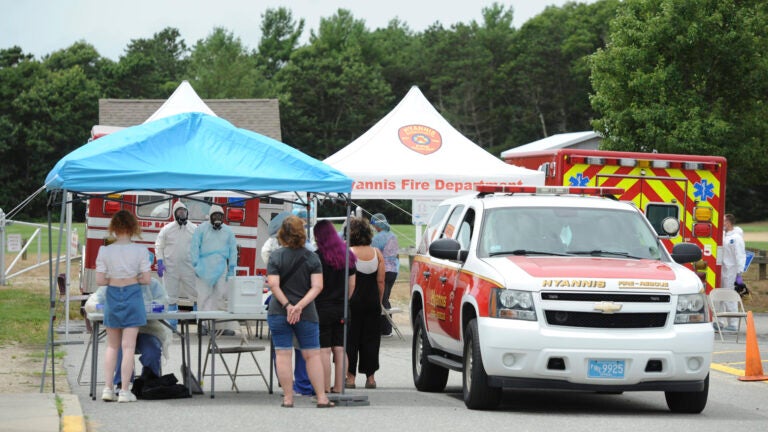 Gov. Charlie Baker has said he can't imagine a reason why the vast majority of Massachusetts cities and towns that fall into the state's green and white categories for lower COVID-19 risk levels wouldn't resume in-person school this month.
However, administration officials are encouraging those communities in the higher-risk yellow and red categories to stick with remote learning.
Not all of them are following that guidance.
Local school officials are planning to bring students in Chatham back for in-person classes next week despite the fact that the Cape Cod town recently moved into the red zone for more than eight COVID-19 cases per 100,000 residents, which state officials have said is a dangerously high rate.
In an email Thursday to families, Monomoy Regional School District Scott Carpenter acknowledged the new classification, but said the state's color-coded map "lacks context and isn't very meaningful" for smaller communities like Chatham.
Carpenter reiterated their plan to bring students to school beginning on Monday. The district, which serves Harwich and Chatham, is resuming full-time in-person classes for students in pre-kindergarten though seventh grade, while grades 8 through 12 will come back for face-to-face learning two days a week — though students in all grades do have the option of opting out into full-time remote learning.
"When determining whether schools should shift from in-person to distance learning, the state's Community-Level COVID-19 map is one important data point," Carpenter wrote. "Given the small size of our communities, it doesn't take many cases to move one of our towns into the 'red zone.' The most important metric that immediately will influence our response is whether a staff member or student who has been in our schools tests positive or whether there is evidence of community spread behind the shading in the state's map."
According to the state's weekly report, Chatham's prevalence rate for the last 14 days was up to 8.5 new daily cases per 100,000 residents, just above the high-risk threshold. The roughly 6,000-person town's overall current case count was 23 as of Wednesday.
Sen. Julian Cyr told the State House News Service that the uptick is "certainly concerning," but appears to be due to a COVID cluster "that is primarily among staff" at the local restaurant The Chatham Squire. While they have yet to pinpoint the exact origin, health officials reportedly believe the chances of someone who dined at the restaurant contracting the virus were extremely low.
And according to Carpenter, "none of the current cases being tracked in Chatham and Harwich are Monomoy staff, students, or close contacts to either."
"This is the second time this summer that a COVID cluster has been connected to generally seasonal workers in local restaurants," the superintendent wrote in his email Thursday, alluding to a previous outbreak in July tied to a party attended by restaurant workers.
"In both the previous and present cases, local health officials have emphasized that the incidents have been isolated and there is no evidence of community spread," he added.
Carpenter said that local health officials expect Chatham to "remain in the red zone this week and next" but return to the white category for less than five overall cases when the Sept. 23 weekly report is released.
Chatham's prevalence rate is a far cry from the number of cases in COVID-19 hotspots like Chelsea, Lawrence, Revere, and Everett, where students will begin with remote learning this year.
Still, the decision to move forward with in-person classes comes in contrast with other Massachusetts cities and towns that postponed in-person classes this week after ticking up — even if ever so slightly — into the red zone.
The city of Dedham announced this week that it would "indefinitely" postpone in-person learning after their average daily case rate increased to 9.7 per 100,000 residents. Officials counted 37 new cases over the past two weeks, which they mainly attributed to two clusters originating from "gatherings of young people in town, including a party attended by high school students."
"With such a significant increase in spread in the community, we need to be cautious and prioritize the safety of our students and staff," Dedham Superintendent Mike Welch said in a press release Thursday.
More similar to Chatham, the small town of Monson was also added to the red zone after 10 new infections tipped their prevalence rate up to 8.5 cases for 100,000 residents. Still, with a population of less than 9,000, it was enough for officials to delay school reopening for a week.
In a message to families, Monson Public Schools Superintendent Cheryl Clarke wrote that they are delaying in-person classes a week from this Monday, Sept. 14 until Sept. 21, if not longer — even though none of the town's 12 total cases are school employees or current students.
Noting that the town had recent recent large gatherings and that many people were awaiting pending test results, Clarke said school officials "will not take the chance that a person who attended a party or was exposed to someone who is carrying the virus enters our school buildings."
"We know that our students and staff were excited to be back at school and together again," she wrote. "We also realize this will pose a hardship for parents who have to arrange for childcare. However, the spread of the virus in town is beyond our control."
Get Boston.com's browser alerts:
Enable breaking news notifications straight to your internet browser.