Coronavirus
'A very, very, very panicky issue': Pandemic, environmental issues responsible for uptick in rat activity, officials say
"Rats traditionally have been the horror movie stuff ... quite frankly, I am very, very concerned about our uptick."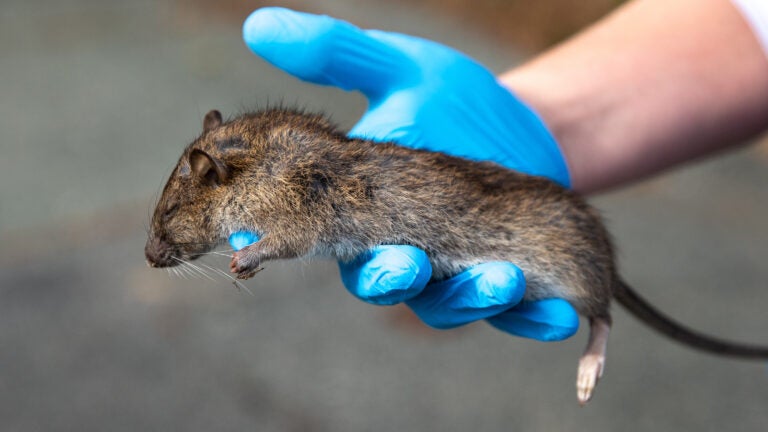 When the children at Buds and Blossoms Child Care and Early Education Center head outside with their teachers for a walk, they need to keep a careful eye out for strangers. The long-tailed, whiskered kind.
Jeanne McKenna, director of the Chinatown center, said that the kids — barred from the playground due to COVID-19 — often have to step around garbage, which of course could act as a potential smorgasbord for rats. It's a concern, she told members of the Boston City Council, during a time when rodent sightings and issues are reportedly on the rise.
"And so it's very dangerous for our young children in the community," she said during a hearing on the rodent problem Tuesday morning.
McKenna's concerns are just some of the ones raised by community members during a hearing of the council's Committee on City and Neighborhood Services focused on rats and illegal dumping in the city.
It's something that Councilor Elizabeth Breadon, who represents portions of Allston and Brighton, says her constituents have dealt with for years, noting that the neighborhood has been referred to as "rat city."
"It's a very distressing situation," she said during the hearing. "I spoke with a constituent last week who had rats in his home, that had managed to get in. It's a very difficult situation to resolve. It's not only emotionally distressing, but it's also potentially a public health issue."
City Councilor Ed Flynn noted that there's been an increase in rodent sightings over the last few months, along with reports of infestations.
It's an issue no one likes to see, said Leo Boucher, an assistant commissioner with inspectional services.
"This is a very, very, very panicky issue," he said. "Folks panic immediately. Rats traditionally have been the horror movie stuff. It's the things that frighten folks and, quite frankly, I am very, very concerned about our uptick."
He called the last few months a "perfect storm" that led to the current increase in rodent activity.
Quarantining began in March for COVID-19, which also happens to be the typical spring breeding time for rodents.
"And you compound that with the fact that we've eliminated all the commercial trash that they're accustomed to eating," he said, referring to restaurants closing, and people turning to takeout dining.
"All of those changes in practices resulted in the trash being moved from commercial areas into more heavily residential areas," Boucher noted. "The rats were starting to migrate towards where their food source was."
Another reason for the increase is environmental. The winters have been mild recently. The cold usually helps to control the population, but that didn't happen this winter, Boucher said.
There's also the issue of people "who don't particularly care" about how they place their trash on the curb, mixing food scraps in with recycling, or not properly closing a dumpster or trash barrel, he noted.
"Rodents don't need fillet mignon or spring water — a small puddle and some scraps will suffice for a food source, so it's very critical that we focus on that as well," he said, calling it a "very, very big piece of the puzzle."
Then, there's the illegal dumping concerns. He said the Boston Housing Authority and Boston Public Schools have had issues with outsiders coming in and using their trash areas to dispose of their own trash.
For those who may find the uptick in activity stomach churning, there is one misconception about rodents that may put the mind at ease a bit – Boucher said that rats become aggressive toward each other, not humans.
"One of the big misconceptions and one of the scary things that is always, always publicized is that rats are more aggressive," he said. "It's very, very, very critical that we understand they're more aggressive toward each other, not more aggressive towards humans. That's a very important fact to get out there."
Dion Irish, inspectional services commissioner, said it's "not a glamorous issue," adding that it's "something that we are continually addressing." He said the department has focused on public education and enforcement, hearings, and sometimes court time for those who violate related laws. The department also works to enforce the city's cleanliness ordinance. Just hours before the hearing, he noticed "overflowing dumpsters" on Columbia Road on his way to work, noting that "this is exactly what we're trying to address."
Boucher said the department works on public education by putting out flyers for residents on preventative measures, and the department also helps those who are victims of a neighbor's improper sanitation methods.
He also pushed residents to use the city's 311 reporting system to lodge complaints of rat activity.
The city is also trying various methods to control rodents in public areas. Inspectional Services workers plan to put out dry ice "heavily" in public areas, like the Boston Common, to help control the rat population. Boucher said that as far as the department's own use shows, dry ice — which turns to gaseous carbon dioxide when not contained — is more effective than poison, and there's no "residual poison" that could harm other animals.
Even though he's been reassured by Inspectional Services in the past that they're working to control the problem, Anthony D'Isidoro, president of the Allston Civic Association, said the issue is an "increasingly serious public health and safety issue in our neighborhoods" that "continues to worsen."
He said what's to blame is real estate development, a large population of young adult renters and a low population of owner-occupied homes, and infestation in public areas, including libraries, cemeteries and parks.
"Allston faces an increasing public health and safety crisis giving the potential for disease spreading from rodent droppings," he said. "Let's not give our residents another reason to permanently leave our city."
Get Boston.com's browser alerts:
Enable breaking news notifications straight to your internet browser.