Coronavirus
What will it mean if Boston shifts into the 'red zone'?
"We're not going to set a panic off right now with the increase in numbers, but we are seeing a little bit of a trend going up."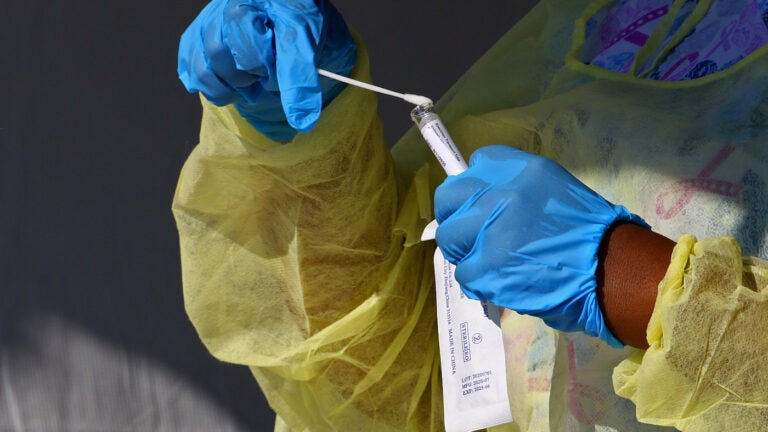 Boston appears to be heading for a "red zone" designation by the state — indicative of areas of Massachusetts at the highest risk of coronavirus — as the city's number of hospitalized cases have recently ticked up.
Mayor Marty Walsh noted the bump, amid the metrics public health officials monitor closely to keep tabs on local virus spread, during a press conference Wednesday.
While Walsh cautioned the increase had not met the city's "threshold for real major concern," Boston's changing status could arrive within the next week — and residents must remain vigilant in combatting the virus, he said.
"We're not going to set a panic off right now with the increase in numbers, but we are seeing a little bit of a trend going up," Walsh said. "It is within our control."
On Wednesday, the Massachusetts Department of Public Health released its weekly data, designating each city and town as either gray, green, yellow, or red based on each municipality's average daily incident rate per 100,0000 people over the previous two weeks.
Boston was shaded yellow on the state's map, meaning officials had logged between four to eight coronavirus cases per 100,000 people. Cities in Greater Boston placed in the so-called "red zone" — those with more than eight cases per 100,000 people — included Chelsea, Revere, Everett, Lynn, and Winthrop.
Marty Martinez, the city's chief of Health and Human Services, told reporters officials keep track of several public health metrics in evaluating Boston's response to the pandemic, including daily positive rates and hospital and emergency room visits.
"We've been climbing in our number of cases per hundred thousand even though our positive rate is still pretty low, relatively low at 2.7 percent," Martinez said. "So again we want to test more people, which means we're going to see more cases, which is an important part of containing COVID."
Martinez, however, also attributed the uptick to a few different factors.
"When the weather's nice, more people gather, more people go out to eat, more people do things that put them at different settings. We also have a lot more college students back. There's a combination of factors," he said. "We're not seeing just one thing. We of course have seen gatherings in places we don't want to see. We've seen people come together in parks and things that we're trying to prevent."
According to Walsh, most neighborhoods had a positive test rate under 3 percent last week. Outliers include East Boston, which has been at a rate of 6 percent for several weeks; Dorchester, which is at about 5 percent; and Hyde Park and Roslindale, both just over four percent, he said.
"The 'red zone' for me does not make us think that we have to shut down the City of Boston," Walsh said. "We're not at that point."
Beyond continued calls for residents to maintain social distancing, mask-wearing, and handwashing practices, Walsh spoke about directing city resources to areas that need them most and pointed to Grove Hall in Dorchester, where the city's mobile testing team is now providing free coronavirus testing at 40 Geneva Ave. through Oct. 3.
Walsh also said Boston will hold off on allowing restaurants to seat customers in groups up to 10 — a change in state restrictions Gov. Charlie Baker announced Wednesday that's slated to take hold elsewhere in the state on Monday. The city will instead continue to cap parties at six people per table "for the foreseeable future," Walsh said.
"Many other towns and cities in Massachusetts are in a lot different position than we are here in the city, and what we don't want to see is this spike in cases," he said.
However, as per the new state protocols, Boston will allow restaurants to use bar seating for food service with the requirement that customers are seated and are at least six feet from other parties, according to Walsh.
Meanwhile, Martinez said officials have "doubled down" on messaging and outreach about precautions residents can take and are in conversation with local health centers about providing those facilities with more funding for increased testing.
A multi-lingual awareness campaign about COVID-19 just rolled out in East Boston, too, Martinez said.
"Bostonians, from my perspective, they've done a huge amount of work to … keep COVID low in the community and I'm so appreciative of that, as is the mayor," he said. "But we just have to keep up that due diligence."