COVID
Live updates: Here's the latest news on the COVID-19 pandemic and Mass. schools
The latest on education in Massachusetts during the pandemic.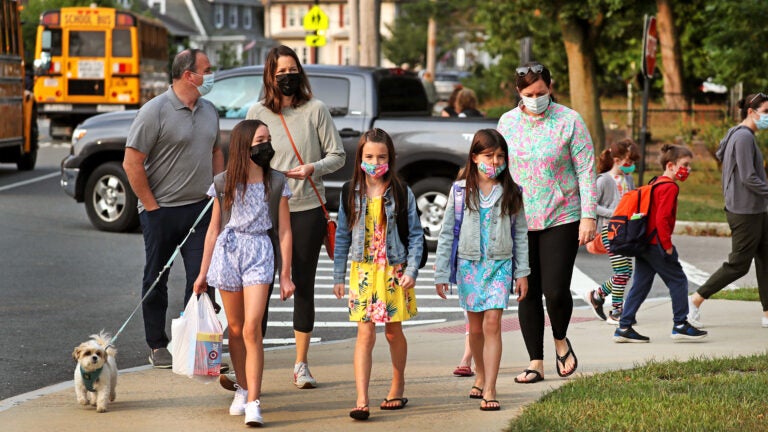 Providence College extends remote-learning plan (Sept. 25)
Providence College said Friday that its remote-only learning plan put in place due to a coronavirus outbreak that has affected more than 200 students has been extended another week until Oct. 3.
Although the number of positive cases among students has been on the rise, the private Roman Catholic school in Rhode Island's capitol has been aggressively testing students and staff and said its test positivity rate has been on the decline since the outbreak was reported on Sept. 16.
Most of the students who have tested positive live off campus.
A statewide surge in cases that led to New York, New Jersey and Connecticut to add Rhode Island its its travel quarantine list was blamed this week by Gov. Gina Raimondo on the Providence College outbreak.
"We apologize sincerely for our part in exacerbating COVID-19 positivity rates in the state, and for putting the health of residents at risk," the college said in a statement.
Off-campus students have been told not to leave their apartments, while on-campus students are not allowed off campus. The school has about 4,800 students.
Failure to comply "may result in permanent separation from the college," the statement said.
— Associated Press
Emerson College will offer online classes this winter, with hybrid model in spring (Sept. 25)
Emerson College announced Thursday the school will offer online undergraduate classes during its winter term and will continue its hybrid Flex Learning plan for students on and off campus in the spring, NBC 10 Boston reports.
Undergraduate students will be surveyed about their winter and spring education plans in order to prepare, according to the news station.
"It will be especially important for the College to have a sense of whether students are interested in changing their current learning options," Provost and Vice President for Academic Affairs Michaele Whelan wrote in an email to students.
Almost four dozen additional students have tested positive for coronavirus at Merrimack College (Sept. 25)
Forty seven additional students have tested positive for coronavirus amid an outbreak at Merrimack College's campus in North Andover, according to NBC 10 Boston.
Twenty students, including 17 who live at the Monican residence hall, had tested positive for the virus, according to school officials. Now nearly four dozen others who reside in the dormitory have also contracted the coronavirus, the news station reports.
"We have now tested over 3,800 community members in the past 72 hours and the results indicate that this cluster does not extend outside of Monican Hall," President Christopher Hopey said in an email to students Thursday. "We are now optimistic with the Monican residents off the campus in isolation or in quarantine, that the campus can stay safely open and fully operational."
Students who live on campus who were not being tested twice a week will now be required to do so beginning Friday and commuter students can decide whether to be tested more frequently, NBC 10 Boston reports. Students who live on campus are encouraged to stay on campus to limit any virus spread.
Stoneham officials reverse decision to go fully remote; district will continue hybrid model (Sept. 25)
Stoneham Public Schools will no longer switch to fully remote learning in response to the state designating the town in the "yellow" category for COVID-19 risk. Instead the district will continue the hybrid instruction model, according to a message on the district website. 
The move comes after school officials announced Wednesday that most students — those in grades 1 to 12 and in cohorts A and B — would be switched to remote education starting Monday due to the due to the town's average daily case rate ticking up to 5.4 per 100,000 people for the last two weeks, causing it to be color-coded yellow by the state.
According to WCVB, school officials said during a Thursday meeting there wasn't enough data to support the switch and reversed course. 
The change in approach comes as Gov. Charlie Baker urged school communities not to make decisions or change instruction plans based on one week of data. 
"Trends don't happen in seven days; trends happen over the course of three weeks worth of reporting, which represents four weeks worth of data," he said during a Wednesday press conference.
Stoneham Public Schools to switch to all-remote learning after state data places town in 'yellow' category (Sept. 24)
Stoneham school officials are having most students switch to remote education beginning on Monday due to the town's average daily case rate ticking up to 5.4 per 100,000 people for the last two weeks, causing it to be color-coded yellow by the state.
The town plans to remain remote for students in grades 1-12, cohorts A and B, until Stoneham moves into the green or gray categories – green is less than four cases per 100,000 residents, and gray is less than five cases within the past two weeks.
Superintendent John Macero made the announcement Wednesday night, posting it to Facebook.
Preschool and kindergarten students, and those in cohort C – special education students – will continue attending school in person.
The decision doesn't affect the current week, and those scheduled for in-person instruction Thursday and Friday will still go in.
If the town moves into gray or green when the report is released next Wednesday, in-person learning will start up again the following Monday.
Sneezing student sent home from Arlington elementary school (Sept. 24)
A fourth-grade student sneezed twice and was sent home from school this week, according to WBZ.
While Lancinet Keita's father says he had no symptoms both when he left for school and when he was picked up early, the school said the decision was made out of caution, the news station reported.
Keita will need to test negative for COVID-19, or prove he has a different illness, before he can return to school in person, according to WBZ.
Elementary school student sent home after sneezing in Arlington @wbz pic.twitter.com/xoBnY28JDl

— Nick Giovanni (@NickGNews) September 23, 2020
7 Marlborough High School students test positive, school switches to remote learning (Sept. 24)
Seven Marlborough High School students tested positive for COVID-19, and the city's school committee decided this week to suspend in-person learning and have all students learn remotely, with the group to convene again on the matter on Oct 5.
Hybrid learning had just begun on Monday. The ill students hadn't been in the school building, and school authorities said the cases may not be connected, according to NECN.
The rest of Marlborough schools will stick with a hybrid model, the news station said.
Arlington elementary school staffer tests positive, school begins completely remote (Sept. 24)
One staffer at Arlington's Pierce Elementary School has tested positive for COVID-19, and six others are staff members must quarantine for two weeks after being in close contact with them.
As a result, the school is going completely remote until Sept. 30 due to potential staffing shortages, according to Boston 25. Arlington's other schools will continue with a hybrid model.
Scituate school staffers, Hull student test positive (Sept. 24)
A Hull High School student has tested positive for COVID-19 and is under quarantine.
The student, according to WCVB, was last in school last Friday.
Meanwhile, two staff members at Scituate's Wompatuck Elementary School have also tested positive for the virus. The two had been working together and were in close contact. The second staffer of the two to test positive initially tested negative, but a second test revealed the illness, WBZ reported.
Get Boston.com's browser alerts:
Enable breaking news notifications straight to your internet browser.