COVID
Live updates: The very latest on schools and the COVID-19 pandemic in Mass.
Here's what's going on in education related to the coronavirus.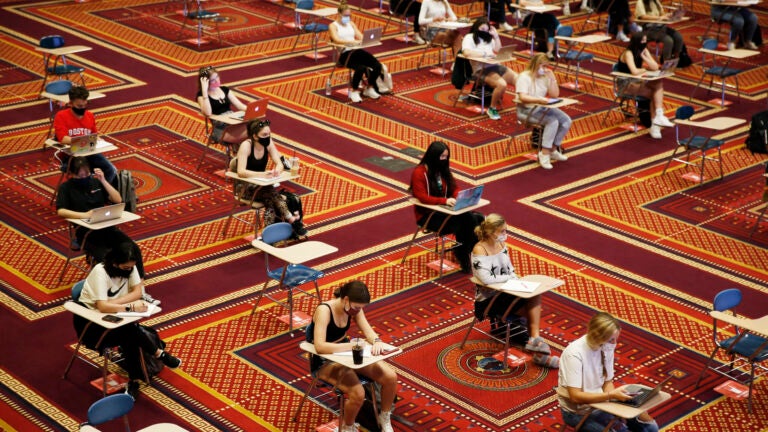 33 students living off campus test positive for COVID-19 at UMass Amherst (Oct. 2)
Over the last week, 33 UMass Amherst students tested positive for COVID-19, according to university authorities in a press release.
The group, which lives off campus, reportedly went to a party and had socialized together, officials said. All are now being isolated, and anyone who had close contact with them has been notified.
"The work of planning for the spring semester is under way, and the next several weeks may play a significant role in shaping the decisions we make," Brandi Hephner LaBanc, the university's vice chancellor for student affairs and campus life, said in a statement. "Our goal of repopulating the campus and resuming in-person operations relies on each and every one of us doing our part. If the numbers continue to rise at the pace they did this week, our return to more normal operations may be further delayed."
Since Aug. 6, UMass has conducted more than 62,000 tests, which includes 35,000 tests administered to those living off-campus around Amherst. While the university's overall positivity rate is 0.13 percent, the weekly positivity rate as of Thursday was 2.76 percent due to the cluster.
Natick schools to slap $300 fine on anyone who lies on a student's health form when returning to in-person instruction (Oct. 2)
Families who lie on their child's health form about whether they've had COVID-19 symptoms, or have been around someone who may have the virus, could face a $300 fine.
The measure was effective following a school committee meeting Tuesday night, according to the MetroWest Daily News.
"We will take swift and strong action if those expectations are not followed," Anna Nolin, district superintendent, told the committee.
Natick High School is currently under a two-week remote learning session after students who were supposed to quarantine reportedly violated it.
Federal judge rules against 2 students who sued Northeastern to get their tuition reimbursed (Oct. 2)
Two students who sued Northeastern University for moving classes online, arguing that online learning isn't comparable to in-person instruction, had their lawsuit dismissed by a federal judge.
The lawsuit was filed after students were sent home in March and the university switched to remote learning, WHDH reported. Both reportedly paid over $20,000 for the semester.
The judge ruled that the university did not guarantee in-person classes, the news station said.
Some students return to Boston schools for first time since March (Oct. 1)
Select Boston Public Schools students were the first to enter brick-and-mortar classrooms since March on Thursday, kicking off the first step in the district's phased-in return under its hybrid learning plan.
Students who were prioritized for in-person learning two days a week include those experiencing homelessness; those in care of the Department of Children and Families; those in special education public day schools; certain English language learners; and students with disabilities who require specific needs, among other demographics.
The first day back arrives as the city experiences an uptick in coronavirus cases, pushing Boston into the "red zone" or high-risk designation issued by state officials Wednesday.
Mayor Marty Walsh has said the district's phased-in plan would only progress should the citywide positivity rate remain below 4 percent. As of Wednesday, the number hovered at 3.5 percent.
"What we're going to do is watch it for a couple of weeks, which is state guidance as well, that you watch it for three weeks … and if there's a trend then I will reassess at that time," Superintendent Brenda Cassellius told WCVB Thursday.
"What we're going to do is watch it for a couple of weeks, which is state guidance as well, that you watch it for 3 weeks and if there's a trend then we'll reassess" -BPS Supt. Brenda Cassellius on beginning a phase in of in-person learning, despite Boston being in the red #wcvb pic.twitter.com/dANIQ9wEsA

— antoinette antonio (@antoinetteA) October 1, 2020
The district launched the new school year fully remotely on Sept. 21. Officials say attendance was high that first day, with about 76 percent of the student body logging on for classes.
Daily attendance during the first five days of school was between about 80 and 90 percent, The Boston Globe reports.
The data is on par with attendance metrics from past school years, according to the superintendent's office.
Amherst schools postpone start of in-person learning over uptick in COVID-19 cases (Oct. 1)
The start of in-person learning for students in Amherst Pelham Regional School District is being delayed after the Town of Amherst saw an uptick in COVID-19 cases this week. According to the district, as of Wednesday morning 14 new cases had been reported in the previous 24 hours in Amherst, bringing the total number of new cases since Friday to 30.
Students in kindergarten and first grade were set to return to classrooms in the district on Thursday when officials announced the postponement on Wednesday.
"I am sorry for the unfortunate timing of this change of plans, but given the new public health information received this morning, and in consultation with the Amherst Health Department, I determined that this decision was in the best interest of our students, staff, and families," Michael Morris, the district superintendent, said in a Wednesday statement. 
Morris said information on when the new date for the first phase of returning to in-person learning will be released Friday. 
According to MassLive, it is the second delay the district has seen for returning students to school buildings. In August, the school board and district planned for in-person learning for kindergarten and first grade to resume Sept. 18, but the date was postponed to Oct. 1 in response to COVID-19 concerns raised by the teachers union.
3 fourth graders at Cape Cod Academy test positive for coronavirus (Oct. 1) 
Three fourth graders attending Cape Cod Academy have tested positive for COVID-19, prompting the private school to switch all students in the grade and their siblings to remote learning until Oct. 13, the Cape Cod Times reports. 
"All fourth-grade students in the affected classroom are required to get a negative COVID-19 test and quarantine for 14 days before returning to school," Headmaster Jeffrey Thompson told the community, according to the Times.
According to the newspaper, the private school switched the grade to remote learning after learning the parents of one of the students tested positive, while the child's test was still pending. The two other classmates who tested positive were friends and in the same classroom cohort of 12 students with that child. 
None of the students who tested positive were showing symptoms at school, the Times reports.
Boston University students may be suspended after gathering violates COVID-19 protocols (Sept. 30)
A group of Boston University students could be suspended for the rest of the semester after police responded to a gathering that included a lack of social distancing, masks around chins, and alcohol, university officials said.
As a result, 20 students are headed to individual disciplinary hearings and could be suspended, the first suspensions BU may issue for COVID-19 violations, BU Today reports.
The university's police responded to the party early Sunday morning, which occurred behind Claflin and Sleeper halls, an area known on campus as "the grotto," according to the publication. 
While some students took off when police arrived, the 20 headed to the hearings stayed. On scene, authorities said the loud music was playing from a speaker and there were beer cans, some empty. All 20 students are not of legal drinking age, BU Today reported.
"This weekend's alleged violations are violations of the expectations we set out for this academic year," Kenneth Elmore, associate provost and dean of students, told the publication. "The alcohol use in public and under legal drinking age, public noise disturbance, and the notion that the police had to respond all exacerbate the matter."
15 Bridgewater-Raynham students test positive for COVID-19 after attending gatherings (Sept. 30)
Fifteen Bridgewater-Raynham Regional School District students have tested positive for COVID-19 over the last two weeks, and, if there are more cases, the district may go completely remote by next week, according to an announcement from school Superintendent Derek Swenson.
The district didn't elaborate on the age or grade levels of the students, but said the events took place outside of school and didn't include proper social distancing or other measures to help stop the spread of the virus.
"We strongly encourage parents/guardians to please contemplate the possible negative consequences associated with their child's participation in large social gathering/events, especially those with limited social distancing and mitigation practices being utilized," Swenson said in the announcement. "We ask that you please talk to your children about these social situations and the possible health and school related concerns that may result."
Hopkinton switches to all-remote learning after positive COVID-19 case at high school (Sept. 29)
A positive COVID-19 case at Hopkinton High School has caused officials to shutter all of the district's schools to in-person learning.
The MetroWest Daily News reports that school buildings are closed Tuesday and Wednesday while authorities investigate.
"We are closing the schools only for extensive contact tracing," Superintendent Carol Cavanaugh told district families in an email, according to the newspaper.
School officials learned Friday from a high school parent that a student — who was not in school that day — may have the virus; that information was then confirmed.
Natick High School goes completely remote after at least 1 party (Sept. 29)
Natick High School will be remote over the next two weeks after students who were supposed to quarantine due to COVID-19 concerns broke that order and attended a party, or multiple parties, according to a statement issued by the district and obtained by WCVB.
"Recent developments outside of schools, in the homes of [Natick High School] students, have come to the surface, which will now mean at least a two-week closure of Natick High School from live learning," the statement said.
The district's elementary and middle schools will stick with a hybrid model, the news station reported.
Mayor calls emergency meeting in Leominster over remote learning concerns (Sept. 29)
Leominster Mayor Dean Mazzarella called an emergency meeting with the city's school committee Monday over concerns that students aren't learning via the remote model, according to WHDH.
"I call this meeting because I am concerned about the future of those students who are not learning remotely," Mazzarella said, according to the news station. "I am concerned about those students with IEPs and special needs. I am concerned about those students who are left home during the day because their parents have to choose between going to work and paying the rent."
Mazzarella reportedly told the committee he believes in-person instruction is safe since Leominster is currently designated green by the state.
"I called this special meeting in hopes that they would sit here and listen to the fact that this is probably a public health crisis," he said.
No action was taken at the meeting.
13 UMass Amherst students test positive for COVID-19 in cluster (Sept. 28)
UMass Amherst reported that last week 13 students who are "known to have socialized together, and a number of them attended a party together," tested positive for COVID-19 via the university's asymptomatic testing program.
"This cluster of positive test results reminds us that, despite the low numbers we have seen on campus and in the community in recent weeks,  we cannot allow ourselves to be comforted into complacency," Brandi Hephner LaBanc, UMass's vice chancellor for student affairs and campus life, said in a press release. "The decisions we make now—the choice to skip the party, to wear a mask—will allow us to come together sooner in the future. If you live on campus or in the local area, you can help by participating in twice-weekly testing and cooperating with contract tracers."
Someone at an Abington elementary school tested positive for COVID-19 (Sept. 28)
Abington school officials announced Saturday evening that a member of the Beaver Brook Elementary School community tested positive for COVID-19, though school officials have not said if that person is a staffer or student.
Those in close contact with the person were notified, according to a message from Superintendent of Schools Peter Schafer.
"We have been planning for this scenario and although all classrooms, offices and spaces are sanitized daily and nightly, we have a plan in place for additional sanitizing," Schafer said in the announcement. "Our student body and staff have been closely adhering to the safety protocols including mask wearing, hand washing, and physical distancing."
Salem State students who attended gathering of over 50 people to be cited (Sept. 28)
Salem police broke up an apartment party that included over 50 people Friday night on Becket Street, a news release said.
Those who attended the party will receive citations, while the owner of the home will also be cited "for keeping a disorderly house," the release said.
Salem State students who attended the party will also be disciplined through the university, according to the release. Those who attended are being asked to get a free COVID-19 test provided through the university, or through Salem's "Stop the Spread" testing site at Salem High School.
Read prior education news in relation to the COVID-19 pandemic here.