COVID
Charlie Baker allows 'lower-risk' communities to move forward in reopening plan
"It's going to be like this until we have treatments and vaccines."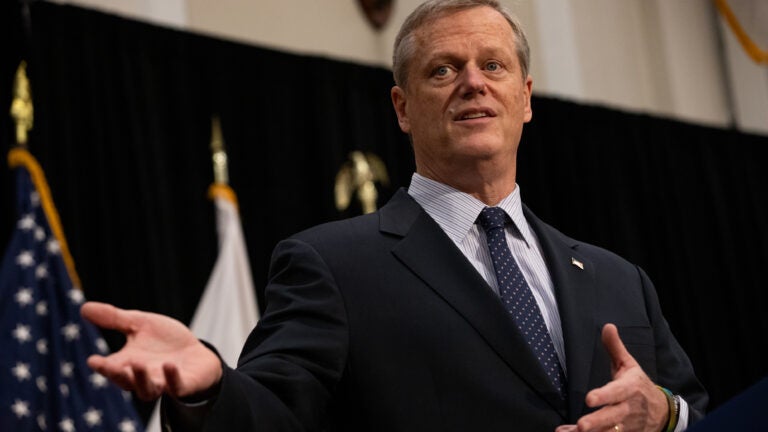 Massachusetts Gov. Charlie Baker indefinitely paused the state's reopening plan last month, amid concerns about an uptick in COVID-19 infections.
Now, he's restarting it — at least for most communities.
During a press conference Tuesday afternoon, Baker announced that he had signed an order to allow cities and towns designated as "lower risk" to enter the second step of Phase 3 of the administration's reopening plan next Monday, Oct. 5.
The move allows indoor performance venues and certain recreational attractions that have remained closed — like roller rinks and laser tag — in those cities and towns to reopen and loosens capacity restrictions for already-open settings like gyms, museums, and libraries.
Baker also eased the state's limit on organized public — but not private — outdoor gatherings from 50 to 100 people in lower-risk communities.
To start, the administration defines "lower risk" communities as cities and towns that have not been in the state's "red" category for elevated COVID-19 levels in any of the last three weekly Department of Public Health reports, which are released each Wednesday.
Cities and towns that have been in the gray, green, or yellow categories — indicating a weekly average of less than eight new cases per 100,000 residents — on the state's color-coded risk map for the past three weeks will be allowed to move forward to the second step of Phase 3 beginning Monday.
Communities that are currently in the red category will only be allowed to move forward after three consecutive weeks in one of the lower-risk categories. And if a community returns to the red category for three consecutive weeks, they will have to go back to the first step of Phase 3.
Based on the COVID-19 tracking data in Massachusetts and across the country, Baker said the logic behind the order Tuesday was that the affected sectors were not significant sources of virus transmission and could operate safely with face covering and social distancing rules in place — whereas officials were more concerned about the risk of "unstructured" gatherings and parties, especially as the weather gets colder.
"If people are gonna go inside, which they probably will, I would much rather have them go inside in organized and supervised ways with rules, than in unorganized, unsupervised ways with no rules," Baker said.
What changes in the second step of Phase 3
The second step of Phase 3 doesn't have as sweeping an impact as previous stages of the reopening plan, which has allowed retail businesses, restaurants, movie theaters, casinos, and many other forms of indoor and outdoor recreation to reopen under sector-specific guidelines. Following a lawsuit, the Baker administration also gave arcades the go-ahead to reopen earlier this month.
However, some settings and activities with higher potential for person-to-person contact have had to stay closed.
Baker's order Tuesday changes that for lower-risk communities. The move will allow indoor performance venues to open with a 50 percent capacity limit and an overall maximum of 250 people. It also allows retail store fitting rooms to reopen and recreational activities like trampolines, obstacle courses, roller rinks, and laser tag to resume with a 50 percent capacity limit.
The second step of Phase 3 also loosens capacity limits for sectors that were already open.
Capacity limits for outdoor performance venues — which could open at 25 percent capacity and no more than 50 total individuals in the first step of Phase 3  — increase in lower-risk communities to 50 percent with a maximum of 250 people, the same as indoor venues.
That said, large venues such as stadiums and arenas remain in Phase 4 with bars, nightclubs, and amusement parks (as well as "ball pits"). Baker reiterated Tuesday that Phase 4, dubbed the "new normal," won't begin until there is an effective treatment for COVID-19.
"It's going to be like this until we have treatments and vaccines," he said.
Easing limits on gatherings — but only certain types
After tightening the state's gathering rules last month, Baker announced a separate order Tuesday relaxing the limit on public, outdoor gatherings — but only for lower-risk communities cleared to enter the second step of Phase 3.
The order, which also takes effect Monday, increases the limit on outdoor gatherings at event venues and in public settings from 50 back to 100 for those cities and towns. For higher-risk communities, the limit remains at 50.
For all cities and towns in the state, indoor gatherings remain limited to 25 people (the gathering rules do not apply to political demonstrations or businesses governed by the reopening rules). Outdoor gatherings at private residences and backyards also remain subject to the 50-person statewide limit. And face coverings are still required for everyone over the age of 5 at gatherings — public or private — with more than 10 people from more than one household.
Baker said the decision to loosen the restriction on public but not private gatherings was in line with the effort to push people toward supervised settings where social distancing and other specific safety measures are enforced.
"We do have a lot of communities in Massachusetts that haven't seen a heck of a lot of COVID for quite a while and giving these communities the ability with rules and guidance to do some of the things that are proven to be safe in these other states just seems like an appropriate step," he said. "I would rather have folks, if they're going to go indoors, go indoors in places with rules and organization and supervision than go indoors and to places without any."
'Stay vigilant'
The announcement Tuesday comes just a day after loosened restrictions on restaurant seating took effect — and also as some local infectious disease experts were urging caution amid signs of increased COVID-19 cases in Massachusetts; as The Boston Globe reported Sunday, daily new case totals recently surpassed 500 for three days in a row for the first time in many months and the 554 new infections reported last Wednesday were the most on a single day since May.
While the overall statewide positive test rate has hovered at or below 1 percent, the percentage of actual individuals who received positive tests has steadily risen since mid-August and hit 4.4 percent on Tuesday, according to the state's daily data (which also reported 450 new infections Tuesday).
Baker said Tuesday that the merits of the differing testing metrics was "certainly a debatable question," but noted that Massachusetts has a lot of "repeat testers," including those who travel for work and college students who are tested regularly. He added that the recent uptick in the percentage of individuals who tested positive was largely attributable to the return of college students to the Boston area.
"If you take a higher ed stuff out, our positive test rate over the course of the past 30 days is 1.7 percent, which is still consistent with where it's been throughout the course of the summer," he said.
Baker also argued that the state should allow communities to bounce between the gray, green, and yellow risk categories — and even the red category for a week or two — without having to go back to the first step of Phase 3. He noted that the return of college students, in addition to a recent COVID-19 outbreak, would likely push Boston into the "red" zone for at least a week if not longer.
Still, he drew a distinction between communities that "bounce around" and those that are "persistently" in the higher-risk category.
"The thing about communities that are persistently in the high-risk category, one of the things you can draw from that is that isn't about the hospital," Baker said. "It's not about the nursing home. It's not about the big party that somebody had. It's not about a big gathering. It means there's something more going on, which is why the stop-the-spread program and the community intervention efforts follow it, because the goal there is to then do what we can to help those communities start to work their way back."
Even with "hundreds" of communities not seeing significant transmission, Baker acknowledged that residents of high-risk communities may work in or travel to those low-risk places — and vice versa — which is why he argued it was good to push people toward the settings with rules.
"People still move around, right?" he said. "But if you go to a roller rink, that roller rink has rules and that roller rink has guidance and that roller rink has protocols in place, and everybody's going to be expected to follow them, and they're designed to do one thing, which is to keep people safe and limit the spread between and among the people who are there. I would much rather have that family do that than go participate in a big backyard barbecue, no masks, no social distancing, shared food off a buffet, and all the stuff that time and time again is what's translating into clusters and case run-ups here in the commonwealth."
Baker reiterated that "generally speaking" residents in Massachusetts, which had among the highest COVID-19 levels in the nation last spring, had done their part to limit the spread of the disease.
"It's quite possible that Massachusetts may see more cases as people head indoors in the fall — and especially as we continue to expand our testing protocols," he said. "And that is one of the main reasons why we cannot quit and should not quit now. We've proven we can contain this virus. We've proven we can reopen our economy. But people need to stay vigilant, so that we can continue to move forward."
Get Boston.com's browser alerts:
Enable breaking news notifications straight to your internet browser.