COVID
Here's why Boston is holding off moving through Phase 3 of reopening
"The virus is unpredictable and again, it's within the control of all of us, the public, to keep those rates down."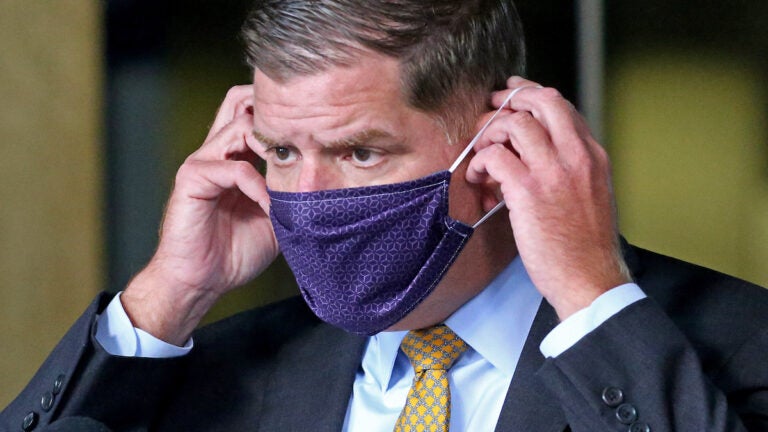 UPDATE: At 6:00 p.m. on Wednesday, State officials announced that Boston and 28 other communities moved into the red zone for coronavirus risk and would not advance to the next stage of the state's reopening plan.
Boston is among the communities holding off on proceeding through the next step of the state's Phase 3 reopening plan as the city experiences an uptick in coronavirus cases, Mayor Marty Walsh said Wednesday.
"We're seeing an increase in COVID activity both in the number of cases and positive test rates," Walsh told reporters during a press conference. "We're still under our threshold (of major concern) but I am concerned with this increased activity."
In the past week, the citywide positivity rate jumped from 2.7 to 3.5 percent. Walsh and officials recently warned that Boston is also on the cusp of the "red zone" designation — indicative of areas of Massachusetts at the highest risk of coronavirus — by the state Department of Public Health. The alert is bestowed to cities and towns with more than eight virus cases per 100,000 people.
Walsh, speaking late Wednesday morning, said that call would "likely" come later in the evening. He added, however, that the category only accounts for the city's "raw case total" and does not consider other metrics local officials monitor to track virus spread, such as hospitalization and positive test rates.
Still, officials are seeing increasing positivity rates in pockets of the city that have been hotspots for the virus. Walsh said rates in East Boston and sections of Dorchester — specifically the 02121 and 02125 zip codes — are over 7 percent.
Allston/Brighton, Roslindale, Mattapan, South Boston, Hyde Park, and Dorchester zip codes 02122 and 02124 all clocked in at above the citywide average, falling between 4 and 5 percent, he said.
Approximately half of the reported cases within the last two weeks are from Latino communities, and another half involved people under the age of 29, according to Walsh.
"I am encouraging any and everyone to get tested," he said.
Boston's approach to Phase 3 and the reopening of schools
On the verge of being classified as high risk, the city will not be moving onto Step 2 of the state's third phase of reopening, which Gov. Charlie Baker green-lit for communities at lower risk of the virus Tuesday, Walsh confirmed
This means Boston will not reopen indoor performance venues and outdoor venues will not see an increased capacity limit, with the current cap at 25 percent or a maximum of 50 people, according to Walsh.
Activities such as trampoline parks, roller rinks, laser tag, and obstacle courses will remain shuttered and gyms, museums, libraries, and driving schools still have a maximum 40 percent capacity, he said.
"Anyone who's upset with me and Boston for not doing this… think about some of the decisions you might be making going to a party, think about some of the decisions you might be making about socializing," Walsh said. "The reason why we are doing this is because we're seeing our numbers go up here in the City of Boston. We want to make sure we stop that increase before it comes to a point where we're having the entire city shut down again."
But Walsh also said Boston would ease certain restrictions as allowed under step one of Phase 3. Those include opening food courts with capacity limits and appropriate distancing; allowing 50 percent maximum capacity in movie theaters, with a 250-person limit; and letting more than one person use a single golf cart and for golf courses to return flags to holes.
According to Walsh, those changes take hold on Oct. 5.
The mayor also affirmed that Boston Public Schools' first day of students who are prioritized for in-person learning under its hybrid model will continue as planned Thursday. The district's phased-in return to brick-and-mortar classrooms will only progress should Boston remain below a 4 percent positivity rate citywide.
"We're extremely close to that but in this particular category of young people, high-needs kids, many of the parents have been asking us from the very beginning of (the) shut down to have school back open because (of) the programs we have and the support we have for our young people," Walsh said.
Students going back to school buildings Thursday include those experiencing homelessness; those in care of the Department of Children and Families; those in special education public day schools; certain English language learners; and students with disabilities who require specific needs, among other demographics.
The forces behind the city's uptick
The rising coronavirus metrics were to be expected in Boston — Walsh isn't surprised it happened, he said.
"As the governor said yesterday, the number of universities that we have puts us in a very unique position," the mayor said. "Public health experts expect that more infections would come with more activity this fall, especially with the start of an academic school year here in the city."
On Tuesday, Baker offered that the notion the city's large influx of college students and its testing regimen would likely push Boston into the "red zone" is "a completely reasonable prediction."
"Now, the big challenge for Boston — and this is not just a Boston issue, it's an issue in some of the other communities that bang around from one level to another — is if you have a college, if you have a hospital, the Brigham is probably gonna have an impact on Boston's numbers this week too," Baker said, referencing a cluster of cases recently discovered within two inpatient units at Brigham and Women's Hospital. "If you have a number of institutions that have an outbreak of some sort, it will hit your numbers in the short term and the real question is what happens over time."
According to Walsh, the city is experiencing increases in its coronavirus metrics both on and off college campuses.
But city officials have also recorded another trend lately: a rise in the number of reported house parties.
Walsh made a firm plea to Boston's young adults and students Wednesday, urging them to refrain from hosting or attending such gatherings, both indoors and outside.
"We're in the process of concern about do we have to shut everything down again because 25 people here, 25 people there, 25 people over here decided to get together and have a party," a frustrated Walsh said.
The mayor said he's especially concerned about the city's senior residents.
"This is a serious pandemic. This is a serious virus," Walsh said. "If you are 21, if you're 19, yeah, the numbers say you'll probably be ok (if you become sick). But what the numbers don't say is that your parents won't be ok, your grandparents won't be ok, your elderly neighbors won't be ok, the woman that you're in the supermarket with that you cough on that gets the coronavirus won't be ok. So we're asking people to act responsibly."
Last week, as Walsh cautioned Boston was heading to a high-risk designation from the state, Marty Martinez, the city's chief of Health and Human Services, said HHS has "doubled down" on outreach efforts to residents, including a multi-lingual awareness campaign in East Boston.
The mayor reminded the public that Boston's mobile testing team is now in Dorchester's Grove Hall area.
"This has been a rollercoaster ride," he said. "We hit the peak back in May and June. We've come down significantly from that time, but as I've said…the virus is unpredictable and again, it's within the control of all of us, the public, to keep those rates down."
Staff Writer Nik DeCosta-Klipa contributed to this report.