Coronavirus
Cambridge officially reimposes strict face covering requirement
"With people spending more time indoors, there is an increased risk of spreading COVID-19."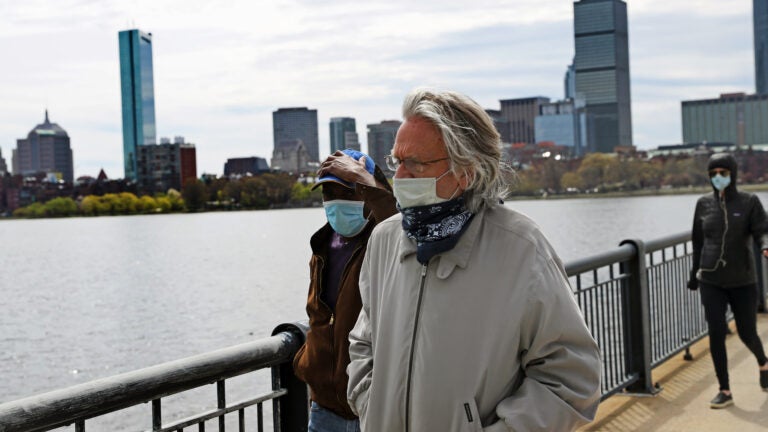 Summer is officially over — and so is Cambridge's relaxed face covering mandate.
City officials effectively reimposed the order Friday that anyone over the age of 2 in Cambridge must wear a mask or face covering at all times in public places — inside or outside — to limit the spread of COVID-19. The requirement includes sidewalks, streets, parks, plazas, bus stops, non-residential parking lots and garages, and any other outdoor area or facility that is open and accessible to the general public, in addition to businesses and common areas of residential buildings with two or more units.
Anyone found violating the order may be issued a warning or a $300 fine, though official say they will prioritize public education.
There are also exceptions for people seated at restaurants or working alone in an office with the door closed.
The revised order, which took effect at midnight Friday, otherwise closely follows the city mandate first issued back in late April. Cambridge had temporarily eased the requirement in July to allow people to remove their face coverings while outside and at least six feet from others. But with the weather turning colder, officials are retightening the rules.
"It is clear that wearing a mask or face covering is a key requirement in combating this pandemic," Cambridge City Manager Louis DePasquale said in a statement. "With people spending more time indoors, there is an increased risk of spreading COVID-19. By tightening and clarifying our face-covering requirements now, we hope to continue minimizing COVID-19 risk in Cambridge."
The city had noticed a "slight uptick" in the average number of new COVID-19 cases in the month of September compared to August. Health officials said the cases were attributable to both the return of students to local colleges, like Harvard and MIT, as well as the "broader community," though Cambridge's overall numbers remain low. According to state data, the city remains in the green lower-risk category — averaging just 2.5 new daily COVID-19 cases per 100,000 residents and a positive test of 0.12 percent.
"We must continue wearing masks to stay safe, and I am confident that this mandate will help keep our numbers low as we head into cold and flu season," Cambridge Mayor Sumbul Siddiqui said.
The new order goes further than the statewide mask requirement, which only requires face coverings when individuals are in public places where they can't stay at least six feet away from others. And while Gov. Charlie Baker's administration has pressured communities with low COVID-19 rates to reopen schools, the Republican governor said Thursday that he had "no problem with locals going more aggressively" to require mask wearing, especially in more densely populated cities like Cambridge.
"If folks on the ground in particular communities believe they should do more, go for it," Baker told reporters Thursday at a press conference in Cambridge. "We said that right from day one."