COVID
These 40 communities have the highest risk of coronavirus transmission in Mass.
The list has grown by 17 since last week.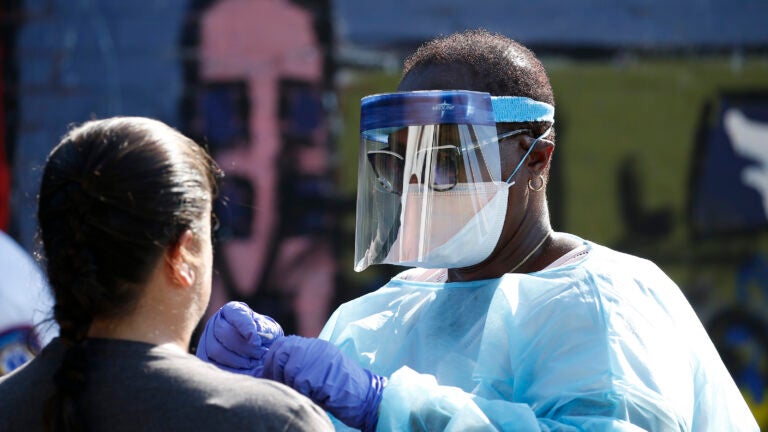 This week, 40 communities in Massachusetts have the highest risk of COVID-19 infection, 17 more than last week, according to state data.
And a new community tops the list for the highest average daily case count per 100,000: Middleton.
But Middleton's overall case count includes those from the Middleton Jail and House of Correction, where there's been an outbreak among inmates and employees.
On Monday, Essex County Sheriff Kevin Coppinger said in a video message that the majority of cases have been asymptomatic among inmates. He said all 889 inmates, along with 401 employees and vendors at the facility, were tested last weekend. From those, 137 inmates and 31 employees tested positive.
To be considered high risk, a community has to have an average daily case count greater than 8 per 100,000 residents for the last two weeks. Most cities and towns are color-coded gray – less than 5 reported cases within the last two weeks – or green, which is less than 4 cases per 100,000 residents on average per day for the same period. Communities in yellow had an average daily incidence rate of between 4 and 8 per 100,000 for the last 14 days.
Here's a look at each of the state's highest risk communities:
1. Middleton
Average daily incidence rate: 58.1 per 100,000
Case count: 84
Tests conducted: 1,189
Positive tests: 86
Positivity rate: 7.23 percent
2. Lawrence
Average daily incidence rate: 35.2 per 100,000
Case count: 435
Tests conducted: 7,595 
Positive tests: 538
Positivity rate: 7.08 percent
3. North Andover
Average daily incidence rate: 34.5 per 100,000
Case count: 146
Tests conducted: 9,889
Positive tests: 162
Positivity rate: 1.64 percent
4. Nantucket
Average daily incidence rate: 23.3 per 100,000
Case count: 37
Tests conducted: 806 
Positive tests: 39
Positivity rate: 4.84 percent
5. Chelsea
Average daily incidence rate: 22.4 per 100,000
Case count: 118
Tests conducted: 5,273
Positive tests: 141
Positivity rate: 2.67 percent
6. Sunderland
Average daily incidence rate: 20.7 per 100,000
Case count: 11
Tests conducted: 1,552 
Positive tests: 11
Positivity rate: 0.71 percent
7. Haverhill
Average daily incidence rate: 20 per 100,000
Case count: 184
Tests conducted: 6,075
Positive tests: 210
Positivity rate: 3.46 percent
8. Everett
Average daily incidence rate: 19.3 per 100,000
Case count: 131
Tests conducted: 4,251
Positive tests: 159
Positivity rate: 3.74 percent
9. Revere
Average daily incidence rate: 17.8 per 100,000
Case count: 152
Tests conducted: 5,625
Positive tests: 196
Positivity rate: 3.48 percent
10. Amherst 
Average daily incidence rate: 16.8 per 100,000
Case count: 95
Tests conducted: 23,661
Positive tests: 99
Positivity rate: 0.42 percent
11. Lowell
Average daily incidence rate: 16.3 per 100,000
Case count: 266
Tests conducted: 8,322
Positive tests: 297
Positivity rate: 3.57 percent
12. Methuen
Average daily incidence rate: 15.5 per 100,000
Case count: 116
Tests conducted: 3,952 
Positive tests: 136
Positivity rate: 3.44 percent
13. Springfield
Average daily incidence rate: 14.6 per 100,000
Case count: 324
Tests conducted: 12,514
Positive tests: 390
Positivity rate: 3.12 percent
14. Southborough
Average daily incidence rate: 13.2 per 100,000
Case count: 18
Tests conducted: 1,665 
Positive tests: 21
Positivity rate: 1.26 percent
15. Framingham
Average daily incidence rate: 12.8 per 100,000
Case count: 133
Tests conducted: 6,471 
Positive tests: 163
Positivity rate: 2.52 percent
16. Marlborough
Average daily incidence rate: 12 per 100,000
Case count: 73
Tests conducted: 3,372 
Positive tests: 92
Positivity rate: 2.73 percent
17. Hudson
Average daily incidence rate: 10.9 per 100,000
Case count: 32
Tests conducted: 1,262 
Positive tests: 37
Positivity rate: 2.93 percent
18. Holyoke
Average daily incidence rate: 10.7 per 100,000
Case count: 62
Tests conducted: 2,834 
Positive tests: 66
Positivity rate: 2.33 percent
19. Attleboro
Average daily incidence rate: 10.5 per 100,000
Case count: 68
Tests conducted: 2,669 
Positive tests: 82
Positivity rate: 3.07 percent
20. Malden
Average daily incidence rate: 10.4 per 100,0000
Case count: 99
Tests conducted: 5,762 
Positive tests: 107
Positivity rate: 1.86 percent
21. New Bedford (tie)
Average daily incidence rate: 10 per 100,000
Case count: 139
Tests conducted: 4,944 
Positive tests: 201
Positivity rate: 4.07 percent
21. Boston (tie)
Average daily incidence rate: 10 per 100,000
Case count: 972
Tests conducted: 176,376 
Positive tests: 1,170
Positivity rate: 0.66 percent
21. Worcester (tie)
Average daily incidence rate: 10 per 100,000
Case count: 269
Tests conducted: 36,795 
Positive tests: 322
Positivity rate: 0.88 percent
24. Lynn
Average daily incidence rate: 9.8 per 100,000
Case count: 139
Tests conducted: 6,455 
Positive tests: 194
Positivity rate: 3.01 percent
25. Acushnet
Average daily incidence rate: 9.6 per 100,000
Case count: 14
Tests conducted: 489 
Positive tests: 15
Positivity rate: 3.07 percent
26. Plymouth
Average daily incidence rate: 9.3 per 100,000
Case count: 81
Tests conducted: 3,160 
Positive tests: 84
Positivity rate: 2.66 percent
27. Waltham
Average daily incidence rate: 9.2 per 100,000
Case count: 86
Tests conducted: 17,431
Positive tests: 93
Positivity rate: 0.53 percent
28. Woburn
Average daily incidence rate: 9.1 per 100,000
Case count: 53
Tests conducted: 3,008
Positive tests: 61
Positivity rate: 2.03 percent
29. Kingston
Average daily incidence rate: 9 per 100,000
Case count: 17
Tests conducted: 1,079
Positive tests: 19
Positivity rate: 1.76 percent
30. Brockton (tie)
Average daily incidence rate: 8.9 per 100,000
Case count: 122
Tests conducted: 6,048
Positive tests: 146
Positivity rate: 2.41 percent
30. Chelmsford (tie)
Average daily incidence rate: 8.9 per 100,000
Case count: 45
Tests conducted: 2,348
Positive tests: 52
Positivity rate: 2.21 percent
30. Leicester (tie)
Average daily incidence rate: 8.9 per 100,000
Case count: 14
Tests conducted: 841
Positive tests: 15
Positivity rate: 1.78 percent
30. Southbridge (tie)
Average daily incidence rate: 8.9 per 100,000
Case count: 21
Tests conducted: 1,011 
Positive tests: 21
Positivity rate: 2.08 percent
34. Webster
Average daily incidence rate: 8.7 per 100,000
Case count: 21
Tests conducted: 1,249
Positive tests: 22
Positivity rate: 1.76 percent
35. Randolph
Average daily incidence rate: 8.6 per 100,000
Case count: 41
Tests conducted: 2,479 
Positive tests: 44
Positivity rate: 1.77 percent
36. Winthrop
Average daily incidence rate: 8.3 per 100,000
Case count: 22
Tests conducted: 2,497
Positive tests: 31
Positivity rate: 1.24 percent
37. Avon
Average daily incidence rate: 8.2 per 100,000
Case count: 5
Tests conducted: 274 
Positive tests: 5
Positivity rate: 1.82 percent
38. Dartmouth (tie)
Average daily incidence rate: 8.1 per 100,000
Case count: 42
Tests conducted: 2,806 
Positive tests: 52
Positivity rate: 1.85 percent
39. Dudley (tie)
Average daily incidence rate: 8.1 per 100,000
Case count: 14
Tests conducted: 3,226 
Positive tests: 14
Positivity rate: 0.43 percent
40. Dracut
Average daily incidence rate: 8.0 per 100,000
Case count: 36
Tests conducted: 2,106 
Positive tests: 39
Positivity rate: 1.85 percent
View all of the state's data here: