COVID
'We all want to believe we're well': Dr. Deborah Birx issues warning about asymptomatic spread of COVID-19 during Boston visit
"The only thing that will prevent the next wave is us doing the responsible thing in public spaces and in private spaces."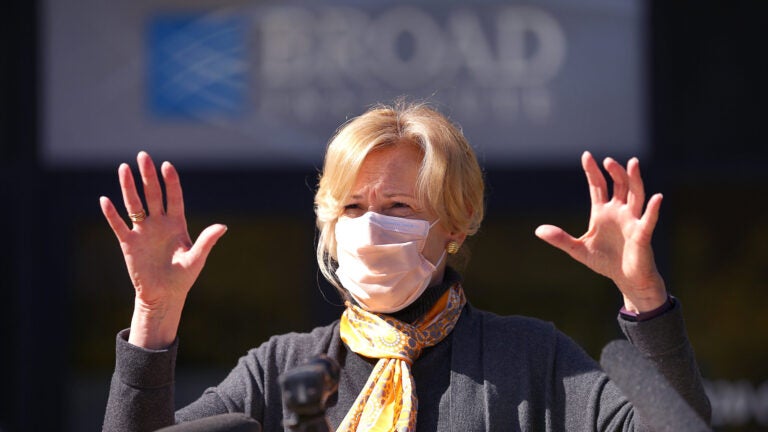 During a series of visits in Boston and Cambridge on Friday, Dr. Deborah Birx issued warnings about the growing "silent," asymptomatic spread of COVID-19 in Massachusetts and the northeast.
Birx, a member of the White House coronavirus task force, toured Boston University's Clinical Testing Lab Friday before crossing the river to visit the Broad Institute's COVID-19 testing facility in Cambridge, WHDH reports. She then met with Gov. Charlie Baker at the State House. 
According to the station, during her public remarks in Cambridge, Birx likened the asymptomatic spread occurring in the northeast to what was seen in the south over the summer as individuals gathered indoors for the air conditioning, to escape the heat. 
"Now is the time to act in the Northeast and that means we have to change our personal behaviors," she said of the early signs of growing asymptomatic spread, according to WHDH. 
When people let down their guard with family and friends, taking off masks and sharing meals indoors, those become "spreading events," Birx said. 
"We really have to watch who we're with," the doctor said. "Because just by looking at someone you cannot tell if they're infected. And I know we all want to believe we're well, but I can tell you the amount of asymptomatic spread is quite large."
In the meantime, she said public spaces have become "very safe" due to the social distancing and face covering measures individuals are following, WCVB reports.
During her visit in Cambridge, Birx stressed the need for more disease surveillance to catch those asymptomatic cases, praising the routine testing being performed at colleges across the country, according to the Boston Herald. She urged the public not to give into "COVID fatigue" and continue to practice responsible public health measures both in public and in private when among family and friends. 
"The only thing that will prevent the next wave is us doing the responsible thing in public spaces and in private spaces," Birx said, according to WHDH.
When asked about the outbreak of coronavirus at the White House and President Donald Trump's actions since contracting the virus, Birx only reiterated her support for wearing masks and said it is "critical not to confuse the American people," the Boston Globe reports. 
"[The president] has his own public health advisors for his own health," she said. "I've made it clear about what I think is critical for each of us to stay safe."