COVID
With federal relief up in the air, Massachusetts is launching its own economic recovery plan
"We certainly don't believe that we can wait."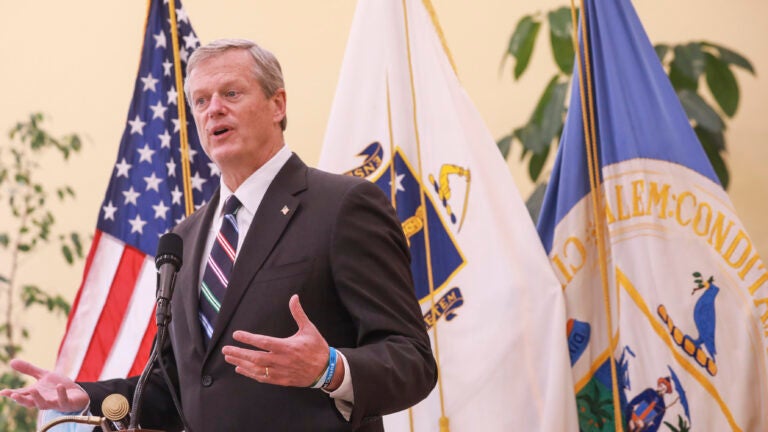 Gov. Charlie Baker says downtowns and small businesses in Massachusetts have "lost a lot" due to the COVID-19 pandemic.
And with the prospect of additional federal relief plagued by uncertainty, the state is taking its own action.
Baker's administration announced a $774 million plan Thursday that aims to support the state's economic recovery through a mix of grants for small businesses, funding for workforce training partnerships, and millions more in assistance to businesses, cultural sites, and municipalities.
"To be clear, there's no substitute for the size and scope that a federal aid package could deliver," the Republican governor said during a press conference Thursday afternoon. "But that doesn't seem to be in the offing, and we certainly don't believe that we can wait."
Baker noted that Massachusetts was hit particularly hard by COVID-19 in the spring, turning the state's economy "upside down" and forcing many businesses — especially in the retail, entertainment, and hospitality industries — to make "painful decisions and adjustments." For months, Massachusetts had the highest unemployment rate of any state in the country. While much of the economy has since reopened, Baker said Thursday that the spread of COVID-19 remains "particularly tough to manage" in some cities and that downtowns "still have a very long way to go to get back to what might look like normal."
Much of the newly announced investments are from the previous federal relief funds, as well as previously announced programs, such as the $171 million eviction diversion initiative that Baker announced last week. Another $175 million is part of a revised budget that Baker proposed last week and hopes the legislature will pass by Thanksgiving (the governor has also proposed a separate $275 economic development bill that is not part of the plan Thursday).
"The other $600 million in capital funding and state funding and federal resources is basically going to be in play for the next several months," Baker said Thursday, describing the plan's financing as "a giant quilt of funds coming from a whole bunch of different places."
The initiative does include about $115 million in new investments, featuring $50.8 million in grants for small businesses that were hit hardest by the pandemic.
The two-tiered program offers grants of up to $25,000 for businesses with five or less employees, while companies with between six and 50 workers can apply for up to $75,000.
The funds can be used for things like employee payroll and benefits costs, rent and mortgage payments, utilities, and interest on debt obligations. The smallest companies can also use the grants for for general support and stabilization of their business, as well as for purchasing personal protection equipment.
The application window opened at noon Thursday and will close Nov. 12 at noon.
Baker noted that the small business grant program is more "targeted" and "nuanced" than the federal Paycheck Protection Program, which offered forgivable loans on an essentially first-come-first-serve basis.
The state grant program is not first come, first serve. Instead, applications will be considered based on how hard applicants were hit by the pandemic, as well as whether they have already been able to access federal relief funds (preference will be given to those who have not). Additionally, the program will prioritize companies owned by women, minorities, veterans, and other underrepresented groups that serve the state's Gateway Cities, which have more or less seen persistently high levels of COVID-19.
"Prior to this current downturn, the Massachusetts economy was quite strong," Mike Kennealy, the state's Housing and Economic Development secretary, said Thursday.
"Though even then, there were people in communities that we knew were not able to share in the prosperity and growth that had been generated," Kennealy said. "COVID-19 has only made these gaps more pronounced and the barriers steeper. Enhancing access to capital, space, and networks for women- and minority-owned businesses, along with other ways to address some of the core needs of underserved communities, were already part of our agenda before the pandemic — and we have now redoubled those efforts."
Not all small businesses can apply for the grants. Real estate companies, chains, liquor stores, gun shops, lobbyists, and cannabis-related businesses are all ineligible, according to the Massachusetts Growth Capital Corporation, a quasi-public agency that is administering the program.
As a result of the more considered approach, Baker said he expects the state grant program may take "a littler longer" to process than the federal PPP program. But the governor said he expects most of the new funding announced Thursday will be "out of the door before the end of the calendar year."
The new plan Thursday also involves shifting hundreds of millions of dollars in existing capital plans and funds toward local assistance. It also includes $25 million to expand workforce training and opportunity programs, an additional $10 million for the state's Shared Streets and Spaces Program, $10 million to support communities' recovery planning efforts, $10 million for cultural facilities such as museums, and $8.3 million in small business technical assistance.
Baker hopes the raft of investments will help businesses "keep the wheels on the bus" as they ride out what is expected to be a slow recovery from the pandemic. But the governor also reiterated his frustration with the inability of President Donald Trump and Congress to pass a pandemic relief bill this fall, given the federal government's capacity.
"We're talking today about $775 million," Baker said, comparing that to the $14.3 billion that Massachusetts businesses received in total from the PPP program.
"The feds play on a very different level than we do," he said.