COVID
Why did Massachusetts shut down ice rinks? Charlie Baker says blame the adults.
The governor said that "most" teams refused to hand over rosters to help contact tracers follow up with players and their families.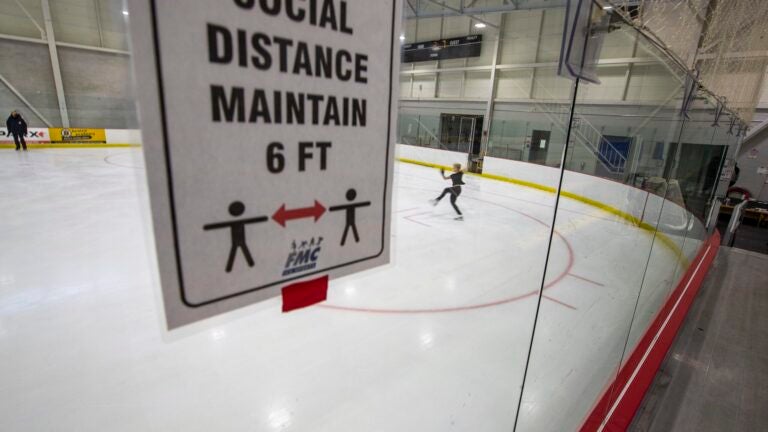 Massachusetts announced last Thursday that it was shutting down indoor ice rinks for two weeks, after more than 30 coronavirus clusters across the state were linked to hockey leagues.
Other states, including Maine, New Hampshire, and Vermont, have taken similar action following their own hockey-related COVID-19 outbreaks.
But according to Gov. Charlie Baker, hockey itself isn't necessarily the threat. Rather, the transmission of the virus is "likely coming from all the activity around hockey and some irresponsible behavior from parents and coaches," Baker said during a press conference Tuesday afternoon.
"Remember, many times these tournaments involve people showing up at a rink at seven or eight o'clock in the morning, playing a series of games over the course of the day, and basically spending more time at the rink with each other, engaged in conversation, sharing food, potentially sharing a drink, and maybe only playing two or three games and then leaving at six or seven o'clock at night," the governor said.
"You can compound that by some of the ones that involve weekend trips to play in tournaments in nearby states, and you get the idea that it's about a lot more than just the time on the ice," he added.
According to Baker, state officials have identified more than 110 positive cases and 22 probable cases, as well as more than 220 close contacts, linked to 20 rinks across the state. In total, the cases impacted 66 cities and towns, he said.
Moreover, the clusters also likely led to "dozens" of additional infections, according to Baker, who said the cases were "probably undercounted" due to some adults' lack of cooperation with the state's contact tracing teams.
"That's, among others, the reason why we took the immediate action and shut down all the rinks in Massachusetts for two weeks," he said.
Baker said that "most" of the teams refused to hand over rosters so that contact tracers could follow up with the players and their families. According to Health and Human Services Secretary Marylou Sudders, there were even several instances of coaches telling families not to respond to contact tracers.
"It's not acceptable," Sudders said.
Sudders also said Tuesday that there were a few circumstances when coaches suggested that a player's quarantine meant they could still go play on someone else's team.
"That's obviously not a quarantine," she said.
Massachusetts Hockey President Bob Joyce told the State House News Service that his group, which is an affiliate of USA Hockey and the local governing body of youth hockey, "did not have direct contact with the administration prior to the shutdown and were unaware of any instances (of) coaches telling players that they could play for a different team while quarantining."
"We do not support the obstruction of contact tracing and believe that families, programs and facilities all need to work together to facilitate the process," Joyce told the news service in an email.
Officials plans to issue stronger COVID-19 protocols for when rinks are allowed to reopen on Nov. 7. The existing rules limit the number of people inside an arena at a time and require spectators to wear face coverings and social distance, among other precautions. According to Sudders, the updated guidelines will have new, clear rules about the sharing of rosters and transportation. They will also make it clear that refusing to cooperate with with contact tracers may could lead to officials shutting down the rink or the team.
"Parents and coaches have an obligation to protect their kids and themselves and their teammates," Baker said Tuesday. "I know the shutdown wasn't welcome news. Anybody who saw my social network page knows that. But youth hockey needs to make changes and we look forward to working with them to create the kind of framework that will be safe for kids and for parents."
Get Boston.com's browser alerts:
Enable breaking news notifications straight to your internet browser.