COVID
'An unprecedented, unusual circumstance': How COVID-19 is rattling the school bus industry in Mass.
"The yellow school bus has always been and still is the most efficient and the most cost effective and by far the safest way to get kids to and from school. But the circumstances we're under right now certainly present some major challenges to the industry."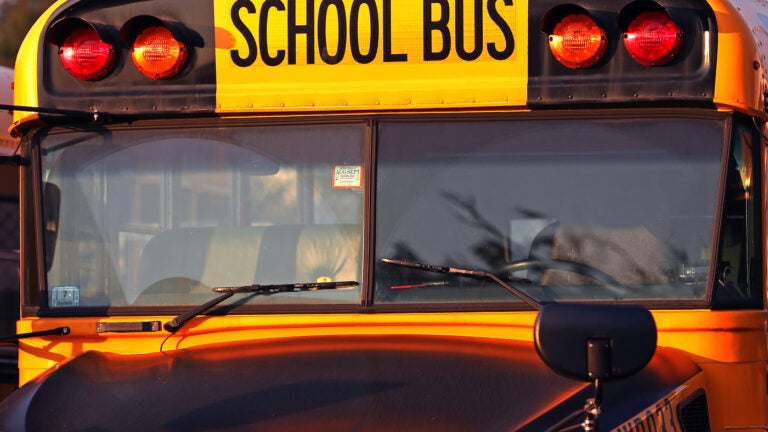 John McCarthy is not in the restaurant business, but he looks at his own industry in similar terms.
There's the cook, frying up the dishes in the back of house, and there are the waiters, delivering meals to the customers. They rely on one another, he explains.
For McCarthy, CEO of North Reading-based NRT Bus, Inc. — which, merged with Van Pool Transportation, shuttles about 125,000 students to classrooms across Massachusetts on a regular day — the waiters in his line of work are the school bus drivers.
"The school bus driver is as important to the foundation of education as a teacher … or a counselor," he added. "You know, (for) many of these kids, … there's no other way of getting to school other than the school bus."
But these days, as the commonwealth and the rest of the country reels and spins from the heavy punches of the coronavirus pandemic, even a core tenet of the education system — one that relies largely on private contractors — wonders how it will weather the challenges in what's become a difficult, new reality.
As schools shut down at the onset of the health crisis in March, some districts renegotiated their deals with bus companies, who were no longer bringing students to class every day, even as their overhead expenses remained.
And as classes begin again, many schools have opted for remote learning in some form. Those who have reopened under hybrid learning plans have required physical distancing on buses, presenting new hurdles for how companies manage their fleets.
The transportation providers are also hemorrhaging drivers, as employees sought out other jobs when classrooms went virtual and some worried about the health risk-factors of working during a global pandemic.
"It's definitely an unprecedented, unusual circumstance that we're all really trying to learn how we're going to get this done," said David Strong, president of the School Transportation Association of Massachusetts, or STAM. "We definitely want to do this. We want to get the job done.
"I believe that the yellow school bus has always been and still is the most efficient and the most cost effective and by far the safest way to get kids to and from school," he added. "But the circumstances we're under right now certainly present some major challenges to the industry."
'There still is that question mark, I think, in some people's minds.'
Like teachers, some drivers have had to consider the health concerns present when working in a pandemic.
Many drivers are senior citizens, according to Strong. The work is a perfect fit for retirees.
But with the health threat the coronavirus poses to older people, contractors have seen some of their ranks take a hit.
"As much as I think some of them are kind of trying to weigh the pros and cons of that, you know, people say, 'But am I gonna be safe or am I going to get sick?'" Strong said. "It's kind of the same concerns that the teachers are voicing: How safe is this or (how safe) can we make this? And again, I think that they've come up with a good plan for busses, but there still is that question mark, I think, in some people's minds."
McCarthy has seen the worries play out firsthand.
"Some of our biggest challenges right now is as we're calling people back, we're getting those answers," he said. "Those answers are: 'Hey, you know what, I've been off so long I've found another job and it's, you know, with less health risks.' And, you know, 'Hey, I can't come back to work because I have to do … home schooling because my school isn't open.'"
When it came to finding new employees to bring aboard, McCarthy said the extra $600 weekly unemployment benefit provided to people out of work amid the health crisis earlier this year made it "very, very difficult" to entice prospective employees to re-enter the workforce.
"We had eight recruiters," he said. "I think out of the eight recruiters, we had seven applicants."
Another staffing hurdle took hold long before the health crisis straddled the transportation sector.
For several years, the United States has experienced a shortage of bus and truck drivers, according to Strong.
Recruitment and training is an intensive process. Prospective drivers need 60 hours of training even before a road test, plus a written exam, a drug and alcohol test, and several background checks, just to name a few steps. Start to finish, the requirements can take a whole three months to complete, Strong said.
"It takes a little bit to get somebody actually in the seat of the bus," he said. "One of the things that I heard from one of the contractors just in the last couple of weeks is that they had trained about 30 drivers over the summer anticipating that they would need some more drivers. And I think they've got five out of the 30. The rest of them went elsewhere."
Amazon is another pull from the industry's labor, not to mention opportunities for drivers in other companies, Strong said.
"We're looking to make sure that we retain the people or recruit more people so that the school buses will roll for the continuity (of service) for the children," McCarthy said. "I've been doing this for 31 years. People think … the school bus companies are just here for all the profits. Trust me, school bus companies are not as profitable as a lot of people think."
'They're just looking for compensation for the services that they did provide.'
When schools shut down across the commonwealth in March, the buses — of course — stopped rolling.
The large majority of districts paid their contracted bus services — which typically work under multi-year contracts with payment based on 180-day academic years — even though they were not hauling students to classes, according to Strong. Many renegotiated payments and struck deals.
"Most of the cities and towns, the people we're dealing with understand, you know, the realities of running a business," Strong said.
Some school districts, however, opted to not pay past the last day of in-person school in the spring, he said.
"There are still a handful or more, maybe a dozen or so, that have just refused to pay anything past the past the middle of March when they shut down, which does create a real issue for the companies that don't get paid," Strong said. "They're definitely struggling financially at this point."
NRT filed a lawsuit in Suffolk Superior Court this summer against the City of Lowell, which the company says owes almost $2 million under its agreements with the city's school district, despite classes being held online. The district "unilaterally and without justification" stopped paying NRT when schools shut down in March, the complaint contends.
While the company was no longer transporting students, NRT asserts that its contract required them to perform other services — such as fleet maintenance, insurance payments, driver retainment, among others — in order to be ready should the buses be needed on short notice, said Alycia Kennedy, an attorney representing the company.
"They're not looking for a handout from the city or anything," Kennedy said. "They're just looking for compensation for the services that they did provide."
The Lowell Law Department did not return a request for comment, although a department spokesperson told The Lowell Sun earlier this month the city does not think the complaint is valid, and added that the city feels it handled its contract ethically and legally.
As of Thursday, the city had not yet filed an official response to the complaint in court.
"We obviously disagree with the city's interpretation of the contract," Kennedy said. "I think it's clear that the contract requires all of these services to be continuously performed and NRT performed them, and now the city is refusing to pay for these services that were ordered and rendered."
'If everybody went back to school right now, we'd be in big trouble.'
While the number of "red zone" or high-risk coronavirus communities across Massachusetts has only grown over the last two months, the majority of the commonwealth's school systems have students attending classes in person in some fashion.
State Department of Elementary and Secondary Education Commissioner Jeffrey Riley said Tuesday that 80 percent of school districts are using a full in-person or hybrid learning — where students go to school a few days a week and learn remotely when they do not — model, although most are using the latter.
Between 425,000 and 450,000 students are going to school in physical classrooms, while about 1,400 school buildings, out of 1,845 in total, are open for instruction in some form, Riley said.
School districts in "red zone" communities are even encouraged to keep their buildings open "so long as there is no evidence of COVID-19 transmission in schools," Riley said.
And for those students who are back at school, riding the school bus is not what it used to be.
State guidance to school districts outlines protocols for placing and assigning only one student per bench, on alternating sides for each row, reducing overall capacity of each vehicle to about a third. (An 83-passenger bus, for example, now transports about only 27 passengers.)
With staffing woes, NRT has only been able to keep services running as smoothly as it has because some schools are not holding classes in person, according to McCarthy.
"We're doing as well as we're doing in service in our community is because we have communities that haven't gone back to school," he said. "If everybody went back to school right now, we'd be in big trouble."
Typically, under normal circumstances, there are 9,000 school buses in the state to transport all of the students in need of a ride at full capacity, Strong said. If every school was to eventually reopen for full in-person learning while buses still followed physical distancing guidance, the commonwealth would theoretically need 27,000 buses to get the job done, he said.
"It's not going to happen," he said. "The manufacturers can't supply them. It's going to be incredibly expensive, and the biggest concern is we're not going to have enough drivers to drive them."
For now, as bus companies experience cash shortfalls and remaining and new expenses, Strong said he hopes state and federal lawmakers can drum up financial support.
"I think they have to — and I'm just saying that from my perspective," he said. "I don't know what our legislators are going to do, but I think they, realistically, have to look at the situation and say, 'If we're going to succeed in keeping our education system going, we've got to throw some more money at it.'"
After all, Strong sees the school bus industry as providing an essential service: Getting students to their education.
"It's a real concern if we don't have it," he said.