Coronavirus
What we learned from the new data on coronavirus clusters in Massachusetts
The biggest source? Household transmission.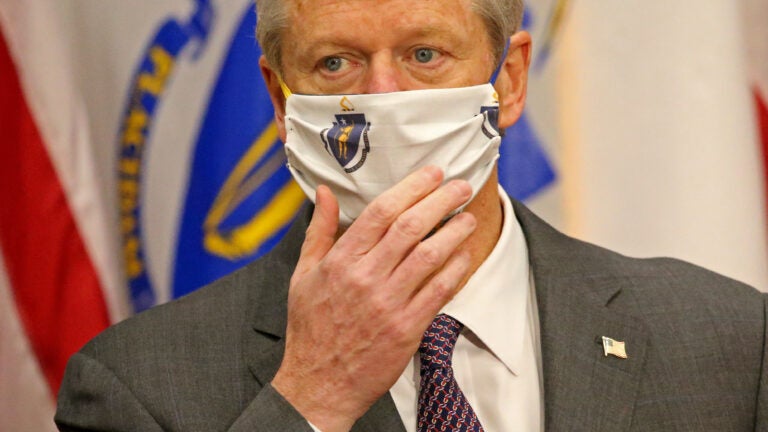 Gov. Charlie Baker said earlier this month that Massachusetts residents should prepare to hear terms like "household spread" and "intergenerational spread" a lot this fall.
New coronavirus data released by state officials this week underscores why.
For this first time Thursday evening, the Department of Public Health's more detailed weekly COVID-19 report included data on "clusters," which are generally defined as instances where there are two or more coronavirus cases with a common exposure.
The report shows clusters originating from long-term care facilities, child care centers, schools, industrial workplaces, social gatherings, restaurants, organized sports, and numerous other types of settings over the past month. But far and away the most common source of COVID-19 clusters identified by the state were households.
According to the report Thursday, 3,854 — or 87.7 percent — of the 4,395 new and ongoing clusters identified between Sept. 27 and Oct. 24 were linked to residences, meaning the cases affected multiple people living at the same address (and were not associated with another cluster). In total, they accounted for 7,428 of the 9,391 cluster-linked cases, or roughly 79 percent.
"A large amount of transmission is occurring in households, a place where people let their guard down and feel safe," Tory Mazzola, a spokesman for the state's COVID-19 command center, told Boston.com in an email. "It's critical that residents are aware of this and — especially those living in multi-generational homes or with family members who have underlying conditions — take precautions even in their home, such as wearing a mask, washing hands and not sharing utensils, as a few examples."
During that four-week period, there were 6,830 new cases linked the household clusters (the report Thursday also included ongoing cases that were first identified before Sept. 27) out of 8,208 total.
However, overall, those cases represent a minority of the 19,291 cases that were identified between Sept. 27 and Oct. 24, though contact tracing data is incomplete. Officials say that the nearly 10,000 cases outside of the cluster report Thursday have not been tied to a specific cluster. Baker's administration has implored residents to pick up the phone when contact tracers call to provide details about their exposure.
"This information is the foundation of our reporting and answering the call will enhance our data and better inform the public," Mazzola said.
According to the report Thursday, the second — albeit distantly — leading source of clusters was long-term care facilities with 141, resulting in 811 confirmed cases.
Child care centers were linked to 55 clusters, K-12 schools were linked to 26 clusters, and colleges and universities were linked to 23 clusters. Industrial workplaces, like warehouses and construction sites, were the source of 33 clusters, while other workplaces, including offices and work-related events, were linked to 16.
Restaurants were linked to 29 clusters, while retail settings and services like grocery stores, hair salons, barbers, other retail stores were linked to 20.
In all of those cases, the clusters themselves appear to be limited —  resulting in less than 100 cases respectively for each setting type.
There were other settings — like hospitals, prisons, and senior-care facilities — that had fewer distinct clusters. But when they did, they appear to be more far-reaching — or at least contact tracers were more able to identify all the cases involved.  Hospitals were found to be the cause of 20 clusters resulting in 109 cases, correction facilities were linked to eight clusters with 177 confirmed cases, and senior living setting had 28 clusters with 103 infections.
The new data comes as Baker has consistently defended the state's decision to lift shutdown orders on an increasing number of businesses, even as daily new cases have trended upwards this fall to levels not seen since spring. The Republican governor has meanwhile tightened restrictions on private social gatherings, which he has blamed for driving the spread and warned about as the holidays approach.
During a press conference Tuesday, he said that contact tracing data attributes "over half" of the new cases in Massachusetts to social gatherings and household transmission.
However, the data Thursday suggests that of those two things, household transmission is the much more significant cause. Social gatherings — defined as parties, group gatherings, weddings, funerals, private clubs, and yacht clubs — account for just 33 clusters resulting in 79 cases, according to the new report.
Mazzola reiterated Thursday that the new data "makes clear that the vast amount of transmission is occurring within households, and not restaurants and retailers."
Baker has put the focus on discouraging people from big inter-household gatherings indoors, where the risk of transmission is highest — asking residents to do their part so that others can return to work, in the wake the devastating economic effects of the pandemic on many businesses.
"If they are doing the right things and they are only on an isolated-incident basis part of our problem with respect to COVID, we need to let them work," Baker said during a press conference earlier this week. "But to let them work, a whole bunch of other people have got to be willing, in their downtime, to avoid the things we've been talking about that drive spread."