COVID
Massachusetts removes Connecticut and New Jersey from list of states exempt from out-of-state travel rules
The move comes after Connecticut put Massachusetts on its own travel advisory earlier this week, amid rising COVID-19 rates in both states.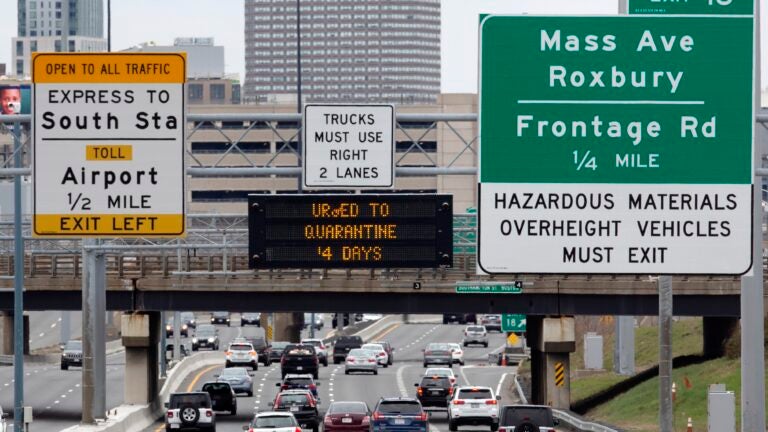 Just a few days after Connecticut announced that people coming from neighboring Massachusetts are now required to adhere to its quarantine rules for out-of-state travel due to an increase in COVID-19 rates, Massachusetts will require most travelers coming north across the border to do the same.
The state's Department of Public Health announced Friday night that it was removing Connecticut, as well as New Jersey, from its list of lower-risk states, meaning that most visitors from both states will be required to quarantine for two weeks or have proof of a negative COVID-19 test from within the previous 72 hours. Violators could face fines beginning at $500.
The removals took effect shortly after midnight Saturday.
All travelers arriving to MA from CT and NJ must fill out a form, quarantine for 14 days or produce a negative COVID test. Please visit https://t.co/jI212tXJfw for more info. #covid19MA

— Mass. Public Health (@MassDPH) October 30, 2020
Connecticut joins Rhode Island as the only states neighboring Massachusetts that are subject to Gov. Charlie Baker's travel order. The move comes after Baker called Connecticut Gov. Ned Lamont's decision Tuesday to make Massachusetts the only New England state its respective travel advisory — while granting carveouts to Rhode Island and New Jersey — a "bad idea."
However, as both governors have highlighted, there are exceptions for limited types of daily cross-border travel.
Connecticut's travel rules, which carry a similar $500 penalty for violators, apply to individuals who are in the state for more than 24 hours. And the while the rules in Massachusetts have no time-based exceptions, it does allow for limited types of cross-border travel for things like commuting to work, caring for a family member, or going to the grocery store.
"It's absolutely impossible to enforce travel restrictions between contiguous states," Lamont said Wednesday. "People are driving across the border to get milk or something else."
California, Hawaii, Maine, New Hampshire, New York, Vermont, Washington state, and Washington, D.C., remain on the lower-risk list.
The changes this week come as COVID-19 rates in all three states have risen to levels not seen since spring, exceeding a critical metric to get an exemption from their respective out-of-state travel rules.
Connecticut, Massachusetts, and New Jersey all require states to average less than 10 new daily cases per 100,000 residents to be exempt from the quarantines rules. As of Friday night, Connecticut and New Jersey's incidence rates were 20.7 and 17.8 cases per 100,000 residents, respectively. Massachusetts had an incidence rate of 18.2 new cases per 100,000 residents.
Lamont had suggested earlier this week that Connecticut and Massachusetts are working on some sort of agreement to handle cross border travel as the number of national infections continue to surge this fall.
New York, for example, opted not to place Massachusetts or any neighboring states on its respective official travel advisory list, but is urging residents to avoid nonessential trips to the Bay State. Connecticut also decided not to place Rhode Island and New Jersey on its travel advisory, despite the two state's surpassing their COVID-19 incidence threshold, due to "the interconnected nature of the region and mode of transport between the states."
However, as of Saturday, no such agreement had been worked out with Massachusetts.
"We're really urging people to stay closer to home," Lamont said during a press conference Thursday.
Get Boston.com's browser alerts:
Enable breaking news notifications straight to your internet browser.