COVID
'The shortages are still there': Experts say demand for PPE is increasing in Mass. as COVID-19 cases rise
"We're going to see even more shortages as the fall comes."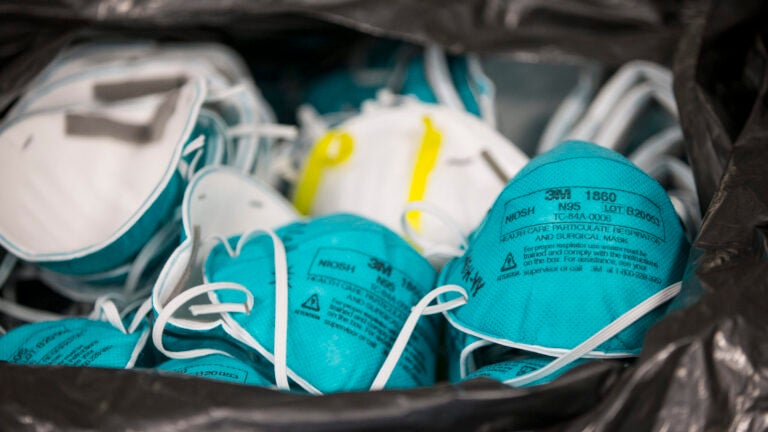 The images of health care workers using trash bags and cobbled-together personal protective equipment on the front lines of the COVID-19 pandemic painted a stark and jarring picture of the need for masks, gowns, and other medical gear as cases surged in the early weeks and months of the virus outbreak in the United States.
Months later, PPE shortages may not be grabbing headlines the way they were during the spring months as hospital directors and governors chased down equipment around the globe. 
But the need is still there, according to Dr. Megan Ranney. 
Ranney is a co-founder of Get Us PPE, a national grassroots effort started by a coalition of doctors at the beginning of the pandemic that now serves as the largest nonprofit in the country working to get personal protective equipment to those in need. 
"It is very much still an issue," Ranney, who is also an emergency room physician and director of the Brown Lifespan Center for Digital Health, told Boston.com. "We're actually seeing demand for donations of PPE increase nationwide at Get Us PPE. Many of my colleagues across the country are still short on PPE. I have friends at several emergency departments, not my own thank goodness, but some emergency departments who have to wear the same N95 masks for an entire month." 
The organization is also seeing a considerable amount of need for PPE in non-hospital settings — in nursing homes, clinics that have reopened, and for home health aides. As schools have reopened, Ranney said there has been an increase in demand for the equipment for teachers and school nurses as well. 
"Unfortunately manufacturing locally has not increased that much — the shortages are still there," she said. 
According to Get Us PPE, requests for equipment in Massachusetts were at their peak in April, with demand at its lowest point in August. 
But the numbers are on the rise again.
The US still does not have enough #PPE. And the lack of PPE is most acute in the communities with highest rates of #covid19. https://t.co/UpjqEs7ODz @getusppe

— Megan Ranney MD MPH 🗽 (@meganranney) October 27, 2020
In September, the organization saw about a 50 percent increase in the number of PPE requests from the previous month. Three-quarters of the way through the month of October, the organization had received more requests for PPE than they had for the entire month of September. 
The need for surgical masks in particular has increased "dramatically" in Massachusetts between September and October, Amanda Peery, a spokeswoman for Get Us PPE told Boston.com. 
In September, surgical masks accounted for about 17 percent of the total requests for protective equipment. Before the end of October, the requests for surgical masks accounted for more than 75 percent of the total units of PPE requested in the state. 
"Requests are still down significantly [in Massachusetts] since April, but one major reason for that is that the need for PPE is so great that we've only been able to fulfill 10 percent of requests in our database and 90 percent are still outstanding," Peery said.
Ranney said part of the problem remains that prices for PPE are still "through the roof."
"The way to purchase it is still very challenging, and honestly there still isn't enough," she said. 
"Hospitals and clinics will have ample of one type of PPE for a little bit and then it will run out. It's the same problem that we continue to have with testing — where suddenly there won't be any more rapid tests."
Wealthier health care systems may not be seeing the shortages, but rural hospitals, small clinics, nursing homes, and community sites are "really struggling," the emergency room doctor said. 
The US is still in the middle of a PPE crisis. Get Us PPE data indicates that there is still an urgent PPE shortage with 80% of requestors indicating they had no supply remaining, up from 77% in August. See our September Shortage Index: https://t.co/nPIqdFsgqc pic.twitter.com/TiqE8KILZs

— #GetUsPPE (@getusppe) October 13, 2020
"There's absolutely still shortages for those frontline workers," Ranney said. "And we can see it in the Get Us PPE database. As the number of cases goes up in an area, we'll see the demand for donations go up in an area because people need to use it more. So I anticipate that we're going to see even more shortages as the fall comes."
Ranney and Peery stressed that the demand and challenges for protective equipment isn't limited to health care settings, pointing to the increased need demonstrated by schools. 
Patty Comeau, the school nurse leader for Methuen Public Schools and a member of the Coalition to Safely Reopen Schools, told Boston.com that getting ahold of gloves and N95 face masks has been particularly challenging for her district and others across the state. Having the PPE in school buildings is essential not just for school nurses, but for staff members and teachers, like those working with special needs students, who work in close proximity to students and come in direct contact with bodily fluids because of meals or diaper changing, she said. 
Comeau said her district has equipment on order, but it hasn't come in yet. In the meantime, staff have been "sharing" what they have, she said. 
Other districts facing shortages are partnering with community entities — like police or fire departments — to share equipment, particularly if what they need is on back-order, the school nurse said.
"We all want to keep the schools open, but part of keeping the schools open is keeping them safe," Comeau said. "And part of keeping them safe is making sure that people have the equipment they need so when they're dealing with people who potentially have COVID, that they're protected. You need the PPE to be able to do that."
Lauren O'Malley-Singh, a school nurse for Boston Public Schools, told Boston.com she's very concerned about the level and availability of PPE available within the district. 
Boston Public Schools suspended all in-person learning for students on Oct. 22 after the city's coronavirus positive test rate —  the number of people who tested positive for the virus out of the total number of tests conducted — climbed to 5.7 percent. The district had opened classrooms for students prioritized for in-person learning twice a week at the start of October. 
O'Malley-Singh, who works at the district's Another Course to College, a pilot high school in Hyde Park, told Boston.com school nurses in the district received their individual supply of five, one-time use N95 masks around the time the district went back to all-remote learning. 
"We received them in a brown lunch bag and we were given 4 other lunch bags," she said. "And we were told that we were to rotate them out, and place them in the lunch bag when we're not using them." 
O'Malley-Singh, who also works at a hospital on a per-diem basis, said the supply and the means of storage for the masks is not safe practice. 
"As a health care provider in that building, the sole health care provider, I have truly never worked in worse conditions in terms of PPE," she said. "Five N95 respirators in Hyde Park is absolutely insane to think that that's an OK amount of PPE to provide me — never mind the teachers who are all being completely unprotected, which is my higher concern. Because I am an essential worker — I chose that career with the knowledge that I may be in a situation like this. We're trained to deal with pandemics."
Other staff and students are not, she said, adding that ideally, she thinks every teacher and student in the district should have an N95 mask for when they are in school buildings.
"They did not sign up for a dangerous working condition, and nor should they have to be exposed," she said. 
Boston Public Schools have experienced challenges similar to those of other districts in procuring equipment, according to BPS officials. The district has worked with the city and done outreach to multiple vendors in order to deliver PPE and backup supplies to schools. 
As far as the N95 masks, the district received guidance from hospital partners on the care and storage of the respirators and is using CDC and NIOSH recommendations for the reuse of the masks, according to BPS officials. The N95 masks won't be sterilized or cleaned, but the school nurses will receive replacement respirators before the supplies are used up. In addition to the masks, school nurses have been given face shields for caring for students exhibiting symptoms of COVID-19. 
According to BPS officials, the district is confident in the amount of PPE stock it currently has and continues to plan for replenishment and reordering of the backup supply. 
O'Malley-Singh said the other issue she's run into in terms of protective equipment is related to a second supply of masks. Guidance from the state Department of Elementary and Secondary Education stipulates that school nurses immediately apply a surgical mask over the nose and mouth of any students or individuals showing symptoms of COVID-19 in the school building. 
"I was reading those policies and also reading the supplies I received, and the masks I received for symptomatic students and staff were not surgical masks," O'Malley-Singh said. "They were face masks."
The face masks are made of paper and can be blue and look just like the surgical ones that doctors wear in hospitals, she said. The difference is the face masks are not FDA-approved or considered a medical device, which is what state guidance tells nurses to use in the case of dealing with a symptomatic person. 
"N95s are my first preference; my second preference would be an FDA-approved surgical mask," she said. "However, none of us received that." 
The Hyde Park nurse said she keeps hearing the correct masks are in shipment or they're on the way to schools. 
"I genuinely don't believe we have them, because they're honestly sold out across the nation," she said. 
Hey @marty_walsh and @WGBH @BostonGlobe @bostonherald we don't have proper face masks for our students! Why haven't you responded to my pleas for proper PPE and AIR FILTRATION??? pic.twitter.com/WAvhsnK2WB

— Lauren O'Malley-Singh (@dearestlauren) October 13, 2020
The Boston Teachers Union and district educators have been raising concerns about the safety of the school buildings since the pandemic began, particularly related to air quality and ventilation and worries over airborne transmission of the virus. 
Between her concerns about the supply and availability of PPE within the district, as well as her worries about the way the district is approaching ventilation within classrooms, O'Malley-Singh said she doesn't think most Boston schools are safe environments for teachers, students, or staff. 
"As an advanced practice nurse, this is totally mind-boggling that this is accepted," she said. "No hospital nurse, no community health nurse, would feel safe working in the building that I'm working in."
Just like in the spring, Ranney said anything that individuals can do to help get PPE donations to those in need would be "very much appreciated." 
Through Get Us PPE, both businesses and individuals interested in donating supplies can view a database of locations asking for help by region, state, and type of  PPE requested. The nonprofit is also accepting financial contributions to fund PPE purchases and the coordination of donations. 
"As we see numbers of COVID-19 cases increase and those hospitalizations increase, the need for donated PPE is only going to increase," Ranney warned. "And if we can't meet it, we're going to see more health care workers getting sick."