Coronavirus
New database shows how the 40 largest school districts in Massachusetts have responded to the coronavirus
Nearly half are fully remote.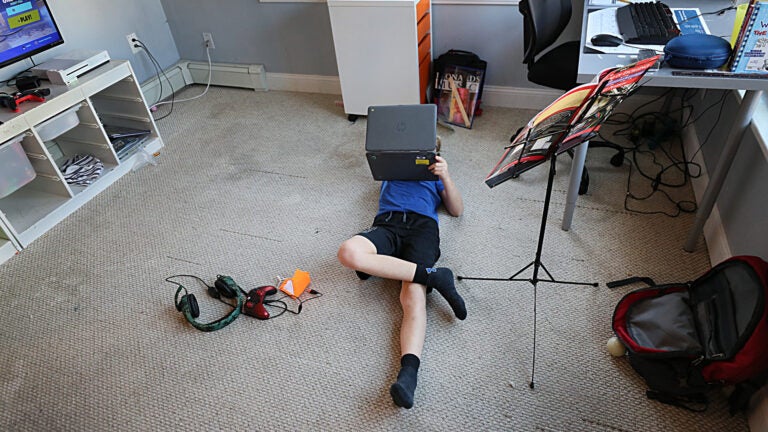 Almost a quarter of public school districts in Massachusetts are in fully remote learning models due to the COVID-19 pandemic. But among the state's 40 largest districts, the rate is nearly double.
According to a survey released Monday by Boston University and the Massachusetts Business Alliance for Education, 18 — or 45 percent — of the 40 biggest school districts in Massachusetts have students learning entirely at home due to the coronavirus. That includes the state's three biggest public school districts: Boston, Worcester, and Springfield. Another 18 districts are in hybrid learning models, with students receiving a mix of in-person and virtual classes, while four districts have implemented differing approaches based on grade level.
None of the 40 district are using fully in-person learning models.
The database also looks at whether each district has set particular standards for remote learning, such as required teacher-family check-ins, a minimum number of instructional minutes, and a specific approach to chronic absenteeism. However, as The Boston Globe reported Monday, some local and state education officials say the information on academic standards, which was based on plans released in the summer, does not fully account for efforts to address things like learning time and attendance.
"This database is a resource for those interested in how other school districts are approaching this year's challenges and for those interested to understand how their experience of what is happening on the ground compares to the approaches laid out in the reopening plan," the MBAE said in a press release. "Districts have had to react rapidly to make difficult decisions in the face of the uncertainty and constraints this fall. We will be updating this database as plans change and more information becomes available."
The new data comes as Gov. Charlie Baker's administration continues to push districts to resume in-person classes, even as COVID-19 cases across New England are on the rise.
As of Sunday, the Department of Elementary and Secondary Education said that 23 percent of the state's 371 school districts were fully remote. According to Baker, that is "too many." State education officials argue that schools have not proven to be spreaders and that the safety standards — such as face covering and distancing requirements — should make it safe for students to return to physical classes in at least some form.
Get Boston.com's browser alerts:
Enable breaking news notifications straight to your internet browser.