COVID
Massachusetts and six other Northeast states suspend interstate youth hockey until at least 2021
"We want everybody playing across the region with the same set of rules ... and it's going to take us a few weeks to figure that out."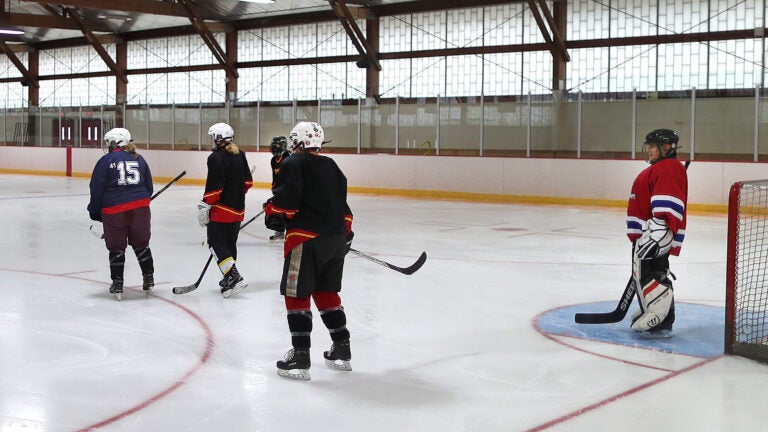 The governors of the six New England states as well as New Jersey announced Thursday that they are suspending interstate youth hockey activities for at least the rest of the year, after such competitions were linked to numerous COVID-19 clusters.
The suspension, which applies to youth hockey leagues, as well as public and private schools, will begin this Saturday, Nov. 14, and run through the end of the year, at a minimum, according to the joint statement by Massachusetts Gov. Charlie Baker, New Jersey Gov. Phil Murphy, Maine Gov. Janet Mills, Rhode Island Gov. Gina Raimondo, New Hampshire Gov. Chris Sununu, Vermont Gov. Phil Scott, and Connecticut Gov. Ned Lamont. New York was not part of the agreement.
According to Baker's office, the new prohibition does not apply to youth hockey played exclusively in-state. It will also not impact interstate collegiate, professional, or U.S. national team hockey activities, though they remain subject to existing safety protocols and restrictions.
While in-state hockey in Massachusetts was just recently allowed to resume under tighter restrictions after a two-week shutdown, Baker said during a press conference Thursday afternoon that the moratorium on interstate tournaments was necessary until the group of neighboring states could agree on across-the-board rules.
"People are crossing state lines on this stuff on a pretty regular basis," he said. "We want everybody playing across the region with the same set of rules, the same set of protocols, the same set of guidelines that are all being enforced and administered the same way, in every state, and it's going to take us a few weeks to figure that out."
Massachusetts was among several New England states that temporarily shut down ice rinks after more than 30 coronavirus clusters were linked to local hockey leagues. Following the two-week suspension in Massachusetts, rinks were allowed were allowed to resume this past Saturday under new guidelines, including mask requirements on and off the ice, as well as limits on the number of games teams can play in a day.
While health experts have said indoor hockey remains a relatively higher risk activity than most other sports, Baker has specifically blamed "irresponsible behavior from parents and coaches," noting that outbreaks were linked to the social gatherings and trips associated with the games.
"It's the actual act of these big tournaments — and all the stuff that goes on off the ice — that's driving a big piece of transmission around the region," Baker said Thursday.
"The actual act of playing hockey may have been a minor contributor to what was going on," the governor said. "But the big issue there was all the socialization that was going on when large groups of kids and adults would show up at a rink at seven o'clock in the morning and there would be games all day long. And, you know, a kid would play in two or three games and their parents would watch them in two or three games, and then the rest of the time was just a tremendous amount of informal, no-mask, no-distance socialization that went on between the kids and the adults, and that is where the vast majority of the issues associated with transmission came from."
The announcement Thursday also comes a day after Massachusetts reported 2,495 new COVID-19 cases Wednesday, the state's highest single-day number since the initial outbreak this past spring, as the accelerating national wave of infections continues to set record highs.
"As case numbers increase in many states across the country, it is critical that neighboring states coordinate a regional approach to limit further community spread of the virus," the seven governors said in a joint statement.
Get Boston.com's browser alerts:
Enable breaking news notifications straight to your internet browser.