COVID
3 things to know about the second COVID-19 surge in Massachusetts
Charlie Baker says the state is "nowhere near" the numbers it saw this past spring. But experts caution that an unpredictable winter lies ahead.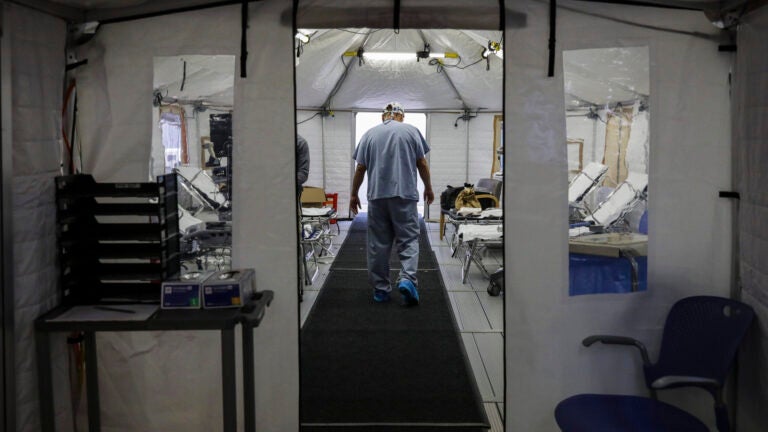 Massachusetts was one of the worst-hit states in the country by the first COVID-19 surge. Only after a prolonged shutdown, aggressive investments in testing, and widespread mask wearing and distancing was the state able to control the virus, even if it could not stop thousands of deaths.
But now, as experts long warned could happen this fall, the second surge has arrived.
Officials and health care leaders in Massachusetts say the state is far more prepared this time — and the situation across New England appears to be less dire than in other regions of the country, where soaring cases and hospitalizations have pushed some hospitals to the brink.
"We don't know precisely what the second wave of COVID might look like," Jody White, the president and CEO of Lowell General Hospital, said earlier this week. "But we are in a much stronger position to respond because of the many lessons learned from the unprecedented challenges that we faced earlier this year.
Still, the slow but steady increase in cases in Massachusetts has led to Gov. Charlie Baker retightening rules and hospitals bracing for a dark winter, especially as more people gather indoors as the weather turns colder and the holidays approach.
Here's what to know:
1. Infections, hospitalizations, and deaths due to COVID-19 are undeniably on the rise
There had been some concerns in early August about an uptick in the coronavirus rate in Massachusetts that seemed to peter out.
That's not happening now.
Since Labor Day, the seven-day average positive COVID-19 test rate has more than tripled from 0.9 percent to 2.9 percent as of Thursday. The average raw number of new cases has also roughly tripled since the beginning of September. This week, the state's Department of Public Health reported close to 2,500 new cases on consecutive days — 2,495 on Wednesday and 2,482 on Thursday — which were the highest daily totals that Massachusetts has seen since the first surge
Importantly, it's not just the number of cases (which can be partly explained by increased testing, especially as the state focuses its efforts on hard-hit areas) that is on the rise.
Hospitalizations have doubled from their three-average low of 302 on Aug. 29 to a current total of 661, according to DPH data released Thursday.
Massachusetts deaths due to COVID-19 also officially surpassed 10,000 on Thursday. The silver lining is that the number of new daily deaths remains low compared to the first surge. Still, the seven-day average has about doubled from 11 deaths per day around Labor Day to 20 as of this week, according to Thursday's report.
'This is not just an issue for Massachusetts; it's a challenge for the rest of the country and frankly, most of the Western world," Baker told reporters Thursday, alluding to the fact that cases have also ticked upward this fall in Europe, leading countries like Germany and France to reimpose some "lockdown light" restrictions to keep their health care systems from being overwhelmed.
2. The situation isn't as dire as last spring
Baker says Massachusetts isn't at that point yet.
Pressed on the concerning trends Thursday, the Republican governor stressed that hospitalizations and deaths remain far lower than their initial peaks. While statewide hospitalizations are rising, they're still a fraction of the nearly 4,000 that Massachusetts saw in the spring. Similarly, the number of deaths per day reached close to 200 in early May.
"We're nowhere near the uncharted territory we were at in the spring — nowhere near it," Baker said. "Nowhere."
The governor acknowledged that Massachusetts is "definitely dealing with a surge," but reiterated that the state's dramatically increased testing capacity has made it easier to control outbreaks and that the health care system was more prepared to prevent deaths. Kate Walsh, the president and CEO of Boston Medical Center, noted Wednesday during a press conference that hospitals now have better knowledge about how to treat COVID-19 patients, more protective equipment for workers, and more organizational flexibility to respond to a surge in patients.
"We know we can't underestimate this virus, but the Massachusetts hospital community is in a very different position than it was last spring," Walsh
3. That doesn't mean the current surge shouldn't be taken seriously
Disease experts say that just because hospitalizations and deaths remain low now doesn't mean they won't eventually rise.
COVID-19 death trends have naturally lagged infection trends. And even though the death rate among people who have contracted the disease has declined, Harvard epidemiologist Michael Mina recently speculated that the lag may be particularly slow since young people — both across the country and in Massachusetts — now make up a disproportionate number of infections. A recent government study found that many young people still eventually pass on the disease to older individuals, who remain at a higher risk of complications due to the disease.
"We might be seeing two levels of removal," Mina said during a recent conference call. "You might be having a lot of younger people getting infected like we saw in the summer, but eventually it catches up. All of those young people ultimately transmit to older individuals. We will see hospitals fill up more and more. We already are."
That isn't yet the case in hospital-rich Massachusetts, which is why Baker has resisted calls to significantly roll back the reopening process. But he did say last week that the state is "on track to create capacity problems" for its health care system by the end of the year if it does nothing. According to the DPH report Thursday, about 73 percent of all hospital beds in Massachusetts are currently filled, including 50 percent of intensive care unit beds.
Baker announced this week that the state will reopen field hospitals, like it did in the spring, in Boston, Worcester, Lowell, Dartmouth, and on the Cape "in places that will look relatively familiar" if needed for COVID-19 patients. Officials are also prepared to make 400 additional ICU beds available at existing hospitals, if necessary.
"This is a drill and a process that I think at this point we have a fair amount of experience with," he said.
Baker also imposed several new measures last Friday — including a nighttime stay-at-home advisory, an early business closure order, a mask mandate for all public places, and reduced gathering limits — aimed at addressing the informal gatherings that state officials believe is driving the increase in cases. The holidays are a particular concern, given the traditional inter-generational family gatherings. So state health officials have also been advising residents to reconsider trips and to keep gatherings small this Thanksgiving, especially if they are not going to wear a mask around people outside their core social circle.
"Familiar people being familiar in familiar settings is really — not just here, but all over the place — the major element that's driving the spread at this point," he said.