Coronavirus
Charlie Baker implores residents to take second surge seriously as Massachusetts reopens field hospital
"The time is now."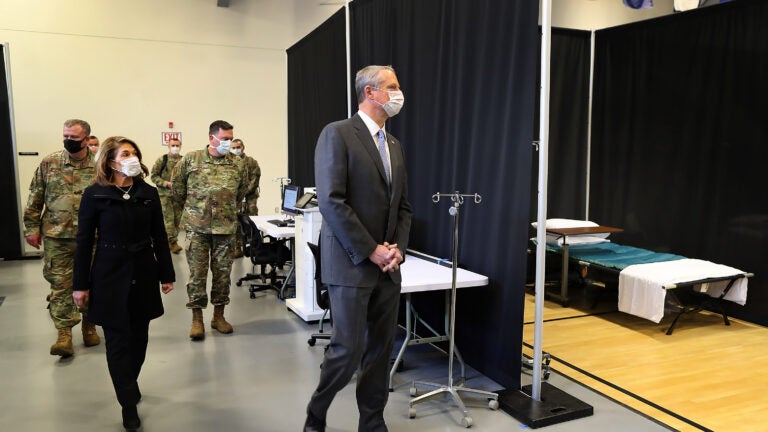 As officials unveiled plans Friday to reopen a Worcester field hospital, Gov. Charlie Baker made a forceful plea to Massachusetts residents to take the second COVID-19 surge seriously, particularly when it comes to their social lives.
"The time is now," Baker said during an afternoon press conference at the State House in Boston.
"This is real," he said, "and the more people do to take care of the business of battling COVID, not just when they're doing formal things, but when they're doing all those informal things, too, the more likely we are as a commonwealth to weather what is obviously a really significant growth in cases, hospitalizations, and all of the calamity that comes with that."
The news of the new field hospital comes a day after Massachusetts surpassed more than 10,000 deaths due to COVID-19.
It also comes more than five months after the state shuttered the five field hospitals that were established in the spring to ensure the health care system wasn't overwhelmed by the first coronavirus surge. Most of the 1,000 additional beds went unused, after the hard-hit state was successfully able to avoid the worst-predicted outcomes. However, as Baker noted Friday, hospitals were forced to "focus almost exclusively" on COVID-19 patients at the time, which created the secondary problem of people putting off "routine and, in some cases, serious medical care."
With cases and hospitalizations on the rise again, officials say the new 240-bed field hospital at the DCU Center in Worcester is intended to ensure that hospitals can continue treating both COVID-19 and non-COVID-19 patients. The facility will be staffed by UMass Memorial Medical Center and should be ready to accept patients by the beginning of December.
Sam Phillips, the director of the Massachusetts Emergency Management Agency, said Friday that officials are considering opening other locations, if needed. According to Baker, his administration has had discussions with neighboring states about the possibility.
While disease experts have warned that the country is now entering "the hardest days of the pandemic" amid record highs of new infections and hospitalizations, Baker has stressed that the Massachusetts health care system is now more prepared to deal with the increase and that the state's hospitalizations are "nowhere near" the level seen this past spring.
According to Department of Public Health data released Thursday, about 73 percent of all hospital beds in Massachusetts are currently filled, including 50 percent of intensive care unit beds. According to Baker, hospitals across the state are also prepared to convert roughly 400 acute care beds into intensive care unit beds to boost their capacity.
However, Eric Dixon, the CEO of UMass Memorial, said his Worcester hospital is already effectively "full." 
"We are right now starting to cancel elective procedures at some level and are not able to take the tertiary referrals from the small hospitals that depend on us," he said.
As much as the health care system can do to prepare, Baker argued that the state's success managing the coronavirus ultimately hinges on whether residents adhere to the face covering, social distancing, and gathering guidelines.
The governor imposed several new measures last Friday — including a nighttime stay-at-home advisory, an early business closure order, a mask mandate for all public places, and reduced gathering limits — aimed at cracking down on the type of informal gatherings that, especially in the absence of face coverings or social distancing, officials say is driving the spread of the virus this fall.
In addition to mandating face coverings in all public places, Baker said Friday that residents should also wear a face covering whenever they're with people who are not "members of your immediate family," both indoors and outdoors.
"I know that sounds aggressive," he said. "But the simple truth is this expansion of people's social circles and this desire to get back to something like normal is a big part of what's driving case growth and ultimately hospitalizations — not just here in Massachusetts, but across the country."
As The Washington Post recently reported, there's growing evidence that casual social gatherings are fueling the fall surge. 
The Baker administration is especially concerned about the upcoming holiday season. During the press conference Friday, officials repeatedly made note of how Canada saw a spike in cases and hospitalizations following the country's Thanksgiving last month.
Massachusetts Health and Human Services Secretary Marylou Sudders reiterated Friday that residents should be "very careful" about spending the holiday with older relatives.
"You may have a lovely Thanksgiving meal, and you might have seriously infected someone in your family," Sudders said.
According to Baker, people "need to think real hard about the role they can play as individuals" if they want to have "a safe holiday season, one where businesses are open and available."
"We didn't put that stay-at-home advisory in place without thinking real hard about it," the governor said. "We did it to send a message."
During the press conference, Dixon said he believes most residents are in fact "doing the right thing most of the time." 
"That's not enough," he said. "We need everyone doing the right thing every day. And because we don't have that, we are seeing a significant rise in the number of hospitalizations, across the state, of patients suffering from this awful disease."