COVID
Massachusetts is removing New York and 2 others from list of states exempt from quarantine order
As of Saturday, only four states will be left.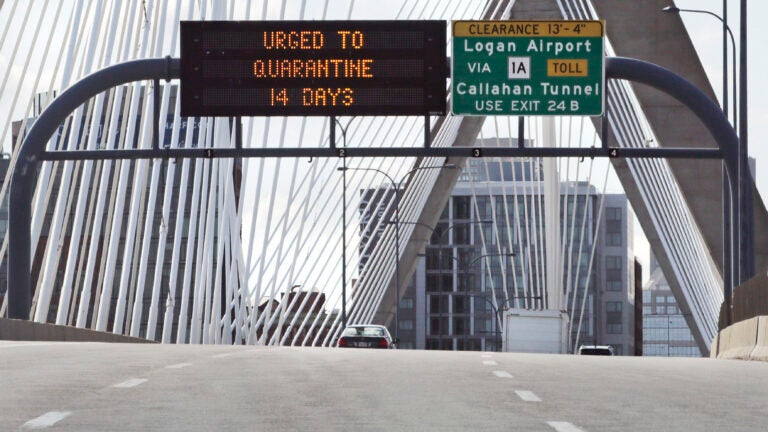 As coronavirus rates across the country continue to soar, the list of states exempt from the Massachusetts travel order continues to shrink.
The state's Department of Public Health announced Friday that New York, Washington state, and Washington, D.C., will be removed from the list of lower-risk states Saturday, meaning travelers from those three places could face fines of $500 a day if they do not self-quarantine for 14 days or have proof of a negative COVID-19 test upon visiting Massachusetts.
The move also means that there are just four states remaining on the exemption list: Vermont, New Hampshire, Maine, and Hawaii.
All travelers arriving to MA from NY, WA, and DC must fill out a form, quarantine for 14 days or produce a negative COVID test. Please visit https://t.co/A3A2CeAiV0 for more info.

— Mass. Public Health (@MassDPH) November 13, 2020
With the addition of New York on Saturday, more than half of the states neighboring Massachusetts will now be subject to the travel order. Rhode Island has been listed as a higher-risk state since August. And even after Massachusetts officials loosened its criteria for exemptions, Connecticut was removed from the lower-risk list later last month.
That said, officials have reiterated that there are some exceptions for certain types of cross-border travel, such as commuting to work or school, seeking medical treatment, and other "critical life activities," such as grocery shopping or attending to the needs of a family member. Travelers who are simply passing through Massachusetts also are not required to comply with the travel order, as long as they're not in the state any longer than is "reasonably required."
Massachusetts requires states to average less than 10 new daily COVID-19 cases per 100,000 residents to be exempt from the out-of-state travel rules, as well as have a positive test rate of less than 5 percent. Last month, officials said they would only remove states from the lower-risk list if they exceeded one of the those thresholds for two straight weeks.
Based on that criteria, Massachusetts would not meet its own standards to be exempt from its travel rules (as of Friday, the state's incidence rate, which has been above 10 per 100,000 residents for several weeks, was more than 30 cases per 100,000 residents).
Earlier on Friday, Maine removed Massachusetts from the short list of states exempt from its own similar travel restrictions — meaning Bay Staters must quarantine for two weeks or have a negative COVID-19 test — ahead of the holiday season when many "customarily gather with friends and family, often in neighboring states."
"I recognize this will be an inconvenience for many, but it is in the interest of public health and can keep people, including our loved ones, healthy and safe this holiday season," Maine Gov. Janet Mills said.
Connecticut also announced last month that Massachusetts would be subject to its out-of-state rules. And while New York has not officially put Massachusetts on its own list, officials there have discouraged residents from nonessential travel to the Bay State due to the increase in COVID-19 cases.
Get Boston.com's browser alerts:
Enable breaking news notifications straight to your internet browser.