Coronavirus
Some states are reimposing partial shutdown orders due to the second COVID-19 wave. Here's what it looks like.
"We are sounding the alarm."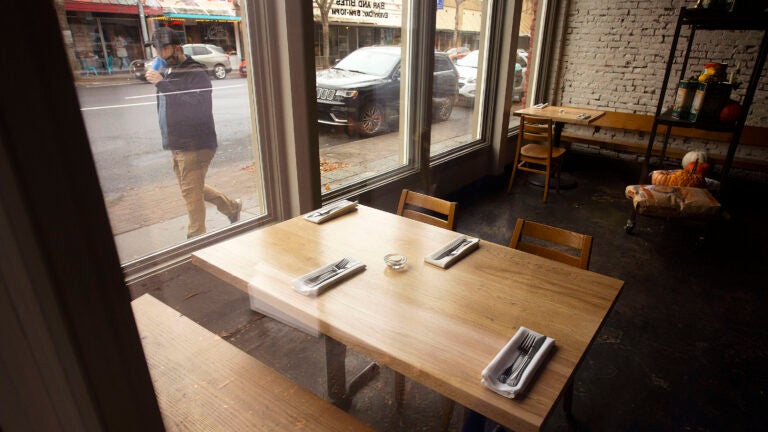 Here in Massachusetts, Gov. Charlie Baker isn't currently planning any additional restrictions to deal with the second COVID-19 surge.
Some local disease experts agree that Baker's recent actions — including an early business closure order, tightened mask mandate, and reduced gathering limits — strike the right balance in response to an increase that appears to be primarily driven by household spread. Especially in the absence of federal support, the decision to shut down certain businesses and activities, as some European countries have done this fall, is a difficult one.
But as the wave of cases and hospitalizations continues to swell across the United States, it's a decision that some states and major cities have felt forced to make over the past few days. And as of Monday, the list is only growing.
"We are sounding the alarm," California Gov. Gavin Newsom said.
From suspending indoor dining to ordering gyms and museums to close up again, here's a look at which — and how — states are rolling back their reopening plans.
California
Newsom announced Monday afternoon that his administration was "pulling an emergency brake" and putting the vast majority of the state's counties — roughly 94 percent of its population — in the most restrictive tier of its reopening blueprint beginning Tuesday due to an unprecedented spike in COVID-19 cases. For those counties:
Indoor gatherings involving two or more households are prohibited; outdoor gatherings are limited to three households
Bars and indoor dining must close
Gyms, movie theaters, zoos, aquariums, and places of worship can only operate outside
Washington
In response to record high numbers of new daily COVID-19 cases, Washington Gov. Jay Inslee issued a set of four-week restrictions Sunday. The statewide restrictions, which took effect Monday, include:
A ban on indoor gatherings between multiple households, unless visitors quarantine for 14 days or quarantine for seven days and receive a negative COVID-19 test result no more than 48 hours prior to the gathering. Outdoor gatherings are limited to five people from outside one's household
No indoor dining; restaurants and bars are limited to outdoor service, as well as takeout and delivery
Gyms, movie theaters, museums, zoos, and aquariums must close for indoor service
Offices must mandate employees work from home and close to the public if possible
Religious services are limited to 25 percent of indoor occupancy limits, or no more than 200 people, whichever is fewer
Michigan
Michigan Gov. Gretchen Whitmer also announced a three-week slate of restrictions Sunday aimed at limiting gatherings and group activities where the risk of transmission is greatest. The order takes effect Wednesday and includes:
A limit on indoor private gathering to no more than two households at a time; outdoor gatherings are limited to 25 people
Colleges and high schools must cease in-person classes
A suspension on indoor dining, though outdoor dining, takeout, and delivery are still allowed
Casinos, movie theaters, indoor recreational  and group exercise classes must close, though gyms and pools can stay open for group exercise
New Mexico
New Mexico Gov. Michelle Lujan Grisham announced Friday that the state would re-enact their shutdown order — closing in-person services for all non-essential activities — in response to the spike in COVID-19 cases. The order took effect Monday and will remain in place until Nov. 30, when a county-by-country reopening process may begin. Under the current order:
Residents are instructed to stay at home except for essential trips, like going to the grocery store or seeking medical care
Inter-household gatherings of more than five people are prohibited
Only businesses defined as essential may continue in-person operations
Indoor malls, state parks, barbershops, hair salons, gyms, zoos, golf courses, tattoo parlors, salons, guided tours, bowling alleys, ice skating rinks, and personal training services must close
No indoor or outdoor dining is allowed; restaurants are restricted to delivery and takeout
Places of worship are limited to 25 percent capacity or 75 people, whichever is fewer
Oregon
Also on Friday, Oregon Gov. Katie Brown announced a "two-week freeze" lasting from this Wednesday, Nov. 18 until Dec. 2. The order includes:
Gatherings limited to six people from no more than two households, indoors and outdoors
Faith-based organizations limited to 25 people indoors and 50 people outdoors
No indoor or outdoor dining, though restaurants can continue takeout and delivery
Gyms, museums, indoor recreational and entertainment facilities, event venues, pools, zoos, and aquariums must close
Vermont
Vermont Gov. Phil Scott also imposed several temporary new restrictions Friday in response to record numbers of COVID-19 cases in his state. The orders, which took effect Saturday, include:
Banning all multi-household gatherings, both indoor and outdoor, with a specific focus on holiday-related gatherings (though individuals who live alone may gather with members of their immediate family residing in a different household)
Closing bars and social clubs
Closing in-person dining at 10 p.m. (similar to Massachusetts)
A pause on recreational sports that are not school-sanctioned
Requiring businesses, non-profits, and government entities to reinstitute telework policies "to the maximum extent possible"