COVID
Charlie Baker 'concerned' that long lines for COVID-19 tests suggest residents are ignoring Thanksgiving guidance
Massachusetts officials have advised residents against traveling for the holiday. The lines suggest many "aren't paying much attention."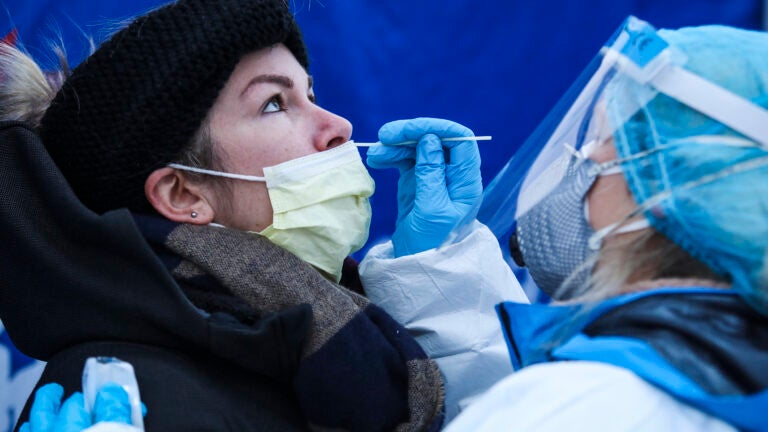 COVID-19 infections in Massachusetts are up eightfold since Labor Day. Hospitalizations have more than quadrupled. And with Thanksgiving around the corner, Gov. Charlie Baker fears the surge will only get worse.
"If we treat this year just like we treat every other Thanksgiving, it's quite likely that it will trigger a significant spread," Baker said during a press conference Wednesday. "And we know that that leads to serious illness for many and, in rare cases, death — especially among our senior citizens."
Baker's administration has urged residents against traveling for the holiday and to keep any gatherings small, among other safety protocols to prevent the transmission of the virus, which is mostly in prolonged, indoor gatherings. But the governor said Wednesday that he was "concerned" that the long lines at some of the state's testing sites suggest that many residents "aren't paying much attention" to his Thanksgiving guidance.
"It's pretty clear, based on those lines, that a lot of people are going to travel over the holidays," Baker said. "And there's not much, at this point, that we can do other than say we think that's not a great idea."
The governor also said people seeking tests before the holiday should understand that their results only reflect whether they were positive or negative for COVID-19 on the day of the test. Not only could one get COVID-19 after getting tested, but according to medical experts, individuals aren't likely to test positive until at least several days after contracting the virus.
"A test is not a Kevlar vest," he said. "It's a moment in time."
With a little more than a week until Thanksgiving, several of the state's free "Stop the Spread" testing sites were temporarily closed Tuesday due to the high volume. As several outlets reported, officials attributed the longer-than-usual waits — sometimes upwards of several hours — to both the surge in cases this fall and residents' desires to get a test before meeting family for Thanksgiving.
Baker, who noted that Massachusetts has roughly 250 testing sites across the state, said Wednesday that it was "great" that people were seeking tests — but he was also "struck" by how many people said they were doing so because they were traveling for Thanksgiving.
As much as his administration has invested to increase the state's testing capacity, he reiterated that getting a test isn't a comprehensive prevention strategy and urged people against the usual Thanksgiving rituals of visiting different family members and friends who return home from all around the country.
"I can't express how bad that is as an idea, with respect to managing COVID and managing spread — unless people are serious about wearing a mask and maintaining distance when they do that type of thing," Baker said, noting that the recent increase in cases in Canada linked to the celebration of the country's own Thanksgiving holiday last month was a "perfect example of what happens when people don't pay attention to these rules."
Officials reminded residents Wednesday that anyone traveling across state lines from anywhere other than Vermont, New Hampshire, Maine, and Hawaii is required to self-quarantine for 14 days — or have proof of a negative COVID-19 test that was administered within the previous 72 hours — upon their arrival, or return, to Massachusetts.
Health and Human Services Secretary Marylou Sudders also hinted during the press conference that officials expect to remove New Hampshire and Maine — whose coronavirus rates since last Wednesday have exceeded the threshold to be considered lower risk — from the travel order's exempt list later this week.
According to Sudders, the state plans to send an alert Thursday to 4.5 million phone lines across Massachusetts to remind residents of the increased risk of spreading COVID-19 during the holiday season.
The press conference came as the City of Boston also released guidance Wednesday urging residents to stay home and spend the day with people in their own household.
Baker's administration has released similar guidance, advising residents against the traditional inter-generational Thanksgiving celebration. For those who do plan a gathering involving more than one household, the state's 10-person limit on indoor gatherings still applies. Additionally, officials say individuals involved in such gatherings should shorten the length of their visit, open windows to increase ventilation, and wear a mask at all times when not eating or drinking.
Amid concerns about college students returning home for the holiday could exacerbate the increase in COVID-19 cases, Baker also announced updated guidance to colleges and universities in Massachusetts.
The new guidelines say that any students leaving campus to go home for the holiday should first receive a negative COVID-19 test administered by the college within 72 hours of their planned departure. Baker said that colleges should also offer COVID-19 tests to students who live off campus and plan to return home. Any student who does test positive will be required to isolate in campus housing designated for COVID-19-infected students.
While some local colleges are telling students who go home for the holiday to stay there for the remainder of the semester, anyone who does come back will need to get a COVID-19 test within 72 hours of their return to campus.
"Hopefully it helps prevent thousands of students from traveling around the state and over state lines to potentially infect their family members and loved ones with this virus when they return home," Baker said.