COVID
What infectious disease experts want you to understand about contact tracing and COVID-19
"It's really hard to track down exactly where somebody is exposed with an infection like this."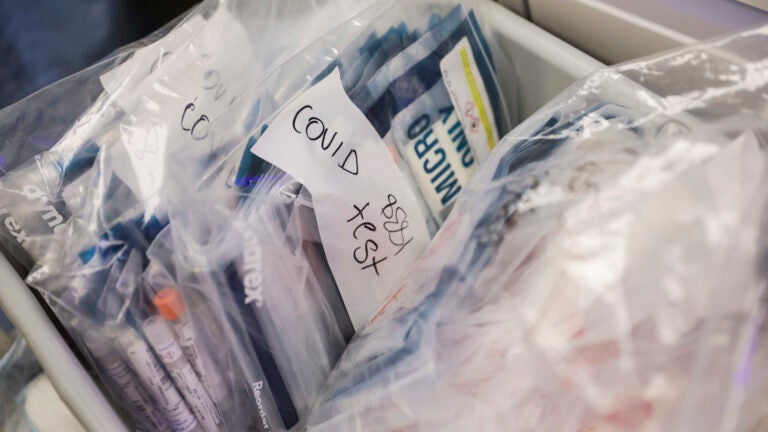 For public health experts and infectious disease physicians, it is clear. Massachusetts, like the rest of the United States, is facing tough days and weeks ahead as the number of new coronavirus cases and hospitalizations continue to rise.
"We're not in a good place," Dr. Cassandra Pierre, associate hospital epidemiologist at Boston Medical Center, told Boston.com. "I can't even say we're in a concerning place — we're not in a good place."
Officials have been warning for weeks that the spread of the virus is likely largely being driven by family gatherings and social events, both in Massachusetts and elsewhere in the United States. In Massachusetts, the number of people who have died from COVID-19 has topped 10,000 and more than 65,000 cases of the virus have been confirmed since the pandemic began.
In response to the increase in cases and hospitalizations seen in recent weeks, the state is reopening a coronavirus field hospital in Worcester and Gov. Charlie Baker issued a series of new mandates aimed at tamping down the spread. The state is also "flexing" its contact tracing efforts, Marylou Sudders, secretary of Health and Human Services, said Friday during a press conference.
The state's Contact Tracing Collaborative is currently recruiting, she said, and is focusing in particular on bringing on more individuals who speak languages other than English. The state is also planning to pilot a digital contact tracing program that uses Bluetooth technology to track and warn individuals who may have been exposed to the virus, MassLive reports.
"Given the number of increasing cases in Massachusetts, we are starting to flex the role of the contact tracers to contact individuals to triage cases and contact people every other day," Sudders said, adding later, "If you do get a call from a local board of health or the contact tracing team, please pick up the phone, so that we can do the case investigation and support you in your isolation and quarantine."
Contact tracing is critical for keeping people safe and collecting data on COVID-19 cases. If you get a call from the contact tracing team, answer the phone. #covid19MA pic.twitter.com/AcgI4aYVPJ

— Mass. Public Health (@MassDPH) November 18, 2020
Since the launch of the state's contact tracing initiative earlier this year, public health officials have urged state residents to answer their phone if contacted and cooperate with the efforts to trace and prevent additional spread of COVID-19. In October, Sudders and Baker raised concerns that individuals were not cooperating with contact tracing efforts when virus clusters emerged in youth hockey leagues.
The same month, Sudders told state legislators that about half of the virus cases in Massachusetts had been linked to spread within households and families and other cluster-driven situations like private gatherings, schools, and restaurants, according to The Boston Globe. The source of the remaining half of cases was unknown.
Not knowing the source of infections is concerning, Pierre told Boston.com, particularly given the outlook of the approaching weeks and months.
"We are now experiencing this rapid increase in COVID positivity prior to the holidays, which means that what's going to happen is people are going to be going into their family gatherings, they're going to be going to social gatherings with people they haven't quarantined with, they're going to be bringing infections there," she said. "We're so far behind the ball in contact tracing that people may not be aware of their risk, may not be aware that they are exposing and infecting others. And this is only going to accelerate, unfortunately, the pace of infections, then numbers of infections and hospitalizations in our commonwealth in weeks to come. And then unfortunately, we'll have an intensification of that during the later holidays of the winter."
Not knowing the source of a person's COVID-19 infection prevents officials from getting a good sense of where people are getting sick and puts public health efforts at a distinct disadvantage for identifying and isolating those who may have been exposed or are infectious.
"We don't know what the risks are," the hospital epidemiologist said. "[If] we don't know where people are getting infected, we can't go to those places — to the people who may be exposed or the people who may be the super spreaders or the people who are infecting others — and effectively test and quarantine them and isolate them. We can't quarantine people who have been exposed, so the cycle of transmission continues."
It also adds a layer of fear, said Pierre, who is not involved with the state's contact tracing efforts.
"There may be the sense that we just don't have a handle on the situation, when in fact, we really do know how transmission occurs," Pierre said. "And we really do know how to protect ourselves."
The epidemiologist said she's had her fair share of both patients and heath care workers with COVID-19 at BMC who have been unable to definitely say — at least at first — where they may have been exposed.
Pierre said this is at least partly because people don't judge their risk sources for COVID-19 accurately, despite what is known about how the virus spreads. People are not judging their family members, their friends, or even their coworkers as putting them at risk for the coronavirus.
In Pierre's experience, for those cases where someone isn't sure where they were infected, ultimately the exposure is a person or environment that the virus positive individual didn't deem to be a risk.
"They don't connote those individuals as being what they expect to see for someone who has a COVID-19 infection," she said. "There's also still — even for people who might know better, which really should be all of us at this point — this lack of really internalizing the fact that people with COVID-19 may be asymptomatic or pre-symptomatic. And that just because we're feeling well and appear to be well, you can still be infected and you can still be transmissible."
In the face of a host of challenges — including misinformation and a general lack of understanding about public health — the epidemiologist said contact tracers are doing a "phenomenal job" as they work to reach out to people as quickly as possible, while also providing information about what contact tracing is and the important function it serves in controlling the outbreak of an infectious disease.
Tom Lane, associate director of the Infectious Disease Bureau at the Boston Public Health Commission, told Boston.com that the sources of unknown infections for cases in the city are not linked to non-compliance with contact tracing.
Rather, he echoed similar issues Pierre has experienced at the hospital. That given how the virus is transmitted — and that individuals can be infectious without experiencing symptoms of the illness — it can be difficult for contact tracers to pin down how someone was exposed, especially if they weren't aware they were a close contact of someone sick with COVID-19.
"It's really hard to track down exactly where somebody is exposed with an infection like this," Lane said.
He stressed that contact tracers for the city are also focused on more than just investigating how an individual may have been infected and who they may have in turn exposed.
"It's what are your needs? What are your needs in the community? Really building relationships with these folks as cases and contacts, not just to isolate and quarantine them but to educate them on COVID-19 and link them to resources," he said.
Lane said having the city's contact tracing program rooted in strong community partnerships, including with community health centers, and cultural competency is an essential part of getting people to pick up the calls and to provide education on COVID-19. Contact tracers, he said, are representative of the city's neighborhoods and more than eight languages are spoken within the Infectious Disease Bureau.
A good portion of what contact tracers end up doing, he said, is explaining what contact tracing is — and isn't  — to those they call. That contact tracing isn't a regulatory, punitive, or "gotcha" system.
Its only aim is to slow the spread of the virus by learning where and how it is occurring and link those who have been exposed to services and support.
"What doesn't change when you know where you were exposed is how the virus transmits," Lane said. "So it's really important that we focus as much as we can on educating the community about the pillars of response. Contact tracing is important, but it's not the strongest pillar. The strongest pillars are social distancing, staying out of large and small groups and gatherings, hand hygiene, wearing a face mask. Those are the things that are just so important right now. Because ideally we don't want to be looking at where people were exposed — we want people to not be exposed."
But there are times when it takes a bit longer to get the information needed for case investigation.
There is stigma associated with COVID-19, and people may be hesitant to share with public health officials because of it, so it may take a few calls to get the necessary information, the infectious disease official said.
"There's this feeling that if I talk to a public health official, they're getting all my personal information," Lane said. "They are going to know who I went out to dinner with yesterday, and I don't want anyone to know who I went to dinner with yesterday. And so, there are times when people who, on the first call, don't want to share information. But that doesn't stop us from trying. We have creative strategies of building those relationships and rapports and also just not taking a punitive approach. No one did anything wrong."
Pierre was in agreement that shame and stigma around COVID-19 remains a barrier as well for contact tracing. People feel judged, she said, or worry that they will be accused of acting irresponsibly or be told it is their fault for getting the virus.
"It's really important to come from a non-judgmental place, to say, 'I'm not trying to shame you, I'm not trying to judge you, many people have gotten this infection, you did nothing wrong,'" she said. "But we really want to make sure that we protect everyone as much as possible and let people know, if it was a common source like a restaurant, that there is some risk involved in doing the normal activities of life, potentially."
Still, time remains the essence in doing the work of contact tracing, and the most important thing for the public to understand is that the public health workers need to be provided with the most accurate and timely information possible, the experts agreed.
The state's CTC itself uses the slogan, "Greatest act of love is answering the call."
Doing so will allow the contact tracers to quickly identify who else was potentially exposed so those individuals in turn can promptly get access to testing and into quarantine.
"You participating in this process is not going to harm yourself, it's not going to harm the people you love, it's not going to penalize the institutions you love," Pierre said. "The local boards of health and Contact Tracing Collaborative are really doing this from a place of preventing the ongoing spread of transmission, protecting the health of everyone, especially those who are particularly vulnerable to severe forms of COVID. Participating in this contact tracing partnership really does work when done correctly to help stem the tide of infection, stem the infections down the line."