COVID
How many snowbirds will be flying south for the winter?
The tradition of flocking to Florida and other sunny shores for the winter, usually by retirees, looks different this year.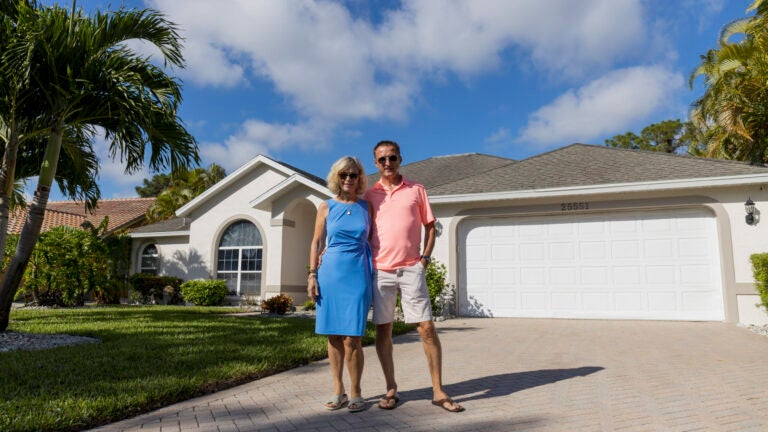 Travel spending in the United States is down by hundreds of billions of dollars, Europe is locking down again and flying remains a fraction of what it was last year.
Yet one corner of the world is aflutter with activity: snowbird groups on Facebook. Property owners boast about homes on the "EDGE OF PARADISE!!" Sunseekers probe for pet-friendly rentals. Members discuss condo amenities, taxes, too-good-to-be-true deals.
"The whole country has pandemic fatigue," said Lisa Carter-Knight, 53, who splits her time between Kensington, New Hampshire, and Lakeland, Florida. "And now that the virus is everywhere, we're hearing people say, 'Well, I might as well be somewhere warm.'"
Yet travel restrictions and other factors ensure the tradition of snowbirding — the pastime of flocking to Florida and other sunny shores for the winter, usually by retirees — will look different this year. Here's how.
'Normally it's only retirees'
Although Carter-Knight's Florida home is in a 55-and-older community — common throughout the state — by law people under 55 are allowed to occupy up to 20% of the units.
"There have been increasingly more inquiries from young families looking to rent," said Carter-Knight, the owner of a digital marketing agency with a division dedicated to real estate marketing. "There are loads of families migrating South to find better value on home prices, more space, better climate and no state income tax."
Melissa Di Giacomo, 25, manages her parents' two-bedroom condo in Bonita Springs, Florida, about 15 miles from Naples, and has always rented to 50-plus retirees — until now.
"This is the first year where we've gotten renters in their 30s with a young child — it's a huge difference," said Di Giacomo, who lives in Chicago and works in education. "Some residents may see joy in seeing younger children, but some may not like it if they are running around."
Sibarth, a real estate company that rents out luxury villas on St. Barts, will also welcome a different mix: "Much less retirees than before, and more working professionals between 40 and 60 traveling with their children," said Ashley Lacour, the company's president. "Some have even enrolled their kids in the local public schools."
Earlier this month, Melanie Granuzzo and her husband, Brandon Fried, locked up their home in Darien, Connecticut, and hit the road for the winter with their toddler daughter, Amelia, and Yorkshire terrier, Winston.
"Typically we avoid traveling through the holidays, but this year is different," said Granuzzo, 30, the director of social media and editorial at a digital agency. "COVID has basically changed the entire landscape — even client meetings are remote. So why not skip the winter here?"
Their first destination was to Naples, Florida, to see Fried's parents. Around Thanksgiving, they will head to the Atlanta area to visit Granuzzo's parents and sister. They'll boomerang back to Naples for the month of January before eventually making their way to Montage Palmetto Bluff, the South Carolina luxury resort where they got married four years ago. They'll forge the rest of the plan from there.
"As parents of a young child, we don't want to be stuck in the cold," Granuzzo said. "So we might consider a short-term rental in Florida or Charleston — somewhere where we would normally not be traveling that time of year."
Brandreth Canaley, the director of operations at Sextant Stays, a Miami-based vacation-rentals agency, said multi-stop "Southern swings" like that are a new pattern this year.
"We're seeing young professionals traveling around the country, spending a month or two in different cities," said Canaley. "We've had guests like that in South Florida and in New Orleans. It's one of the surprise opportunities of the pandemic, for those who are able to work from home."
'Canada's canceled'
The United States-Canada land border has been closed to all nonessential travel since March; the closure is slated to last through Nov. 21, though it may be extended. Although people can still fly from Canada to the United States, a reliable bloc of snowbirds is, for now, marooned: More than 70% of the more than 110,000 members of the Canadian Snowbird Association usually reach their winter destination by car. And they're not all eager to jump on a plane in the middle of a pandemic.
"Many are in a holding pattern just waiting for further updates on the border closure restrictions prior to making a decision on their travel plans for the current season," said Evan Rachkovsky, the association's director of research and communications.
Air travel booked through travel agencies from Canada to Greater Miami is down by about 90% through March compared with last year, according to data from the Greater Miami Convention & Visitors Bureau.
"For the last two months, people who — like me — have rentals were saying, 'Oh my God, what am I going to do? Canada's canceled,'" Carter-Knight said.
Margie Nelson, a 66-year-old retiree, was hoping to weather the winter not in her house in Port Colborne, Ontario, but in her double-wide modular home in Largo, Florida. Flying isn't an option: She and her husband have two cats and a 20-year-old poodle mix.
"We love it and we can't go this year," Nelson said. "Everybody's happy down there. They call Florida the Sunshine State and it is — you wake up every morning to sunshine."
Nelson will wait for the land-border restrictions to lift. Others, meanwhile, are trying to find creative workarounds.
"People have said, 'Can you help us?'" said Amy Russo Coleman, who owns Roadies Car Delivery Service, a company that transports cars and personal belongings for snowbirds. "I'm like, 'Listen, I can't get in. I don't know about y'all getting out, but I'm not Superman. I can't lie to get across the border — you know, there are rules now.'"
'Bookings come from domestic travelers'
Early last month, Susanne Heger, 57, traveled from Germany to the Dominican Republic for 17 days: just enough time to outlast the Schengen Area travel ban, which bars most visitors who have been in Europe in the last 14 days from entering the United States.
From there, she continued on to Florida, where she and her husband own three homes. About a week and a half after she landed in Miami, Germany announced a partial shutdown.
"My husband and I are so glad that we're not there anymore," said Heger, a journalist and author. "It's much easier in Florida — you can have social distance, you stay outside, you breathe fresh air."
Heger and her husband, whose primary residence is in Wildeshausen, Germany, will spend six months in Florida, rotating between their homes. Their Naples condo will be occupied by the same New Jersey resident who has been coming every fall since 2015. But for the first time, their 2,700-square-foot house in Bonita Springs will welcome not a single European.
"All of a sudden we got people from Miami — even the other side of Florida," Heger said. "That's just something we never had before."
Canaley, of Sextant Stays, is also seeing domestic guests tip the scales.
"In a normal year you might have family members from Latin America or Europe coming over for the holidays for a few weeks, whereas now we're seeing those bookings come from domestic travelers — a good portion from the Northeast," she said.
Despite schedule reductions on most other routes because of the pandemic, Amtrak's Auto Train — which allows passengers to forgo driving up and down I-95 while still transporting their vehicles — continues to operate two trains daily: one in each direction between Sanford, Florida, and Lorton, Virginia.
Even the highest end of the sales market is seeing a demographic shift. At Arte, an ultraluxury condominium complex in Surfside, Florida, north of Miami Beach, potential buyers are scouting not only the Northeast — to be expected — but the Midwest and California.
"That is to me the most surprising thing," said Alex Sapir, the chairman of Sapir Corp., the parent company of the firm that developed the building. "The fact that you have people now from Los Angeles and San Francisco saying they are moving to Florida is shocking."
Sapir, who spent 18 years as a snowbird himself until he moved to Miami, also said buyers are planning on staying much longer than expected.
"Now, it looks like most people are going to be spending eight to 10 months down here," he said. "People are coming down to spend the month or the season, but then they end up living here, having their kids in school and being part of the community."
'The I-95 corridor is going to be jam-packed'
Carter-Wright said she has seen rental properties fill later than usual as would-be snowbirds, warily eyeing infection rates and travel restrictions, finally cement their plans.
"At first there were lots of open vacancies, but now we're starting to see the vacancies start to close up with Americans," she said.
In South Padre Island, Texas, Marco Island, Florida, and St. Augustine, Florida, rentals are booking up about a month closer to arrival compared with last year, according to Key Data Dashboard, a data company that analyzes the vacation rental market.
But after a year that has left no travel and tourism economy unscathed — hotel reservations in Miami-Dade County hovered around 50% of last year's numbers for much of September and October — even last-minute arrivals are welcome.
As for the fear of getting sick, especially among older adults, Coleman, the self-described "car girl," is feeling the effects on her transport business.
"Oh, they're going. They're just driving themselves — they're afraid to fly," she said. "All I can say is this: Keep your eyes open because the I-95 corridor is going to be jam-packed."