COVID
Charlie Baker announces new COVID-19 public awareness campaign ahead of Thanksgiving
"No one wants to be the person who's responsible for getting a family member sick."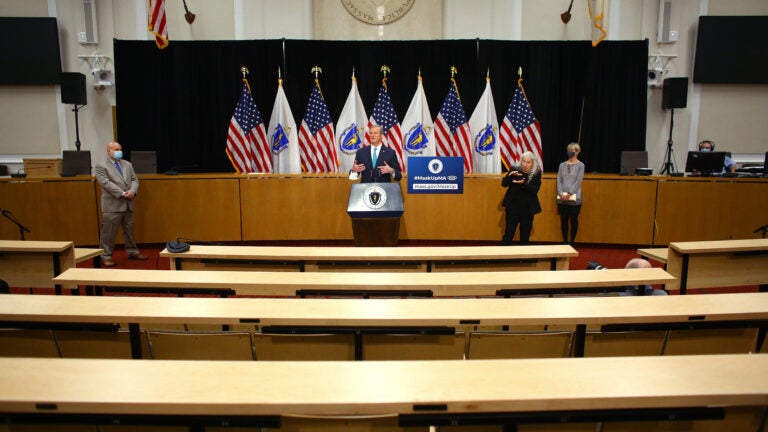 As coronavirus cases continue to surge nationwide, Gov. Charlie Baker announced a new public awareness campaign spotlighting what some residents look forward to doing after the pandemic.
However, even with the recent promising vaccine developments, the #GetBackMass campaign stresses that "we're not there yet," emphasizing the importance of proper mask wearing, social distancing, and testing to get through what many experts believe will be the worst of the pandemic this winter.
"It's a reminder that we must continue to fight so we can get back to the things we love to do," said Baker, who expressed optimism Monday about a COVID-19 vaccine being increasingly available over the course of the first half of 2021.
According to Baker's office, the new statewide PSA campaign will run on TV and digital platforms in both English and Spanish, as well as on signs and billboards across Massachusetts. Marylou Sudders, the state's secretary of health and human services, said the campaign is based on research showing that the vast majority of people are motivated by "concern for the health and safety of loved ones."
"They want to enjoy time with their loved ones and return to experiencing experiences they enjoyed together, from traveling to birthday parties to hugs," Sudders said during the press conference Monday.
"Let us be reminded that short-term sacrifices — like staying home, avoiding large gatherings, practicing good hygiene, and, of course, wearing a mask — will go a long way to helping us get back Mass.," she added.
Top health experts have said they hope the vaccine — which will first be distributed to elderly and other more vulnerable individuals — will be available to the broader public the middle of next year.
"We'll be able to vaccinate the public or a good portion of the public heading into the fall of 2021," Scott Gottlieb, a former Food and Drug Administration commissioner, said Sunday of CBS's Face the Nation, adding that "what we really need to get through is the next two or three months."
The Baker administration's new campaign comes after Massachusetts, which is experiencing what the governor has called a "sustained and troubling" increase in COVID-19 cases this fall, surpassed 200,000 total infections since the beginning of the pandemic on Sunday. There are nearly 40,000 active COVID-19 cases in Massachusetts, according to the public health data — and hospitalizations are also on the rise, though not yet to the same level as the state's first wave in the spring.
Baker has forcefully urged residents to take the second surge seriously, amid concerns that traditional holidays will super-charge the surge in cases. Ahead of Thanksgiving, state officials have asked that residents do not travel and keep their gatherings small, among other health and safety precautions.
Any gatherings of more than one household should be kept short, involve mask wearing, and comply with the state's 10-person limit on indoor private gatherings, Baker said Monday — stressing that those precautions were especially important for those planning to see relatives who are older or who have a pre-existing condition that could make them more susceptible to COVID-19.
According to the governor, most local officials won't be issuing fines to people who exceed the 10-person indoor gathering limit, but they will break them up and ask participants to go home. Local forecasters say there is a likelihood of rain Thursday, complicating plans for outdoor Thanksgiving gatherings.
"The bottom line here is to do everything you can to keep it small," Baker said.
"I know that sounds harsh and it runs counter to traditions and habits that we've all pursued around holiday seasons over the course of many, many years," he added. "Try to think about the fact that small can be intimate and just as special as larger gatherings — and larger gatherings are simply not worth the risk."
Baker noted that health data has made clear that people can be both contagious and asymptomatic — and that risk of transmission is significantly higher indoors. Contact tracing data has suggested that households were the primary driver of COVID-19 clusters in Massachusetts.
"No one wants to be the person who's responsible for getting a family member sick," Baker said. "So, please, do what you can to avoid that risk altogether."