COVID
Most of Moderna's coronavirus vaccine will be made in Massachusetts, co-founder says
"Massachusetts is, I would argue, the only place where this could have been developed."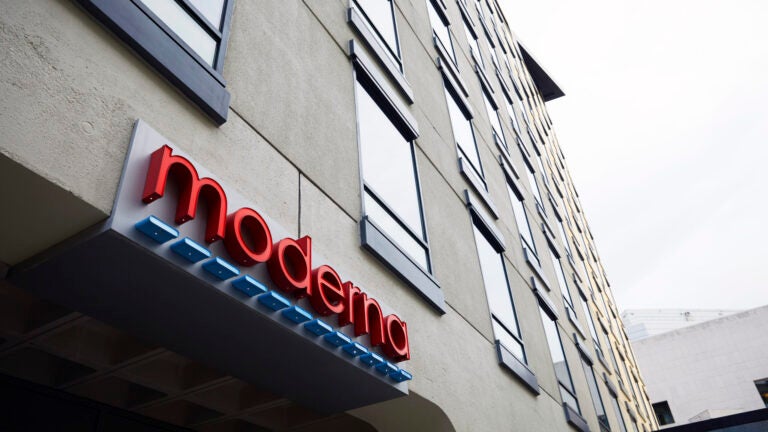 It might still be a while before coronavirus vaccines will be widely available to Massachusetts residents, but it's likely the vials won't have to travel far to reach them.
The "vast majority" of the vaccines made by Moderna, the Cambridge biotech company that has emerged as one of the frontrunners in vaccine development, will be manufactured in Massachusetts, co-founder Noubar Afeyan told GBH News.
The company is already producing vaccines at its facility in Norwood. It has also contracted with Lonza, another manufacturer producing the vaccine in nearby Portsmouth, New Hampshire along with a site in Switzerland.
Afeyan told GBH News that Moderna attracted hundreds of people to join the company's staff to aid with vaccine production. He pointed out that recruitment is not a trivial task during a pandemic.
"I don't know where else you can do that," Afeyan said. "You might be able to do that in little pockets here and there. But Boston, Massachusetts is, I would argue, the only place where this could have been developed."
That's not really hyperbole: Biotechnology is one of Massachusetts' flagship industries, and the cluster of leading hospitals, universities, and over 400 biotech companies in Boston and Cambridge is consistently deemed the best in the country.
Mark Caswell, head of engineering and facilities at Lonza's Portsmouth site, told GBH news that the facility started making the vaccine in July, only two months after its partnership with Moderna began. He called the pace of the project "light speed," citing the convenience of having Moderna in Cambridge, only about an hour's drive away.
"I would argue nobody's ever done it that fast," Caswell said.
After data from a large study showed that its vaccine proved to be nearly 95% effective, Moderna applied for emergency approval from the Food and Drug Administration Monday. The study also showed that among the people who still contracted COVID-19 after immunization, none had severe symptoms.
If the vaccine is approved by the FDA, the first injections could start before Christmas. CEO Stéphane Bancel said Moderna was on track to make 20 million doses by the end of the year and up to a billion in 2021.
The Moderna vaccine is not the only one that will be made in Massachusetts. Pfizer is producing parts of its own promising vaccine at its plant in Andover as part of a three-stage process between St. Louis and Kalamazoo, Michigan.
Pfizer applied for emergency use on Nov. 20 and said it could produce 50 million doses before the new year. The pharmaceutical giant said at the time that its shots were 95% effective. Both the Moderna and the Pfizer vaccine require two doses per person.
The two vaccines greatly differ in their storage needs, which affects transportation and distribution methods. The Pfizer shot has to be kept at minus 70 degrees Celsius, while the Moderna vaccine only requires minus 20 degrees Celsius, just below a typical household freezer. Pfizer's can be thawed and refrigerated for only five days while Moderna's can last for 30 days in the fridge.