Coronavirus
What to know about the timeline behind coronavirus vaccine distribution plans across Mass.
"We can see the light at the end of the tunnel - but the tunnel is filled with traps."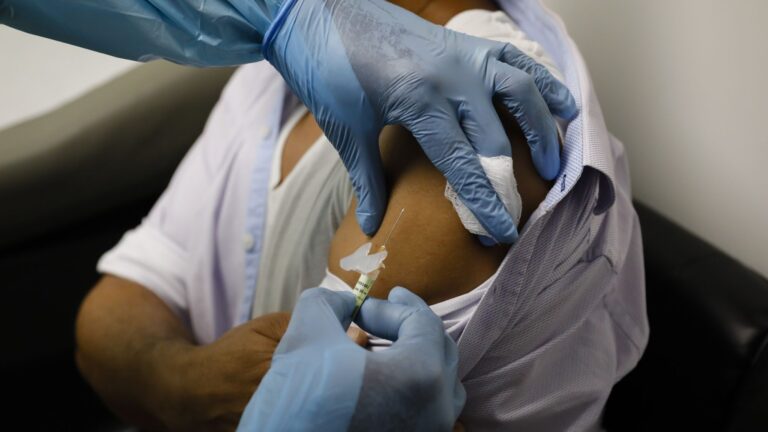 The first doses of a coronavirus vaccine could be available in Massachusetts as early as mid-December, state health officials said during a phone meeting with the Massachusetts Medical Society Wednesday. 
Pfizer's vaccine will likely be approved on Dec. 10, and Massachusetts Department of Public Health officials said they expect it to first be available to large acute care hospitals by Dec. 15. 
Mass. Medical Society President Dr. David Rosman tweeted Wednesday that the vaccine would next be allocated to community health centers, then large practices, before eventually reaching widespread distribution everywhere. 
"We need to speak about vaccine confidence and we as providers need to lead by example. We know from long experience with vaccination that that is the best way." @MassDPH Dr. Madoff on the @MassMedical call. 6/

— Dr. David Rosman (@darosman) December 2, 2020
During a Tuesday press conference, Governor Charlie Baker said the Trump administration expects the first load of Pfizer's vaccine to ship sometime in mid-December, pending emergency use authorization from the Food and Drug Administration.
Assuming Massachusetts could receive between 20,000 and 60,000 initial doses, Baker said he submitted a draft plan to the CDC in October prioritizing health care personnel, adults over 65, those with underlying health conditions, and other essential workers. 
"The focus is going to be on the people we are all the most worried about, right, either because of what they do for work or because of their age or because of their physical condition," he said, adding that the draft is still being updated for a final submission by Friday. 
Dr. Rosman said state health officials explained during their Wednesday meeting that vaccines will be free, and in the months after it's been distributed, the message across the Commonwealth will stay largely the same: wear masks and continue social distancing. 
Travel restrictions will stay the same, too. 
Until then, Rosman urged residents not to let up their guard just yet. 
"Vaccines are coming and that is exciting," he said. "Next month will be WORSE than this one even though we will start vaccinating. We can see the light at the end of the tunnel – but the tunnel is filled with traps. Let's get there carefully." 
OK. Vaccines are coming and that is exciting. DO NOT LET UP YOUR GUARD. Next month will be WORSE than this one even though we will start vaccinating. We can see the light at the end of the tunnel – but the tunnel is filled with traps. Let's get there carefully.

— Dr. David Rosman (@darosman) December 3, 2020