COVID
White House Coronavirus Task Force tells Massachusetts to consider 'rolling back a step' in statewide reopening plan
"Restricting certain activities in some areas may encourage movement and potential spread to surrounding 'non high-risk' communities."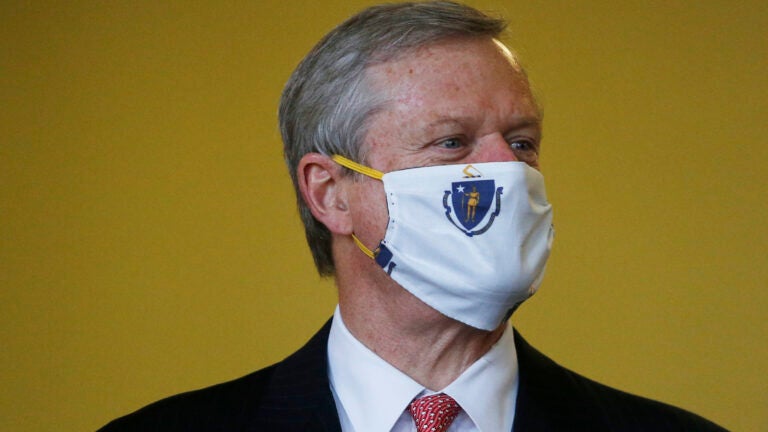 Gov. Charlie Baker said this week that there are no plans to impose additional restrictions to slow the spread of COVID-19 in Massachusetts.
The White House Coronavirus Task Force apparently thinks he should reconsider.
According to a recent briefing document obtained by ABC News, the federal task force told Massachusetts officials to "consider rolling back a step in the state reopening plan as a whole and not just in high-risk areas," as COVID-19 cases and hospitalizations continue to rise.
Baker has allowed communities deemed as "low risk" due to lower coronavirus rates to move to the second step of Phase 3 of the state's reopening plan, which allows indoor performance venues and certain close-contact recreational attractions to reopen under safety restrictions. Cities and towns in the state's red "higher-risk" category must remain in the first step of Phase 3.
However, "restricting certain activities in some areas may encourage movement and potential spread to surrounding 'non high-risk' communities," said the White House task force briefing, which was reportedly dated Sunday.
In the private briefings to governors across the country, the White House task force warned that the United States is in a "very dangerous place due to the current, extremely high COVID baseline and limited hospital capacity." Similar state briefings to Maryland, Pennsylvania, and Virginia were published Thursday by the Center for Public Integrity.
While experts have warned that post-Thanksgiving coronavirus data may be erratic, Massachusetts did report a record-high 4,613 new cases on Wednesday, as the state's average positive COVID-19 test rate surpassed 4.9 percent for the first time since June. The number of hospitalizations in Massachusetts due to COVID-19, while still roughly a third of peak levels in the spring, has also been on a clear upward trend — and is now six times higher than the state's lowest observed numbers in the summer.
Baker said Tuesday that his administration "is not planning any additional closures or restrictions." And he has repeatedly credited the nighttime stay-at-home advisory, expanded mask mandate, and reduced gathering limits imposed early last month for "slower case growth" over the past few weeks.
"We're gonna continue to follow the data," Baker said Thursday, when asked about the potential of additional restrictions, adding that he wanted to see how the trends progress in the wake of the Thanksgiving holiday.
According to WCVB, the White House task force briefing Sunday also said the state's "efforts to curb transmission appear to be having an impact." Federal officials also reportedly encouraged the Baker administration to continue using COVID-19 phone alerts and maintain its "Get Back Mass" public awareness campaign through the holiday season.
During his press conference Thursday in Worcester, the governor noted that the increase in hospitalizations this fall has been less dramatic than it was in the spring. Public health data also shows that the proportion of older individuals, who are more vulnerable to COVID-19, who have gotten the disease this fall is significantly lower than it was in the spring.
"We're going to continue to talk to the health care folks and continue to rely on on their guidance about what we need to do to support them," Baker told reporters Thursday.
"This is going to be a constant balancing act for us here in Massachusetts," he added.