Coronavirus
These 97 Mass. communities are at the highest risk for COVID-19 infection
There are 16 more communities on the list compared to last week.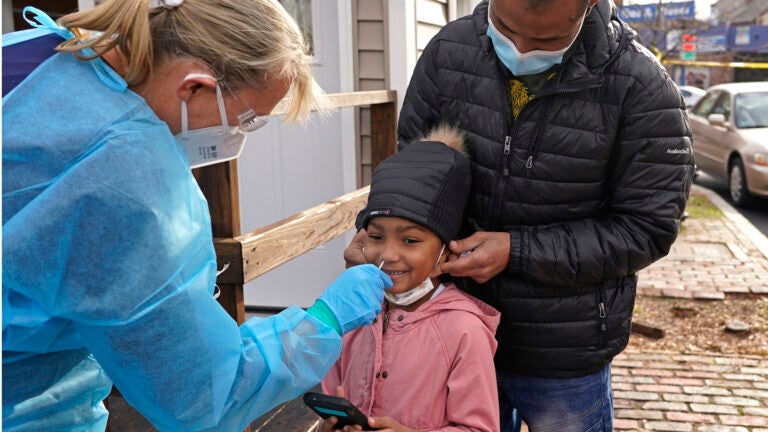 Following Massachusetts's highest single-day total of reported COVID-19 cases, state data indicates that 97 communities are now at the highest risk for virus infection, or in the state's "red zone."
Even with the hopeful news of a vaccine in the not-too-distant future – the first doses for the state are expected by the middle of the month – it will still take time for the vaccine to be distributed to the general public.
In the meantime, health care professionals are concerned about the skyrocketing cases in the state, even considering that 680 of the cases reported Thursday were added due to a technical issue.
"It's the worst it has ever been in Massachusetts. And growing exponentially … this is life and death," Dr. David Rosman, president of the Massachusetts Medical Society, said on Twitter on Thursday.
Here's a look at each of the highest-risk communities, and their average daily incidence rates for the past two weeks:
1. Lawrence
Average daily incidence rate: 107.3 per 100,000 residents
2. Shirley
Average daily incidence rate: 95.5 per 100,000 residents
3. Lowell
Average daily incidence rate: 78.3 per 100,000 residents
4. Fall River
Average daily incidence rate: 75.3 per 100,000 residents
5. Lenox
Average daily incidence rate: 70.9 per 100,000 residents
6. Ludlow
Average daily incidence rate: 70.7 per 100,000 residents
7. Lynn
Average daily incidence rate: 67.6 per 100,000 residents
8. Everett
Average daily incidence rate: 66.9 per 100,000 residents
9. Springfield
Average daily incidence rate: 64.9 per 100,000 residents
10. Methuen
Average daily incidence rate: 62.6 per 100,000 residents
10. Southbridge
Average daily incidence rate: 62.6 per 100,000 residents
12. Chelsea
Average daily incidence rate: 62.1 per 100,000 residents
13. Revere
Average daily incidence rate: 59.2 per 100,000 residents
14. Seekonk
Average daily incidence rate: 59.1 per 100,000 residents
15. Peabody
Average daily incidence rate: 58.5 per 100,000 residents
16. Haverhill
Average daily incidence rate: 58.3 per 100,000 residents
17. Edgartown
Average daily incidence rate: 57.7 per 100,000 residents
18. Pittsfield
Average daily incidence rate: 57.5 per 100,000 residents
19. Barnstable
Average daily incidence rate: 57.3 per 100,000 residents
19. Dracut
Average daily incidence rate: 57.3 per 100,000 residents
21. Sutton
Average daily incidence rate: 52.6 per 100,000 residents
22. West Springfield
Average daily incidence rateL 52.3 per 100,000 residents
23. Leominster
Average daily incidence rate: 51.5 per 100,000 residents
23. Swansea
Average daily incidence rate: 51.5 per 100,000 residents
25. Middleton
Average daily incidence rate: 51.4 per 100,000 residents
26. Hampden
Average daily incidence rate: 51 per 100,000 residents
27. Sterling
Average daily incidence rate: 50.9 per 100,000 residents
28. Holden
Average daily incidence rate: 50.4 per 100,000 residents
28. Holyoke
Average daily incidence rate: 50.4 per 100,000 residents
30. Somerset
Average daily incidence rate: 50.1 per 100,000 residents
31. Saugus
Average daily incidence rate: 49.9 per 100,000 residents
32. Tewksbury
Average daily incidence rate: 49.6 per 100,000 residents
33. Tyngsborough
Average daily incidence rate: 49.5 per 100,000 residents
34. Wenham
Average daily incidence rate: 49.4 per 100,000 residents
35. Chicopee
Average daily incidence rate: 49.1 per 100,000 residents
36. Norfolk
Average daily incidence rate: 48.6 per 100,000 residents
37. New Bedford
Average daily incidence rate: 48.3 per 100,000 residents
38. Charlton
Average daily incidence rate: 47.9 per 100,000 residents
39. Dartmouth
Average daily incidence rate: 47.7 per 100,000 residents
40. Gardner
Average daily incidence rate: 47.4 per 100,000 residents
41. Marion
Average daily incidence rate: 46.6 per 100,000 residents
42. Westport
Average daily incidence rate: 44.8 per 100,000 residents
43. Stoneham
Average daily incidence rate: 43.6 per 100,000 residents
44. Fitchburg
Average daily incidence rate: 42.2 per 100,000 residents
45. West Boylston
Average daily incidence rate: 42.8 per 100,000 residents
46. Rehoboth
Average daily incidence rate: 42.7 per 100,000 residents 
47. Woburn
Average daily incidence rate: 42.5 per 100,000 residents
48. Milford
Average daily incidence rate: 42.1 per 100,000 residents
49. North Brookfield
Average daily incidence rate: 41.6 per 100,000 residents
50. Hopedale
Average daily incidence rate: 40.6 per 100,000 residents
51. Framingham
Average daily incidence rate: 40.2 per 100,000 residents
52. Millbury
Average daily incidence rate: 39.7 per 100,000 residents
53. Attleboro
Average daily incidence rate: 39.5 per 100,000 residents
54. Brockton
Average daily incidence rate: 39.2 per 100,000 residents
55. Paxton
Average daily incidence rate: 38.9 per 100,000 residents
56. Wilmington
Average daily incidence rate: 38.5 per 100,000 residents
57. Acushnet
Average daily incidence rate: 38.3 per 100,000 residents
57. Chelmsford
Average daily incidence rate: 38.3 per 100,000 residents
57. Boxford
Average daily incidence rate: 38.3 per 100,000 residents
60. Malden
Average daily incidence rate: 38 per 100,000 residents
61. Southwick
Average daily incidence rate: 37.9 per 100,000 residents
62. Rutland
Average daily incidence rate: 37.6 per 100,000 residents
63. Clinton
Average daily incidence rate: 37 per 100,000 residents
64. Dighton
Average daily incidence rate: 36.9 per 100,000 residents
64. Randolph
Average daily incidence rate: 36.9 per 100,000 residents
66. Leicester
Average daily incidence rate: 36.8 per 100,000 residents
67. Billerica
Average daily incidence rate: 36.1 per 100,00 residents 
67. Spencer
Average daily incidence rate: 36.1 per 100,000 residents
69. Hudson
Average daily incidence rate: 35.3 per 100,000 residents
70. Blackstone
Average daily incidence rate: 34 per 100,000 residents
71. Salisbury
Average daily incidence rate: 33.9 per 100,000 residents
72. Mendon
Average daily incidence rate: 33.4 per 100,000 residents
73. Freetown
Average daily incidence rate: 33.2 per 100,000 residents
74. Bellingham
Average daily incidence rate: 32.9 per 100,000 residents
74. Lunenberg
Average daily incidence rate: 32.9 per 100,000 residents
76. Granby
Average daily incidence rate: 32.7 per 100,000 residents
77. Stoughton
Average daily incidence rate: 32.3 per 100,000 residents
78. Taunton
Average daily incidence rate: 31.9 per 100,000 residents
79. North Attleborough
Average daily incidence rate: 31.3 per 100,000 residents
80. Merrimac
Average daily incidence rate: 30.4 per 100,000 residents
81. Georgetown
Average daily incidence rate: 30.2 per 100,000 residents
82. Monson
Average daily incidence rate: 29.8 per 100,000 residents
83. Palmer
Average daily incidence rate: 29 per 100,000 residents
84. Newbury
Average daily incidence rate: 28.1 per 100,000 residents
85. Berkley
Average daily incidence rate: 27.3 per 100,000 residents
86. Sturbridge
Average daily incidence rate: 27 per 100,000 residents
87. Hanover
Average daily incidence rate: 26.3 per 100,000 residents
88. Southborough
Average daily incidence rate: 24.4 per 100,000 residents
89. Uxbridge
Average daily incidence rate: 24.2 per 100,000 residents
90. Upton
Average daily incidence rate: 24.1 per 100,000 residents
91.Douglas
Average daily incidence rate: 23.3 per 100,000 residents
92. Abington
Average daily incidence rate: 23.1 per 100,000 residents
93. Whitman
Average daily incidence rate: 23 per 100,000 residents
94. Lancaster
Average daily incidence rate: 21.6 per 100,000 residents
95. Littleton
Average daily incidence rate: 20.5 per 100,000 residents
96. Plainville
Average daily incidence rate: 20.2 per 100,000 residents
97. Wareham
Average daily incidence rate: 19.8 per 100,000 residents
Here's all of the state's data: