Coronavirus
Bill Galvin proposes using an Election Day model for COVID-19 vaccinations
The Massachusetts secretary of state wants a "National Vaccination Day."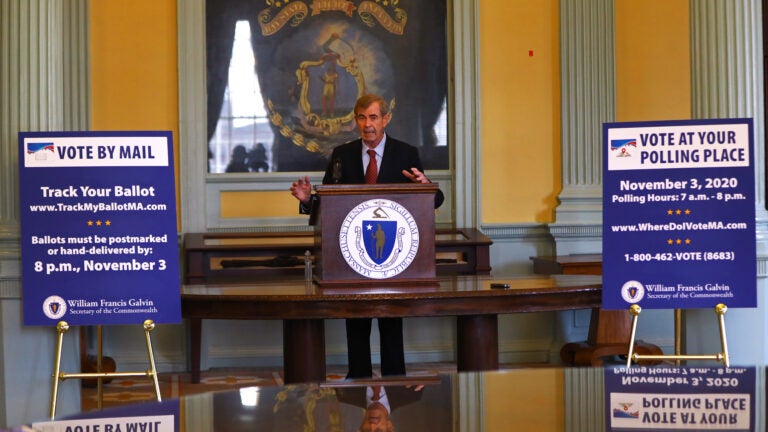 After two and a half decades overseeing the state's elections, Massachusetts Secretary of State Bill Galvin has an idea to apply the model to COVID-19 vaccination efforts.
Think of it as Election Day, but for getting vaccinated. Or as Galvin puts it, "National Vaccination Day."
Now, that doesn't mean that everyone who should get the vaccine would do it on the same day. Rather, just as more than 100 million people voted early in the weeks leading up to last month's Nov. 3 Election Day, Galvin thinks a National Vaccination Day could serve as a similar endpoint.
"In the same way that voting this year occurred over a period of time, and there was a day by which we all knew to make sure we had voted, I believe it will be important to establish a national day by which we all pledge to get the first dose of the new vaccine, once the vaccines become available to the general public," Galvin said in a statement Thursday afternoon.
The idea comes after Gov. Charlie Baker told reporters Thursday that Massachusetts expects to get "somewhere around 300,000 doses" by the end of this month.
Paul Biddinger, the chair of the state's COVID-19 Vaccine Advisory Group, told WBUR in an interview Thursday that the first shipment will be enough to give 300,000 people the first of the two necessary vaccine shots and that the "system will automatically order that second dose." According to Biddinger, the time between shots for the Pfizer and Moderna vaccines, which are the first ones officials expect to be approved, are 21 days and 28 days, respectively.
According to the vaccine distribution plan submitted by Baker's administration, three groups will be prioritized: (1) healthcare personnel likely to be exposed to people with COVID-19, (2) people who are older than 65 years or age or have underlying medical conditions that make them vulnerable to the disease, and (3) other essential workers.
Baker said Tuesday that the vaccine distribution plan will likely focus on those groups through March.
"The focus is going to be on the people we are all the most worried about right now, either because of what they do for work or because of their age or because of their physical condition," he said, adding that he thinks the vaccine will be more widely available by mid-spring.
Once that's the case, Galvin said he thinks a National Vaccination Day would help facilitate the nationwide effort that would be necessary to achieve herd immunity. (His office didn't immediately say when or how he thinks the day should be set.)
"Right now, the states are being provided with general guidelines on whom to vaccinate and when, but ultimately the effort is being left to state and local officials to figure out how to distribute vaccines across the country," Galvin said. "This is a national crisis and it requires a national effort. If my experience with the recent election has taught me anything, it is that state and local officials can do extraordinary things if they have a common objective and are operating under the same broad national principles."