COVID
Charlie Baker hints at additional restrictions 'soon' amid 'rapid' increase in COVID-19
"The key question here for us is what kinds of things can we do that we actually believe will change the way people think about how they behave."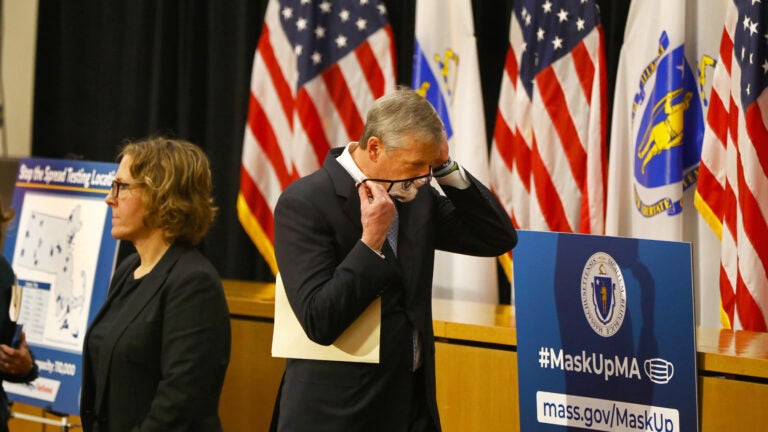 Gov. Charlie Baker said Monday that"every option is on the table" to address what he called a "rapid" increase in COVID-19 cases in Massachusetts — and he hinted additional statewide restrictions may be on the way.
"We're taking a good look at the data, as we have been post-Thanksgiving, and I fully expect that, at some point, we'll make some decisions with respect to that," Baker told reporters during an afternoon press conference, after being asked about the growing calls from public health experts and local elected officials for more aggressive steps, as some other states have taken in the wake of the fall surge in COVID-19 cases.
"We'll have more to say about that soon," Baker said twice during the press conference.
Baker had said the week before Thanksgiving that he had "no plans" to impose additional restrictions in response to an already-increasing surge in cases and hospitalizations. And he has repeatedly credited the nighttime stay-at-home advisory, expanded mask mandate, and reduced gathering limits announced early last month — all aimed at the informal gatherings state officials say are driving the surge — for slowing the increase in the run-up to the holiday.
"You could actually see our positive test rates stop growing day over day for about 10 days, and then about five to seven days, which is the typical incubation period, after Thanksgiving, it took off like a rocket," Baker said Monday, adding that the holiday had been "exactly the kind of event" that he and other officials had warned about due to inter-household gatherings.
As of Monday, more than 1,400 people in Massachusetts are hospitalized due to COVID-19, and the state's positive test rate is at its highest levels since June. Statewide deaths due to the disease are also trending upward.
Baker announced Monday that Massachusetts hospitals will begin a limited curtailment of inpatient elective procedures Friday in order to free up more health care workers for the influx of COVID-19 patients. Unlike in the spring when COVID-19 hospitalizations peaked nearly three times as high as their current levels, things like preventive care and pediatric checkups may still be available. The curtailment will apply to anything that can be "safely postponed," according to Baker.
"We now have a hospital community that is really struggling," he said.
Baker also announced several new testing sites Monday, as well the deployment of 150,000 rapid-response Abbott BinaxNOW tests to community health centers and hospitals to use this month. The state also reopened a field hospital in Worcester on Sunday and has plans to open another.
Still, fellow government officials and public health experts have increasingly called on the Baker administration to take more action to stop the transmission of the disease in the first place.
Last week, the White House Coronavirus Task Force told the Baker administration to consider bringing the entire state — rather than only high-risk communities — back to the first step of Phase 3 of the state's reopening plan. Over the weekend, Dr. Ashish Jha, the dean of the Brown University School of Public Health, called Baker's lack of additional action "incomprehensible."
"For many months, I defended [Baker] against critics, saying our governor has done a good job," Jha tweeted. "Over past 6 weeks, I've gone from uncomfortable to aghast at lack of action."
Baker has repeatedly pointed to the state's COVID-19 cluster data, which suggests household spread — as opposed to restaurants, gyms, and other businesses — is what's driving the surge this fall, even if disease experts say the data leaves a lot left unknown.
During the press conference Monday, Baker said he talked over the weekend to several local mayors who were "frustrated with me and frustrated generally."
"But to a person, they all said that they see in their communities — all the time — people engaging in risky activity," Baker said, adding that some of the mayors had seen their own neighbors hosting gatherings with people outside their immediate bubble, where people weren't wearing masks and were spending a lot of time indoors.
"We've been saying for months that this is, based on our data, one of the primary ways in which the virus spreads," he said.
Baker said he was less concerned about restaurants and other public settings, where there are enforceable mask-wearing and social-distancing rules, than he was about informal gatherings "where there are no rules."
"There are many things that spread COVID," he said. "Restaurants certainly play a role, along with many others. But honestly … the thing I worry about the most is still the informal gatherings — because there are no masks, there are no rules, there are no guidance, there are no time limits. It's a completely different problem."
During the press conference Baker noted that part of the reason for the previous slate of orders last month was to send a message to get people to take the second surge seriously, which he said "did have some impact on behavior."
"The key question here for us is what kinds of things can we do that we actually believe will change the way people think about how they behave," he added. "And that's what we plan to speak about later."