COVID
Live updates: The latest on the COVID-19 pandemic in Mass.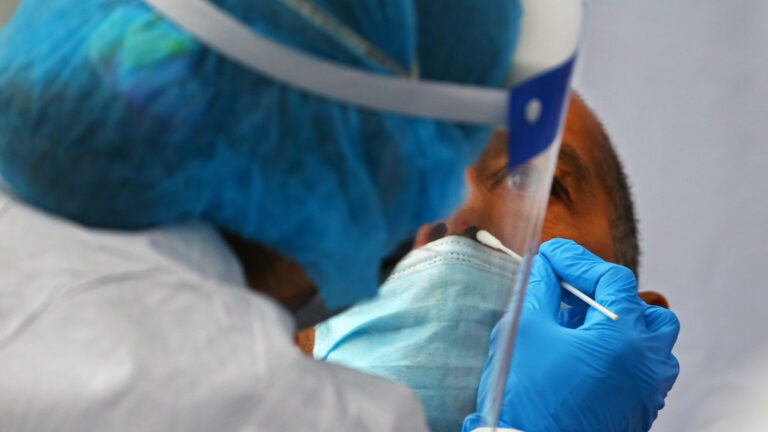 Commuter rail to run on a reduced schedule for at least 2 weeks due to COVID-19 related absences among staff (Dec. 10)
The commuter rail is planned to run on a reduced schedule temporarily, dropping its number of daily trains by more than half, due to staff being out related to COVID-19, Keolis, the company that operates the service, said in a press release.
Starting on Monday, the system will run 246 trains every day, a sharp drop from the 541 trains it usually operates. The temporary maneuver is planned to run at least through Dec. 27. Keolis noted that over the last 10 days, the company has seen an uptick in COVID-19 cases among staff. MBTA and Keolis will evaluate worker availability during this time, and will figure out if the temporary schedule will need to stay in place longer. 
The schedule does not affect weekend service. Those who want to look at the schedule for their particular line should visit the area of the MBTA's website for the commuter rail, click their line, and scroll to the list of PDFs for schedules at the bottom.
"Our rigorous cleaning practices at stations and onboard trains remain in place, including regular deep cleanings, sanitizing touch points and the use of foggers to help ensure safety. Masks continue to be a requirement for all passengers and crews on trains as well," Keolis CEO and General Manager David Scorey said in the release.
The commuter rail is operating with about 13 percent of its ridership compared to pre-pandemic times, the release said. The number of passengers usually dips during the holidays.
Almost all the residents of a N.H. nursing home have COVID-19 (Dec. 10)
At Hanover Terrace Health and Rehabilitation Center in Hanover, N.H., 60 of its 70 residents are battling COVID-19.
NBC10 Boston reports that as of Tuesday night, one resident had died. In addition to those living there, 26 staffers have also come down with the virus.
Up until Thanksgiving weekend, there were no cases, according to the news station. Then, two residents were positive, and the current outbreak followed.
Nursing home officials told NBC10 they aren't sure how the outbreak began. Residents are being tested daily until there aren't any more cases.
Worcester DCU Center COVID-19 field hospital is exceeding its predicted capacity in 1st week (Dec. 10)
The COVID-19 field hospital at the DCU Center in Worcester reopened its doors on Sunday and is already exceeding its planned capacity for its first week, MassLive reports. The center, run by UMass Memorial Health Care, expected to admit 25 coronavirus patients in the first week of its operation, but just four days in, 30 people have been admitted. 
"Honestly, the demand is even higher than we thought and we're expanding faster than we thought we would need to, but I think that just shows that we're providing a good service for the commonwealth and we're happy to do it," John Broach, the medical director of the field hospital, told MassLive. 
The arena will eventually have the capacity to care for 220 patients. According to MassLive, during the spring surge, the field hospital saw at its highest points 40 inpatients and 80 homeless individuals.
At the current pace of demand, Broach told the publication the field hospital could exceed that spring inpatient number in a matter of days. 
"If we had staff, we would probably hit 50 in the next two days so that's why we're trying to add staff … it's faster than we thought but the team has come together very well," he said.
Two new COVID-19 testing sites planned for Cape Cod to test over 500 people daily (Dec. 9)
Next week, two COVID-19 testing sites are planned to open on Cape Cod, and are set to help an area underserved in terms of testing availability.
State House News Service reports that the two sites coming to Hyannis and Falmouth will test over 500 people per day, but they won't be free for patients, unlike the state's "Stop the Spread" program, which provides no-cost tests. Though Gov. Charlie Baker had indicated it would be part of the state's free testing initiative, state Sen. Julian Cyr, who represents the area, said this isn't true, according to the service.
"We're pretty confident this is not going to meet all of the need," Cyr said during a Tuesday conference call, SHNS reported. "Particularly the capacity we'll have in the Hyannis site is significant. But this is not a Stop the Spread site."
State Rep. Dylan Fernandes said the tests should not exceed $60 for those who don't have insurance, according to the service, but officials were not able to give a specific cost. Patients won't be turned away due to their inability to pay, officials said, but will be required to pay as much of the cost as they can.
The Hyannis site will take up shop at Melody Tent and is planned to be open seven days a week – 8 a.m. to 4 p.m. on weekdays and on weekend mornings. The Barnstable County Fairgrounds site is planned to be open for three days a week with a capacity of testing between 50 and 75 people daily, according to the service.
28 Boston schools to reopen to students with high needs (Dec. 8)
About 1,700 more students will be allowed to return to school in person in Boston, with 28 schools set to reopen Monday.
Students set to return include those with disabilities and English language learners, according to The Boston Globe.
Of the 51,000 students who attend Boston schools, just under 200 currently attend in-person classes, the newspaper reported.
In November, the district reopened four schools to special education students. Mayor Marty Walsh said last week that he doesn't think schools will reopen more broadly before Christmas.
Charlie Baker writes Wall Street Journal commentary calling for federal COVID-19 relief legislation (Dec. 8)
With COVID-19 vaccines on the horizon, Gov. Charlie Baker is amplifying his calls for the federal government to immediately pass an additional relief bill to help Americans get through the winter with infections and hospitalizations on the rise.
"Things feel desperate and the U.S. remains a nation at risk," Baker wrote in a Wall Street Journal commentary Monday. "Between now and the end of the year, Congress and President Trump have a unique and urgent opportunity to build a bridge to the postvaccine world."
While the Republican governor praised the two parties for enacting the CARES Act and other smaller relief bills, he bemoaned "politics" for getting in the way of additional action in response to the second surge this fall, which has resulted in record numbers of new cases and deaths due to COVID-19 in the United States.
"Now is the time to act," Baker said. "The people who are struggling these days come from every state, every demographic, and every political party. They came out and voted in record numbers this past November—for both sides—despite all the risks that came with it. Make the deal for them. Rise above partisan differences and do something big for the people we all serve. It will save lives, jobs, businesses and homes."
While he didn't express support for any specific legislation in the WSJ piece, Baker has previously vented about the fact that federal lawmakers weren't at least able to reach a deal to address areas of general common ground, such as emergency funding for schools. He also signed onto a statement Monday with four other Republican governors calling for a "bipartisan agreement on a COVID-19 relief package this month" to at least replenish CARES Act programs, such as the federal boost to unemployment benefits and the Paycheck Protection Program for small businesses — both of which have expired.
Other programs, such as the federal eviction moratorium and a separate unemployment insurance program for gig and contract workers, are set to expire later this month.
"The people in our states continue to pay a high price for Congress' inaction," the five governors wrote, adding that it would be "unconscionable if Congress were to pull their lifeline now."
Cambridge and Framingham public schools go all remote after increase in COVID-19 cases (Dec. 7)
Cambridge and Framingham students will be learning remotely amid a spike in COVID-19 cases, according to announcements from both districts.
In Cambridge, a letter to district families said the city's case numbers have risen above a threshold set by officials. The transition is set to take place on Thursday. In-person classes for Monday and Tuesday, plus the regularly scheduled remote day on Wednesday, will continue as usual.
"The public health situation is concerning, and I recognize it can be a scary time for all of us," Superintendent Kenneth Salim said in the letter.
In Framingham, all-remote classes began on Monday; the district hopes to have "expanded" in-person learning happen in the middle of January, as has been the goal, Superintendent Robert Tremblay said in a letter.
"It is clear that the Thanksgiving holiday and behavior by some that went against public health guidance has resulted in the increased transmission of cases in our City," Tremblay said.