COVID
Mass. hospitals to 'curtail' elective inpatient procedures as COVID cases surge, Charlie Baker says
"We can't afford to continue to strain the hospital system at this rate."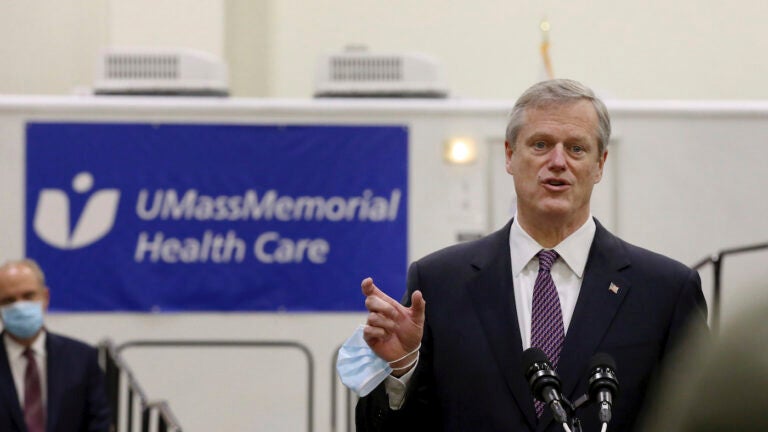 Beginning Friday, hospitals in Massachusetts will "curtail" elective inpatient procedures in an effort to free up staff and beds as the commonwealth braces for a new surge of coronavirus cases, Gov. Charlie Baker said Monday.
Medical centers will need to cease procedures that impact their inpatient capacity, according to state Health and Human Services Secretary Marylou Sudders. The measure does not apply in cases where canceling or delaying treatment would negatively impact a patient's health, she said.
"Since Thanksgiving, we have seen a significant uptick in daily case counts and hospital admissions. As of the weekend, confirmed hospitalizations have increased 44 percent from 986 admissions to 1,416," Sudders said during a press conference. "Hospitals are feeling the strain on both ends."
Data released by the state Department of Public Health on Sunday shows the seven-day average of the number of hospitalized COVID-19 patients has risen consistently over the past month, jumping from 491 patients on Nov. 6 to 936 patients on Nov. 26, Thanksgiving Day, to 1,312 patients on Dec. 5, the last date with available data.
The commonwealth's seven-day average of new confirmed cases hung at 3,406 on Dec. 5, while 4,747 new confirmed cases were reported Sunday.
The state recently opened a field hospital at the DCU Center in Worcester and plans are in the works to launch another such facility in Lowell to handle the upswing in cases.
"But even with these additional resources, we can't afford to continue to strain the hospital system at this rate," Baker said Monday.
The rise in virus activity has resulted in more health care workers being forced to call out of work due to either contracting or being exposed to the coronavirus, which has led to a decrease in the number of staffed beds hospitals have readily available, Sudders said.
"In response to these risks, the hospital system's ability to serve patients and support their staff is being compromised," Baker said.
Sudders stressed, however, the move announced Monday is not the same as the state mandate issued last spring that temporarily shut down all nonessential elective medical procedures.
"Let me be clear: This is a limited curtailment of elective procedures to promote the redeployment of staff that perform nonessential elective procedures to support the essential and urgent inpatient medical care," she said. "It is not a blanket across the board curtailment that we implemented in the first surge."
Ambulatory services and preventative care — from mammograms to pediatric checkups — will continue to be available for patients, Sudders said. Patients with upcoming appointments should contact their health care provider for clarification, she said.
Baker said Monday state officials were in contact with hospital leaders about the shift for several days.
Some facilities and health care providers have already begun the change in policy, GBH reports.
As of Dec. 4, hospitals in most of the state had moved into the second of four tiers outlined by a plan for handling a surge in cases, according to the news station. The designation indicates the seven-day average of the number of ICU and medical/surgical beds available in those areas was below 25 percent for five straight days.
"The practical implications, unfortunately, mean that hospitals are getting … stretched to a very concerning point," Dr. Paul Biddinger, medical director for Emergency Preparedness at Massachusetts General Hospital, told GBH. "Unfortunately, what we're hearing from others is what we're experiencing ourselves, which is we're getting really full. We're really getting strained.
"We continue to see rising numbers of COVID patients," he added. "And that means at some point, unfortunately, you have to defer other care in order to make sure you have hospital beds, ICU beds, and available staff. So moving into Tier 2 is a recognition that all hospitals or many hospitals in each of the regions are under significant strain."
Dr. Shira Doron, hospital epidemiologist at Tufts Medical Center, told the outlet she is worried the post-Thanksgiving surge could raise issues that did not come to pass in the spring.
"Every health care worker's biggest fear in this is having to choose between one person and another for care," Doron said. "And we didn't really get there with the first surge. And so our worry, and what we lose sleep over, is that we will get there with this one, that it will be worse and we will get to the point where we have to choose which person gets medical treatment."