COVID
A Rhode Island emergency room doctor on what it's like on the front lines during the latest COVID-19 surge
"It's incredibly frustrating for medical professionals to see our worst predictions come true."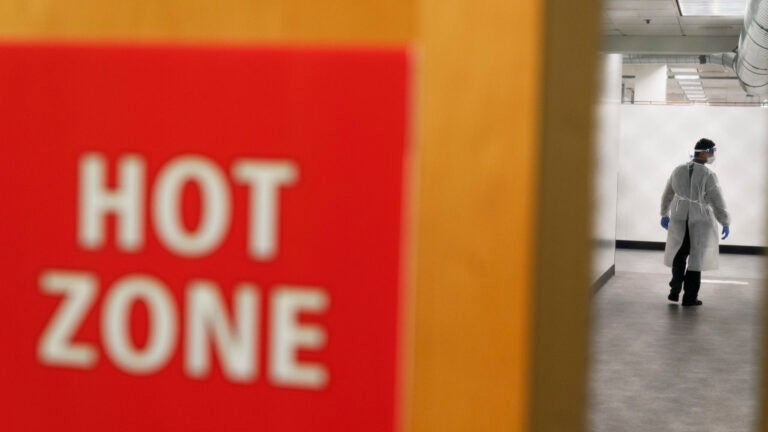 Dr. Megan Ranney appeared on CNN in early October to share what she was seeing in her work as an emergency room physician in Rhode Island as the COVID-19 pandemic continued to rage.
The doctor was blunt, telling viewers the rise in cases she was seeing was the fall wave hitting. 
After the appearance, the Brown University emergency room physician received email upon email accusing her of lying. She was attacked on Twitter. She was told she was making it up, that she was a "fear monger."
"I was like, 'No, come to my ER, we're not hospitalizing a lot of patients yet, but we are seeing more of them. The surge is here,'" Ranney recalled in a recent interview with Boston.com. 
Nevertheless, the Rhode Island doctor continued to sound the alarm through October and November, warning of rising hospitalizations and cases as the weeks continued and pleading with people not to mix with people outside their households for the Thanksgiving holiday.
The way the virus spreads is well known at this point in the pandemic, Ranney stressed. Physicians know that once they start seeing three COVID-19 patients in the emergency room, the next week, they'll see six, the following week, they could see 12. 
Rhode Island hospitals reached their capacity the Monday after Thanksgiving, with officials announcing a slate of new restrictions aimed at slowing the spread of the virus and preventing the state's health care system from being overrun. The measures include a two-week "pause" on a range of activities and the opening of two field hospitals to help take the pressure from the institutions at capacity. 
"It's incredibly frustrating for medical professionals to see our worst predictions come true and to know that it's partly because of continued lack of national strategy," Ranney said. 
New restrictions go into effect for two weeks starting today, Nov. 30. Social gatherings are still limited to the people you live with, restaurants will be operating under reduced capacity, and bar areas, gyms, indoor sports facilities will be closed. https://t.co/sIAlP5nKKb. pic.twitter.com/TrpOx8alyK

— Rhode Island Department of Health (@RIHEALTH) November 30, 2020
This is my state right now.

To all the people (who I don't tag, bc they don't deserve the notoriety) who accused me of "fear mongering" – I hope you don't get sick, from #covid19 or anything else, because WE HAVE NOWHERE TO TREAT YOU. pic.twitter.com/l0dSN86rit

— Megan Ranney MD MPH 🗽 (@meganranney) November 30, 2020
Ranney said she believes the health care system in Rhode Island is "on the edge" of being overwhelmed. The field hospitals will be helpful, she said, and it is "necessary" to get them up and running before the hospitals become full at a "dangerous level."
"This way, we can figure out how the field hospital works, we can develop comfort with it, so that when this post-Thanksgiving surge hits in two or three weeks, we're ready," Ranney said.
Given the level of COVID-19 cases already being seen, Ranney said what is "scariest" to her about the current situation is that the effects of the Thanksgiving holiday won't be known for between two and four weeks. 
"That's the point that I'm worried about," she said. 
And while the field hospitals will aid in removing some of the pressure from other care settings, Ranney remains concerned about staffing availability for health care facilities as the surge intensifies in the coming weeks.
"The number of patients is only going to go up over the next month and I worry about having adequate staff," the doctor said. "Both because people are burning out and because people are getting sick."
She's worried the pandemic is going to result in health care workers leaving the profession. 
"It's exhausting and frustrating to be on the front lines right now," she said. "It's physically exhausting, wearing PPE for an entire shift is just — I have no words for it other than physically exhausting. You're sweaty, you're thirsty, you can't hear, your patients can't see your face, you can't see your co-workers' faces, you can't tell who is who. It's absolutely exhausting physically."
It's also mentally and emotionally draining, she said. 
"It's tough to see the same types of patients come in over and over, to know that it could have been prevented," Ranney said. "And then it's particularly tough when you leave the hospital and have people say that it's being blown out of proportion or that we're making it up, or that we're somehow trying to infringe on people's rights by asking them to wear a mask, which is just the most ridiculous thing I've ever heard."
At the same time, workers in health care are facing the same stressors from the pandemic as everyone else, from childcare struggles to financial issues to loneliness. So the expressions of support and gratitude, which poured out at the start of the pandemic for frontline workers, do make a difference, Ranney said. 
Yet, medical professionals are dealing with being attacked for their jobs while also rising to meet the demands of caring for horribly ill patients and fearing for their own health in the course of their work. 
"It is a tough moment to be a health care worker," she said.
Ranney has heard from a lot of friends and colleagues working in health care across the country, telling her "this is it."
"I've heard a lot of nurses, physicians say that they're reconsidering their career choice, that they worry that they can't go back, that they're going to power through the winter because it's the right thing to do, but at that point they're going to take a step back and reevaluate," Ranney said. "Burnout was already at high levels among health care workers and particularly amongst physicians."
This, she emphasized, is more than burnout. 
"This is more this kind of moral injury of being asked to do things that don't feel right and that you feel you're put in this untenable situation," the doctor said. "Where you have to show up and take care of patients in the hospital, knowing that there are 30 more patients out in the waiting room and that there just aren't enough resources for all of them."
Ranney said she feels very lucky to be at a hospital in a state where there has been foresight and planning, a hospital that is well stocked. 
But, she pointed out, many of her colleagues across the country are not in the same position. Ranney is a co-founder of Get Us PPE, a national grassroots effort started by doctors at the beginning of the pandemic to get personal protective equipment to those in need and track demand. The manufacturing of PPE has not increased with the pandemic worsening again, she said, raising worries about health care settings running out of supplies, as occurred in the spring surge.
"We know that there are shortages across the country still," Ranney said. "My hospital luckily does not have shortages, but there are these very real fears. And then of course there's still the fear of, what if we get sick?"
The light at the end of the tunnel for health care workers, she said, is that vaccines are on their way. But in the meantime, Ranney said she's hopeful that efforts like putting Rhode Island on "pause" for a couple of weeks to slow the spread of the virus will also help.
But the effects of the rollback likely won't be seen for a month, so she expects the state will continue to see its numbers of hospitalizations, ICU patients, and deaths continue to rise through the end of the year. 
Since the pandemic began, more than 60,000 Rhode Islanders have contracted the virus and at least 1,400 state residents have died. The state's positive test rate was almost 7 percent by the end of the Thanksgiving holiday week, and it so far shows no sign of slowing, with the daily percent positive rate at 8 percent on Dec. 3. 
And Ranney pointed out that even though Rhode Island is "paused" due to the infection rates, the state borders are porous and neighboring jurisdictions are not engaged in rollbacks.  
Massachusetts is also seeing a surge in cases and rise in hospitalizations, prompting the reopening of a Worcester field hospital on Sunday. But Gov. Charlie Baker said there are no plans to reimpose coronavirus restrictions. 
"The biggest thing people can do is follow the rules, to do the right thing to avoid infections," Ranney said. "I've been telling friends and family, pretend that there's a shutdown in place. Stay home for the next few weeks, don't go to indoor restaurants or bars or stores. And it's tough because it's holiday season, but don't go to parties, even if your state allows you to. That's the biggest thing people can do for health care workers — stop getting sick."
The actions of individuals continue to matter, the Rhode Island doctor said, urging the public to "not give up" in their efforts to slow the spread of the virus or give in to pandemic fatigue.
"This is the time to double down, to do one last push to help decrease the chance of you and your family getting sick," she said. "And if folks can just make it through the next month or so, things are going to start getting better. Not instantaneously, but little by little."