COVID
Why Ashish Jha is concerned about COVID-19 hospitalization rates falling nationally
"The virus is beginning to overrun our health-care defenses."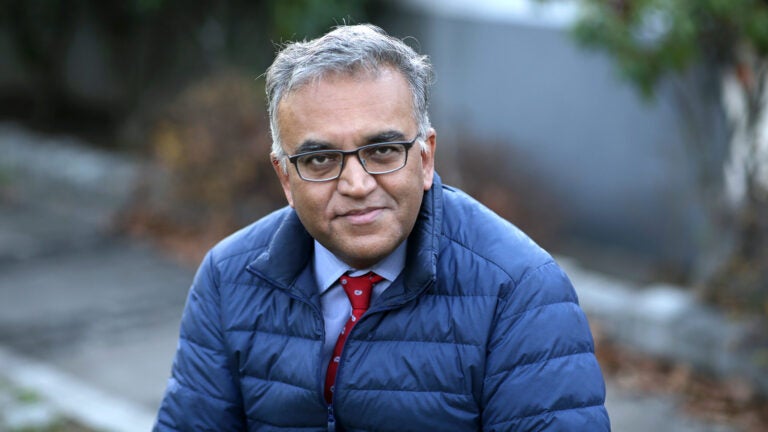 Dr. Ashish Jha is raising concerns that the surging COVID-19 pandemic is distorting health care systems across the United States and is affecting the ability of patients to get treatment at hospitals.
"The virus is beginning to overrun our health-care defenses," the dean of the Brown University School of Public Health wrote in an op-ed in The Washington Post on Monday, in which he presented his worries about the trends he's seeing in his analysis of national COVID-19 hospitalization numbers.
Jha said unlike the spring surge, where health care systems were overwhelmed in particular regions, the current wave of infections is occurring across large parts of the country.
"Counterintuitively, the reason we know COVID-19 is overwhelming the system is because of what might look like a good sign at first glance: The hospitalization rate for patients with the virus is dropping quickly," he wrote.
Throughout most of the fall, Jha wrote that in general, health officials could look at the number of COVID-19 cases reported on a single day and predict that a week later a proportion of those cases — that he said was about 3.5 percent — would end up hospitalized.
"The rate, in fact, was remarkably consistent," Jha said. "On Oct. 15, we had 53,000 new cases. On Oct. 22, you would expect 1,844 hospitalizations. What was it actually? 1,855. But as we entered November, something began to change."
As November went on, the gap between the projected rate of hospitalizations based on new infections and the actual hospitalizations widened. On Nov. 15, 146,000 new cases were reported, which, according to Jha, should have resulted in about 5,100 new hospitalizations.
Instead, there were less than 3,700.
Jha said this indicates hospitals are admitting fewer and fewer people as the threshold for admissions rises with beds filling up.
The virus surge is essentially resulting in rationing care, he wrote.
"What is happening is that patients who would have been admitted to hospitals earlier in the year are not being admitted now," Jha wrote. "Indeed, by my best calculation, between a third and half of COVID-19 patients who would have been admitted in the beginning of October are now being sent home instead. This is really bad for patients. Some will get much sicker at home. Some may die there."
To mitigate the disaster of overwhelming the health care system and preventing such care rationing, Jha urged the public to continue following social-distancing measures and wearing masks, as well as to demand policies limiting indoor gatherings from their local leaders.
"If we don't, hospitals across America really will become incapable of caring for any but the sickest of us, causing so much unnecessary suffering and death," he wrote in the Post. "And with the pandemic's end now in sight, that outcome would be particularly tragic."
There is something funny happening with COVID hospitalizations

Proportion of COVID pts getting hospitalized falling

A lot

Just recently

My theory?

As hospitals fill up, bar for admission rising

A patient who might have been admitted 4 weeks ago may get sent home now

Thread

— Ashish K. Jha, MD, MPH (@ashishkjha) December 1, 2020
LOTS of caveats to this formula

Not all states report new hospitalizations (formula takes that into account)

Could build a 10 day lag formula (3.7% hospitalized by 10 days)

All data I report are 7-day moving avgs from @COVID19Tracking

3/10

— Ashish K. Jha, MD, MPH (@ashishkjha) December 1, 2020
On Nov 1, there are 80K new cases.

On Nov 8, you'd expect 2804 new hospitalizations (80K*0.035)

What was it actually? 2604. A little less. But fine

On Nov 15, there are 146K new cases.

On Nov 22, expect 5111 new hospitalizations (146K*0.035)

But there are only 3670

5/10

— Ashish K. Jha, MD, MPH (@ashishkjha) December 1, 2020
But in November, that number starts falling

Initially to 3.2% by Nov 8

By Nov 15, drops to 3.0%

By Nov 22, drops to 2.5%

And by Nov 29, down to 2.1%

So what's going on? What does this mean?

7/12

— Ashish K. Jha, MD, MPH (@ashishkjha) December 1, 2020
So what's happening?

What you'd expect – doctors' threshold for admission is likely going up

In early Oct, with plenty of beds, a COVID patient who is clinically borderline likely gets admitted to ensure they do OK

By Nov 15, beds in short supply, that person likely goes home

— Ashish K. Jha, MD, MPH (@ashishkjha) December 1, 2020
And that's what appears to be happening

Here's the bottom line:

1 in 3 people who would have been admitted on October 1 aren't being admitted by November 22

That's a big change!

And given big rise in test positivity – its likely much higher

11/15

— Ashish K. Jha, MD, MPH (@ashishkjha) December 1, 2020
The evidence suggests that many of these pts now being sent home will likely do worse at home

Some may be OK — but others will come back sicker or even die at home

And one more thing

When hospitals fill up, threshold for admission for everything goes up

— Ashish K. Jha, MD, MPH (@ashishkjha) December 1, 2020
This is not Doctors being cruel

Its that with fewer and fewer beds, bar for hospitalizing anyone is rising

And likely means more people are suffering, getting worse, or even dying at home

All because our hospitals are really full

15/17

— Ashish K. Jha, MD, MPH (@ashishkjha) December 1, 2020
So remember:

Hospitalizations are not static thing

When hospitals get full, by definition you can't hospitalize all the folks you'd like to hospitalize

And many who would benefit from hospitalization suffer

Because only the very sickest get a bed

Everyone else goes home

Fin

— Ashish K. Jha, MD, MPH (@ashishkjha) December 1, 2020