COVID
Charlie Baker announces statewide rollback of Massachusetts reopening plan in response to 'disturbing' COVID-19 trends
The governor also imposed new restrictions on restaurants, gyms, and offices.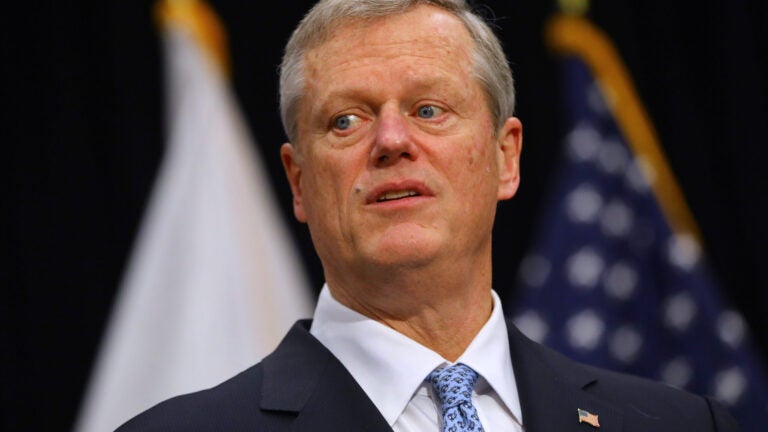 Amid swelling COVID-19 hospitalizations and mounting pressure to enact additional restrictions, Gov. Charlie Baker announced a statewide rollback of the Massachusetts reopening process Tuesday.
During a press conference, Baker said all cities and towns will be required to go back to the first step of Phase 3 of the reopening, along with several other more "targeted" restrictions.
"The days of most people doing most of the right things are probably not enough," the Republican governor said in response to the "disturbing" increases in cases and hospitalizations.
In addition to requiring indoor performance venues, certain retail fitting rooms, and recreational attractions like roller rinks, trampoline parks, laser tag venues, and escape rooms across the state to close, rolling back to the first step of Phase 3 also reduces capacity limits for a variety of sectors — including retail stores, gyms, offices, places of worship, movie theaters, and museums — from 50 percent to 40 percent of their maximum occupancy.
While state officials have repeatedly argued that there isn't evidence such businesses are driving the increase in cases, Baker said Tuesday that there is "pretty intense community spread" across Massachusetts.
"This is being done in order to reduce the opportunities this virus can have to spread," Lt. Gov. Karyn Polito said during the press conference.
Previously, the Baker administration had allowed communities with lower rates of COVID-19 to move to the second step of Phase 3. According to the state's website, there were already 58 communities in Massachusetts not deemed lower-risk that had to remain in or move back to the first step of Phase 3 (though others, like Boston, had voluntarily stayed in the first step). Under the new order, which takes effect Sunday, all 351 cities and towns in the state have to go back to the first step.
The return to the first step of Phase 3 also means the statewide limit on outdoor gatherings will be reduced from 100 people to 50 people. Additionally, anyone hosting a gathering of more than 25 people will be required to notify their local board of health, according to Polito.
Baker's order does not require restaurants or gyms to close, as other states have in response to the fall surge. However, he did announce new restrictions and guidelines for those settings.
At restaurants and other places with seated dining, patrons will be required to wear a mask at all times except when actually eating or drinking (they previously were able to take off their mask whenever seated).
"This allows the server to be masked and the patron to be masked, for instance, when ordering your meal to protect both parties," Polito said.
Restaurants will also have to go back to the previous six-person limit for tables (Baker had relaxed the seating maximum to 10 people in September) and limit the time patrons are there to 90 minutes.
The guidelines also prohibit live musical performances at restaurants and force food courts at malls to close.
Effective on Sunday, individuals will also be required to wear a mask at "all times" in gyms — eliminating the previous exception that allowed the removal of masks during "strenuous fitness activities."
The guidelines also require office workers to wear a mask at all times, unless they're alone in their own workspace. The administration is encouraging employers to close break rooms and offer telework options.
"We've continued to see spread in the workplace," Polito said.
Massachusetts reported 100 new hospitalizations due to COVID-19 on Monday, the biggest single-day increase in the state since April. Even with more widespread COVID-19 testing, the state's positivity rate has nearly doubled in the past month. Deaths due to the disease have also steadily crept upward since the end of summer.
Baker — who has argued the nighttime stay-at-home advisory, expanded mask mandate, and reduced gathering limits imposed early last month helped slow case growth — said Tuesday that Thanksgiving gatherings appeared to have exacerbated the already-worsening trend, which he said was "simply not sustainable" and threatens to put the Massachusetts health care system "at risk."
According to Baker, 11 hospitals in Massachusetts are now reporting that fewer than 10 percent of their adult inpatient beds are available. And across the state, 63 percent of all intensive care unit beds are filled.
"This sharp increase is putting a strain on our health care system," said Baker, who announced Monday that Massachusetts hospitals would begin curtailing some elective procedures to ensure they have sufficient capacity amid the second surge.
The orders Tuesday come amid increasing vocal calls for additional restriction  — and increasingly direct criticism — from top health experts and local officials.
The White House Coronavirus Task Force recently suggested that Massachusetts should roll back to the first step of Phase 3 in all cities and towns, "not just in high-risk areas." And after months of defending Baker's response to the pandemic, Dr. Ashish Jha, the nationally known dean of Brown University's School of Public Health, said over the weekend that it was "incomprehensible" that Baker hadn't taken additional action.
In a Commonwealth magazine opinion piece published Monday night, 14 mayors and municipal leaders in Massachusetts — including the town administrator in Baker's hometown of Swampscott — had also called on the governor to impose "targeted, temporary rollbacks of the state's reopening plan" focusing on activities that involve inter-household mingling.
"While rolling back our reopening comes at an economic cost, we cannot take the position that avoidable deaths and serious illness are part of the cost of doing business," the group wrote, adding that the state should pass additional relief funding for businesses in the absence of federal help.
In a statement Tuesday following Baker's announcement, Massachusetts Democratic Party Chair Gus Bickford accused the GOP governor of ignoring "warning signs" until his hand was forced to "take the extremely modest steps he outlined today."
"No matter the issue, Baker only acts when pressured," Bickford said, noting that Baker was limiting medical care while allowing casinos to remain open. "It's not leadership, it's negligence."
Massachusetts Restaurants United, a group of chefs and owners formed in the wake of the pandemic to support the hard-hit industry, said Tuesday afternoon they were "deeply disappointed" the new restrictions did not come with any emergency relief measures, such as liquor license fee reductions, temporary caps on predatory third-party delivery fees, or direct financial support.
"These rollbacks are another blow to struggling restaurants at a precarious moment," the group said.
During the press conference Tuesday, Baker acknowledged that the new restrictions and rollback will "create hardship and difficulty for many small businesses and their families, which is why these decisions are hard."
For that reason, Baker stressed the importance of following the state's guidance against spending long amounts of time indoors without a mask with people outside one's immediate social circle.
"We are in the middle of the holiday season; we all get the fact that that's a tough time of year for this kind of a message," Baker said. "But now more than ever, as we all work our way through this second surge, it's critically important for everybody to understand that the decisions you make every day about what to do and who to be with will have a significant impact on our ability to stop the spread to make it possible for people to work, to keep our schools open for kids, and to build ourselves a bridge to the vaccine."