Coronavirus
'Do not indoor dine right now': Boston doctor warns that all activities allowed amid COVID-19 surge aren't necessarily safe
"This isn't just restaurants - it's any place you have your mask off around multiple others."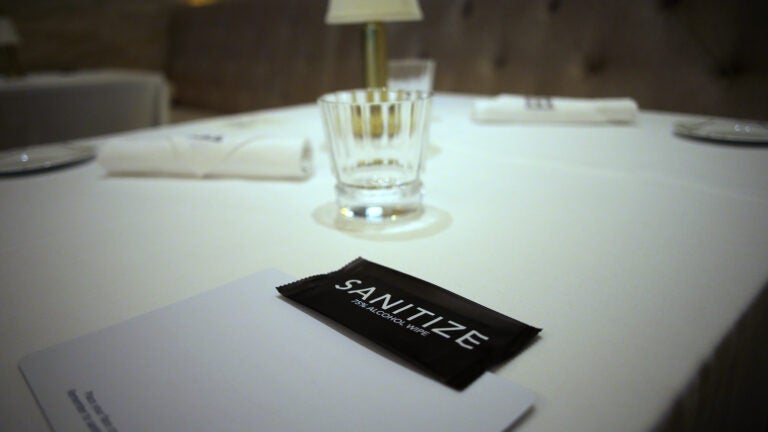 A doctor at Brigham and Women's Hospital issued a stark warning to the public after Gov. Charlie Baker announced a slate of rollbacks to the state's reopening in the face of surging COVID-19 cases. 
"Do not indoor dine right now," Dr. Abraar Karan wrote on Twitter Tuesday afternoon. "Order takeout. Tip restaurants. Support businesses. But I would not be dining indoors. Last night, there were no ICU beds left at a hospital where I work in Boston."
Starting Sunday, all cities and towns in Massachusetts will be required to go back to the first step of Phase 3 of the state's reopening. The update does not require restaurants to close indoor dining, as some public health experts have said is necessary for months.  
But restaurants will have to return to a six-person limit for tables (down from 10), patrons will only be permitted in the establishments for 90 minutes, and all diners will be required to wear a mask at all times while seated except when actually eating or drinking (previously, they were allowed to take off their face covering while at their table).
Baker said Tuesday the rollbacks are occurring due to "disturbing" increases in COVID-19 cases and hospitalizations in Massachusetts. The day before the governor's announcement, the state reported 100 new COVID-19 hospitalizations, marking the highest single-day increase seen since April.
The state has seen its virus positive rate nearly double in the last month, with the 7-day averages for new daily cases, hospitalizations, and deaths also steadily rising. Eleven Massachusetts hospitals are now reporting that less than 10 percent of their adult, inpatient beds are available and 63 percent of ICU beds are filled across the state, Baker said Tuesday.
"This sharp increase is putting a strain on our health care system," the governor said. 
Karan wrote a reminder for the public to keep in mind following the Baker's press conference. 
"Policies reflect many things— but they don't always reflect what is safest from a health perspective," the doctor wrote. "With exponentially rising cases, hospitalizations & deaths, high risk activities are high risk. Just because something is open doesn't mean it is 'safe.'"
Private social gatherings at your home with people outside your household present the same risk, he said. 
"This isn't just restaurants — it's any place you have your mask off around multiple others," he wrote.
Addressing concerns that his advice to forgo indoor dining negatively impacts restaurants and their staff, the doctor said what is "unfair" is that they are "forced" to remain open and work in high risk settings because "they aren't receiving enough [financial] protections in a runaway pandemic." 
"Wealthy powerful people are the last people that are going to be doing the high risk activities that they are saying are safe for everyone else," Karan said. "Listen to health experts — listen to doctors who have no beds left."
Once hospitals have no more beds left in their intensive care units, the health care providers are forced to either divert sick patients "elsewhere" or move less sick ICU patients to other floors of the hospital to make space. 
"Either way, system breaks down quickly," Karan wrote. 
2/ Policies reflect many things— but they don't always reflect what is safest from a health perspective. With exponentially rising cases, hospitalizations & deaths, high risk activities are high risk. Just because something is open doesn't mean it is "safe". #covid19

— Abraar Karan (@AbraarKaran) December 8, 2020
4/ Don't let anyone tell you this is abt "economy v virus"
Wealthy powerful people are the last people that are going to be doing the high risk activities that they are saying are safe for everyone else. Listen to health experts- listen to doctors who have no beds left. #covid19

— Abraar Karan (@AbraarKaran) December 8, 2020
6/ The other key pt to rmr— while I stated restaurants here— private social gatherings at your home w/ people outside your family bubble introduces new risk as well.

This isn't just restaurants- it's any place you have your mask off around multiple others. #covid19

— Abraar Karan (@AbraarKaran) December 9, 2020