COVID
What to expect from the 3-phase COVID-19 vaccine rollout in Massachusetts
"We're several months away from safely vaccinating a majority of the people."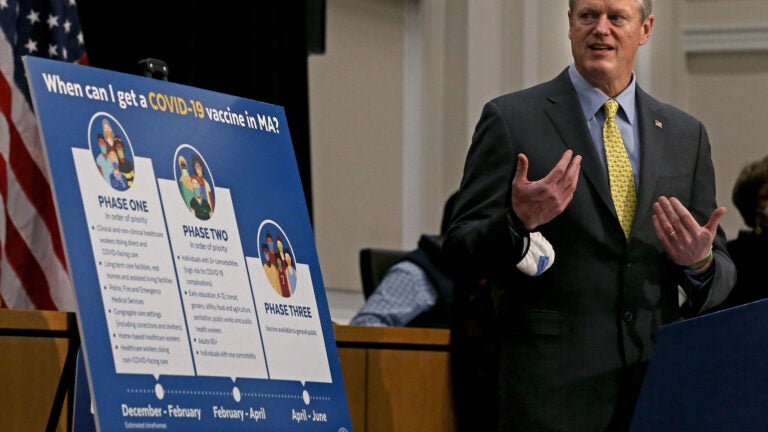 Nine months into the COVID-19 pandemic, Massachusetts is preparing to take its first steps in the long journey back toward "normal" as soon as next week.
Gov. Charlie Baker's administration said Wednesday that the state expects to receive its first shipment of COVID-19 vaccine doses sometime around next Tuesday, Dec. 15, pending federal emergency use approval, which "seems imminent" for Pfizer and Moderna vaccines, according to the governor.
Officials expect to distribute the shipment — containing nearly 60,000 first doses of the two-shot vaccines from Pfizer and Moderna — to 75 of the 77 hospitals across the state.
However, with Massachusetts currently averaging three dozen deaths a day due to COVID-19, state officials stressed that it will take months before the vaccine will be available to the general public. Under the administration's newly detailed three-phase plan, residents with the highest risk of exposure and vulnerability to COVID-19 with have access to the vaccine, with the pool of people eligible gradually broadening as more and more doses reach the state.
"While the first doses will be administered shortly, we're several months away from safely vaccinating a majority of the people of Massachusetts," Baker said. "We're certainly not out of the woods yet."
Here's what to expect from the three-phase plan.
Phase 1
The first shipment expected next week represents just a fifth of the 300,000 doses Massachusetts expects to receive in Phase 1.
While Baker said the timeline will evolve based on subsequent federal approvals and vaccine shipments from manufacturers, the administration currently expects that all of those 300,000 first doses will arrive by the end of December.
During the first phase, which is expected to last roughly two months, healthcare workers "doing direct and COVID-facing care" will have first priority to the vaccine. According to Baker, they will be allocated 164,00 of the 300,000 doses in Phase 1.
They will be followed by workers and residents in nursing homes and other long-term care facilities; first responders, including police, fire and emergency medical services; congregate care settings, such as homeless shelters and prisons; and other healthcare workers who are not treating COVID-19 patients.
Phase 2
Officials expect Phase 2 to begin in February. And while the distribution of first and second shots to Phase 1 groups will continue, the anticipated increase in vaccine supply will open up access to more high-risk populations.
As additional shipments arrive in Massachusetts, state officials expect to have at least 1.9 million doses of COVID-19 vaccines during Phase 2, which will roughly run from February to April.
According to the administration, the phase will first roll out the vaccine to individuals of any age with two or more underlying medical conditions — also known as comorbidities — that increased the likelihood of severe illness and death due to COVID-19. Such comorbidities can range from cancer, heart conditions, and Type 2 diabetes to asthma, pregnancy, and obesity, according to the Centers for Disease Control and Prevention.
Next up in the priority will be individuals working in essential sectors; the state specifically mentions early education, K-12 schools, transit, grocery stores, utilities, food and agriculture, sanitation, public works, and public health workers. Those workers will be followed by all adults over the age of 65 and individuals with one comorbidity.
Beginning in Phase 2, the state will also focus on promoting access to the vaccine in the communities most hard hit by the pandemic. Official plan to set aside 20 percent for communities with a "disproportionate COVID-19 burden and high social vulnerability," as measured by the CDCs social vulnerability index.
"That 20 percent of the state's allocation can go to those communities and 80 percent goes to all the other groups in the same order," Dr. Paul Biddinger, the chair of the state's COVID-19 Vaccine Advisory Group, said Wednesday.
It's part of the administration's effort to ensure communities of color and low-income residents aren't left behind by vaccination efforts, given how structural inequities have resulted in higher rates of COVID-19 and increased skepticism of vaccine safety among those groups. Officials repeatedly stressed Wednesday that vaccines go through more testing and trials than any other pharmaceutical.
"Vaccines will be safe, and no one would distribute them if they weren't," Baker said.
Phase 3
For the rest of the population under the age of 65, officials say the vaccine will likely become available around April, assuming no authorization or supply chain delays.
While distribution will initially be limited to hospitals that have the capacity to store the vaccines at the required ultra-cold temperatures, Baker said they plan to make it available at pharmacies, local health departments, and public health clinics once the infrastructure is ramped up.
"It's still too early, and there are too many variables that are still being worked out to say exactly when this stage of the process would get underway, but our estimate is that this segment of the population could start getting vaccinated sometime in the spring," Baker said Wednesday, adding that they plan to release more information on Phase 3 later.
Once it's available, state officials say residents can check the CDC's website to find the nearest location where they can get the vaccine. Ultimately, they should also be able to get the vaccine through their primary care provider, local pharmacy, or local health department.
For everyone in Massachusetts and across the country, the vaccine is being provided by the federal government for free — and insurance companies will not charge any out-of-pocket fees or co-payments related to COVID-19 vaccine administration, officials said. The Pfizer and Moderna vaccines are supposed to be taken in two separate doses roughly 21 and 28 days apart, respectively.
Even if the state is prioritizing higher-risk individuals, they also stressed the importance of younger, healthier individuals getting the vaccine.
"The goal is really to vaccinate every medically eligible person," Biddinger told reporters Wednesday, adding that models suggest that at least 60 percent of the population needs to get the vaccine in order to reach the levels of herd immunity to return to normal.
In total, officials are aiming to get the vaccine to everyone over the age of 14 that doesn't have an existing health condition that prevents them from getting the vaccine  — or 80 percent of the population.
Biddinger said it was too early to put an estimate on when the state would reach sufficient vaccination levels, but eyed next summer as a potential turning point.
"With all the caveats that we are dependent on — all of the vaccines in the research pipeline receiving an emergency use authorization, the production being uninterrupted — we believe that in six to nine months we should have reached a good chunk of the country," he said. "A 'good chunk' is clearly not a nice number, but I think we can make substantial progress at vaccinating a large portion of this country — a large portion of this Commonwealth — if those caveats hold true."