COVID
MassInc poll: Lack of trust leaves communities of color less likely to take vaccine
"Addressing vaccine concerns that are rooted in the mistreatment of people of color by the medical establishment over centuries, will be a major challenge."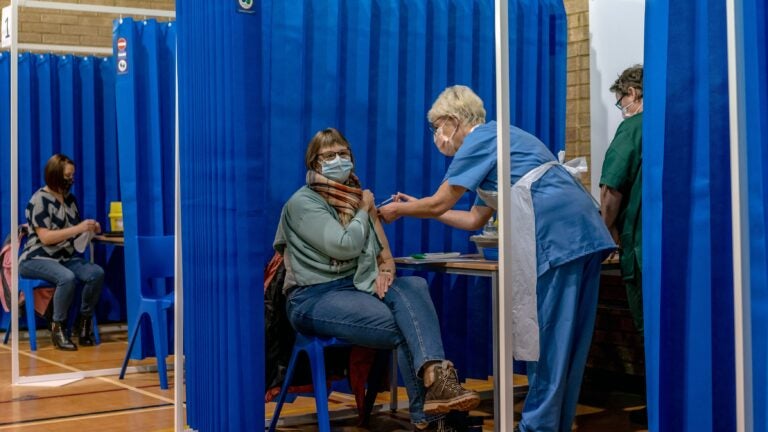 A poll released Tuesday found that while a large majority of Massachusetts residents say they're willing to get a coronavirus vaccine, when they plan to do so differs greatly across socioeconomic and racial backgrounds, with Black and Latinx residents — those at greatest risk of the disease — expressing the most hesitancy.
The MassINC survey, which was conducted from Nov. 18-25, included 1,180 residents and discovered that just 7% of participants said they will never take a COVID-19 vaccine. Yet results also raised concerns over unequal immunization and highlighted Black and Latinx respondents' distrust in the government on healthcare issues, in addition to an overall wariness about whether the vaccine has been thoroughly tested. 
To break it down, 36% of state residents said they plan to take it "as soon as possible," and 47% said they'll wait until either a few or many others have taken it first. Among white residents, 38% said they planned to take the vaccine right away, compared to 28% of Black respondents and 22% of Latino respondents. Officials specified that an oversample of Black and Latino residents was included to reach more people among those demographics.
The Massachusetts League of Community Health Center, which helped conduct the study, said results show an "urgent need" to demonstrate transparency and safety early in the distribution process, and focus on those who are most at risk for the virus, including communities of color.
However, across demographics, 80% of people reported trusting their doctors the most to tell them when a vaccine works and is safe. Simultaneously, 61% of people said they're reluctant to trust the government when it comes to their health care, and 65% expressed wariness over the vaccine's testing process, showing how the medical system as a whole is viewed with less trust by those most hesitant to take vaccines.
"Addressing vaccine concerns that are rooted in the mistreatment of people of color by the medical establishment over centuries, will be a major challenge," Michael Curry, incoming CEO of the Massachusetts League of Community Health Centers, said in a statement. "From being denied access to quality, affordable health care under Jim Crow to being enrolled in medical experiments without their consent, Black Americans, in particular, do not trust that our healthcare system has their best interests at heart. Community health centers look forward to leveraging our unique knowledge and understanding of these communities to help them feel more confident in making decisions during this unprecedented public health emergency."
Surveyors also asked residents factual questions about the vaccine as part of the poll and found that knowledge was highest among white respondents, higher income levels, and Democrats, implying that those groups have the highest access to accurate information. 
Those who trusted in the health care system, according to results, were also among those with the highest incomes and education levels.
A separate survey released in November also found that 52 percent of Black respondents and 34 percent of Latino respondents said they would either definitely or probably not get the vaccine due to concerns about its safety and effectiveness.
And just weeks ago, Dr. Anthony Fauci, director of the National Institute of Allergy and Infectious Diseases, hopped on Zoom and urged the mostly Black congregation at Roxbury Presbyterian Church to have confidence in the independent and scientifically rigorous vaccine development process.
The church's pastor, Rev. Liz Walker, is also a member of the state's COVID-19 Vaccine Advisory Group. During a Wednesday press conference, Walker said she joined that board to learn as much as possible about the vaccine and share it with her community members. 
"I work specifically with a group of people who have been traumatized by violence, by racism, by systems, by history, and so they suffer disproportionately anyway to the added complexity of this pandemic," she said. "Communities of color and at-risk populations will be prioritized throughout this process in order to preserve life and prevent serious complications from COVID-related illnesses. We want to engage our communities and build on long-standing relationships to ensure access." 
As of now, according to the current state vaccine timeline, communities most hard hit by the pandemic are included in phase 2 of the rollout and are expected to have access to the vaccine between February and April. 
The state's official plan sets aside 20 percent for communities with a "disproportionate COVID-19 burden and high social vulnerability," as measured by the CDCs social vulnerability index.
"That 20 percent of the state's allocation can go to those communities and 80 percent goes to all the other groups in the same order," Dr. Paul Biddinger, the chair of the state's Vaccine Advisory Group, added during the Wednesday meeting.
Walker said she hopes she has earned enough trust in her own community to help people make the best decisions for themselves when it comes to taking the vaccine. 
"If I had to preach on this experience, it would be called 'Imago Dei,' in the image of God," she said. "Because more than anything, this group that I belong to worked hard to affirm the ultimate value of life. Of every life. We are all aware of the troublesome trust factor in our country and in many communities. We know that trust cannot be earned in one news conference or in one statement, but we are all committed to the work of engaging residents and community leaders in as many ways as we can to be a part of this effort."
Mass. Governor Charlie Baker repeatedly stressed during Wednesday's meeting that data for the vaccines must be analyzed and approved by multiple layers of independent groups of experts, which operate separately from the government, and that vaccines go through more testing and trials than any other pharmaceutical. 
He added that the Commonwealth is committed to equitable distribution, and as infrastructure ramps up later on, the state plans to make the vaccine available in varying healthcare settings like pharmacies, local health departments, and vaccine clinics.