COVID
Experts answer 10 common COVID-19 vaccine questions from Boston.com readers
You asked. They answered.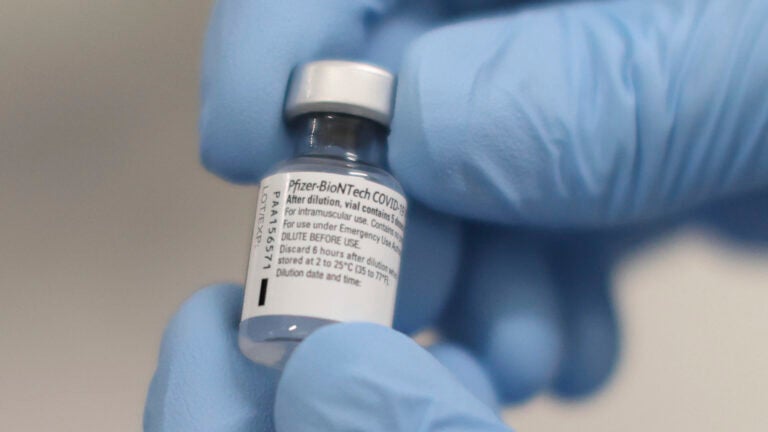 The world's first doses of a COVID-19 vaccine were administered this week in the United Kingdom — a milestone in the global pandemic that's left a toll on nearly every aspect of life in 2020, one unprecedented in modern times.
But while Britons received doses of the shot developed by Pfizer and BioNTech, officials here in the United States were still looking over the vaccine, with an emergency authorization from the Food and Drug Administration potentially arriving within days. (That process for the vaccine developed by Cambridge-based Moderna, Inc. is slated to begin next week.)
Still, even with those approvals, many Americans have questions about the new vaccine — including over 250 Boston.com readers.
We recently polled our readers about their willingness to get the new vaccine and what concerns they have. Hundreds also responded with questions about the vaccine rollout they want answered by the experts.
We narrowed it down to versions of the 10 questions that were asked most often and called these Boston-area doctors to weigh in:
Dr. Paul Biddinger, chair of the Massachusetts governor's COVID-19 Vaccine Advisory Group and medical director for emergency preparedness at the Mass General Brigham
Dr. David Hamer, professor of global health and medicine at Boston University and physician at Boston Medical Center
Dr. Cassandra Pierre, medical director of public health programs and associate hospital epidemiologist at Boston Medical Center and assistant professor at the Boston University School of Medicine
Here's what they said:
Answers have been slightly edited for length and clarity.
1. What are the side effects, and is it even possible to know what the long-term side effects might be?
Hamer: "So there are a number of sort of mild to moderate side effects that include pain or tenderness at the site of injection, and that's very common with both messenger RNA (mRNA) vaccines. Redness and swelling is not common, but that may occur also. And then some people are having more systemic symptoms, including fever, headache, muscle aches, and fatigue, to varying degrees. Usually, I'd characterize them as mild and moderate, but they all resolve in one to two days, at least thus far.
"The long term side effects, there have not been any documented yet. But these vaccines haven't been around long enough to really have us accumulate sufficient evidence to define what long term side effects might be."
2. Am I protected if I get the vaccine, even if less than 70 percent of the general population winds up getting it?
Biddinger: "There is very strong evidence that getting the vaccine reduces your risk of serious illness or deaths, period. It is still possible to get a very mild infection of COVID-19 with the vaccine, but the effects look like they will be very strongly protective."
3. When will we know the length of time a vaccine is good for? Is it possible we'll have to get it every year?
Pierre: "We don't know how long the durability of the effects will be. Really, it will only be up to time. Now, time has given us — the short time that we've had so far has given us — really valuable information about the likelihood of developing symptomatic COVID. And that's really important because it means that, you know, most of us will be protected from getting illness, getting clinical illness, which is — as we see with our hospitals filling up as the number of deaths [is] rising — is a major concern. But in terms of how long [those] effects last, I have to be honest, I don't have information about that.
"We will just have to really continue to do all the infection prevention mechanisms we have in place and see this time next year, or maybe even as soon as next August, for the people who were enrolled in the clinical trials, after a year worth of data, what are we seeing. There's still a lot more to be known about this.
"And, yes, there's a possibility given, you know, depending on whether the effect wears off, as we see, unfortunately, with natural immunity to seasonal colds and viruses, that we may need to be immunized again in a year. That being said, it'll still have been worth it."
4. How likely is it that someone who has been vaccinated will not get the virus?
Biddinger: "So the vaccine cannot completely prevent infection with the virus, but is very likely to prevent most cases of serious illness or hospitalizations based on the data we have so far."
5. Can people still pass the virus to other people even if they get the vaccine?
Biddinger: "Yes. And this is why public health authorities will likely be recommending continuing mask-wearing and some physical distancing restrictions until we have a majority of the population vaccinated because we have to get disease problems down across the whole community to make it safer for us to get together again."
6. How many Black and Latinx people were in the study that got the vaccine? And did they experience any different side effects?
According to results of Pfizer's study published this week and highlighted by Pierre, out of 37,706 participants, 82.9 percent were described as white, 28 percent were described Hispanic or Latinx, 9.3 percent were described as Black or African American, 4.3 percent were described as Asian, 2.3 percent were described as multiracial, 0.5 percent were described as Native American or Alaska Native, 0.2 percent were described as Native Hawaiian or other Pacific Islander, and the race or ethnicity of 0.6 percent of participants was not reported. Similar finalized data is expected from Moderna within the next week.
Pierre: "There was no difference in efficacy or side effects seen for the Black, Latinx, [and] Native American participants who were enrolled in the trial, and it's also a really good thing to know."
In an email, Pierre added: "There really was no significant difference that I see in perusing the paper for vaccine effectiveness based on gender, race or age. This greatly increases our confidence in recommending this vaccine."
7. Without a global pandemic, how much additional testing would have gone into an mRNA vaccine, compared to this emergency approval?
Hamer: "The reality is this has been a very rapid process. But part of it is the process of developing vaccines has improved. The big part of testing, though, is doing phase one, phase two, and phase three studies, and they've been able to accelerate those, especially the phase three studies, which sometimes can take years to complete, partly because there's been so much disease around that being able to show a benefit in terms of protecting against disease and severe disease could be done a lot faster because there was so much epidemic disease. And so part of it, it's just fortuitous because of the epidemic. And part of it is better technology and approaches.
"I don't think the testing would be that different (under different circumstances). I think that the review process might be longer and then the FDA might require more data if we weren't in the middle of the pandemic than they may be requiring. But I think they're still very cautious with approving it. Canada has already just … approved the Pfizer vaccine. The UK did it really quickly. But the US is taking longer, so they're, you know, they've got a group really carefully scrutinizing [the] information."
8. Are there people with certain conditions or on certain medications who should NOT get the vaccine? Is it safe to take while pregnant? While breastfeeding?
Pierre: "Great question. So we know as of yesterday that individuals with severe allergic reactions to food, medicine, and vaccines should delay taking the vaccine until we have more information about that. And that's, of course, based on the two individuals in the UK who had severe allergic reactions… to the Pfizer vaccine. And just want to note … severe allergic reactions really are denoted [as] … individuals who had, who has a memory, who have knowledge, who have experienced themselves, severe allergic reactions that, you know, cause their lips, mouth, tongue to swell [and] make it difficult to breathe, and are required to carry around an EpiPen because of the severity of their allergic reaction. That doesn't mean people whose mothers told them 'Oh, I think you had a rash to penicillin as a baby. That's not what we're talking about.'
"We certainly actually do have information about individuals with immunodeficiency, as they made a point in Pfizer, at least, to enroll people living with HIV. But we don't have information about pregnant women, and we don't have information about children under the age of 12.
"There are various societies, including, I think, the Society for Maternal-Fetal Medicine, who have actually come out to say that, you know, those in the priority groups, including healthcare workers who are pregnant, should be offered the vaccine, if they're already going to be prioritized anyway for the vaccine and it should be up to the individual to make their own choices."
9. What is the worst that could happen if I were to get the vaccine?
Hamer: "I think, severe uncomfortable side effects that might make one not want to have a second dose of the vaccine. But right now, there's no really serious life-threatening reaction to the vaccine. So I think the worst could just be, you know, sort of personal discomfort … but that would be temporary."
10. Why is this vaccine so important when the majority of people survive this illness?
Pierre: "I mean, all you have to do is open the front page of The Boston Globe and other places to know that recovery means something quite different with COVID than it does with the flu or with a common cold. Recovery means potentially having months of lingering symptoms, and when I say months, we actually don't know how long individuals with long haul symptoms may continue to experience symptoms.
"Even those without long haul or long-standing symptoms may continue to experience pulmonary, cardiac, and neurological issues that persist potentially — they may be lifelong, we don't know yet. And a certain subset of the population — a significant subset of the population — will have significant disease that even if they don't have lingering symptoms, takes them out of work, out of their lives for weeks to months at a time.
"And then a smaller subset of people will have critical illness requiring him to be intubated, requiring him to remain in the hospital for weeks on end, and of course, die. And we also know getting this vaccine, similar to the flu vaccine, is as much about … protecting our community as much as it is about protecting ourselves. I know we come from a very individualistic society, but this is about survival. It's about survival too, because we can't, or we haven't been able to rely on the other infection prevention mitigation efforts, that we've tried to put in place: wearing masks, physically distancing. It hasn't been clear to many people that this is about societal and cultural and community survival, more than about, you know, individual freedoms.
"And so since we haven't been able, unfortunately, in this country to rely on those things, the vaccine does give us another way to engage in community care, knowing that individuals who have multiple medical conditions, knowing that the elderly, and knowing that individuals and Black and brown communities are at higher risk for infection for hospitalization and death, it is as much about community health as it is about personal, individual health."