COVID
Boston Public Schools officials report rise in students missing classes as course failures increase
About 86% of students districtwide in kindergarten through grade 12 are logging into online learning tools every day.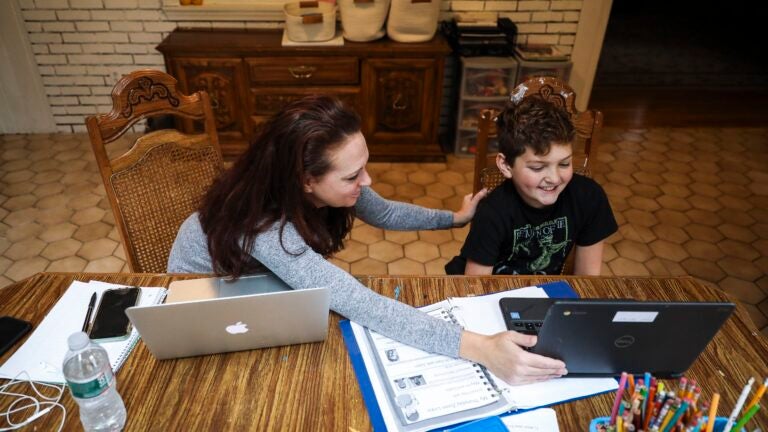 The coronavirus pandemic forced Boston Public Schools students out of the classroom and onto a computer screen, but nearly a quarter of them did not log into classes on any given day this fall and there was an increase in course failures across all four core subjects, according to school data presented during a Saturday meeting that hints at ongoing academic disengagement.
Moving to virtual and distance learning during the public health crisis raised a myriad of concerns last spring, from waning student performance, to deteriorating mental health, to widening gaps in educational inequality as nearly all students need access to technology, internet service, and parental support from home. 
The new report, which school officials unveiled during a six-hour School Committee meeting Saturday, offered a comprehensive overview of how those issues have evolved since the beginning of the year through Dec. 4. 
Failure rates for students in grades 6-12 during the first academic quarter, which concluded in November, jumped to 18 percent in English, from 12.4 percent the previous year. The increased failure rates for math, science, and social studies were all similar, and Black and Latinx students experienced the biggest increases. 
Superintendent Brenda Cassellius told the Boston Globe that the data illustrates the mounting stressors students are confronting daily while at home, such as feeling isolated, having extra responsibilities to complete chores, or helping with their family's finances. She called it a moral imperative to offer students support going forward. 
"We will continue to watch and intervene with students and do everything we can to make sure they get what they need," Cassellius told the newspaper. 
On average, about 86% of students districtwide in kindergarten through grade 12 are using their school email to log into online learning tools every day. 
In years past, BPS' average daily attendance rate has generally ranged from 91.9% to 92.9%, officials said in comparison. 
Since this data only captures students who are using their school-issued email accounts to use virtual class materials through platforms like Gmail, Google Classroom, Google Meet, and Google Drive, it leaves out any work students may be doing offline through more hands-on projects. 
Officials said once those activities are factored in, the school system's average attendance rate sits at about 90%, which is slightly lower than a typical year. 
The report also showed that on average, 90% of staff are signing in and out, whether in-person or remotely, each day. 
As for high school graduates, school officials noted that just 53 percent of them enrolled in college this fall, highlighting a sharp decrease compared to the class of 2019. Additionally, only 20% of current seniors have reported completing their FAFSA applications so far this year. 
The number of students failing classes and falling behind has been rising in school districts from coast to coast as educators continue seeing students skipping assignments or school altogether due to inconsistent internet access, among other issues. 
Jessica Tang, president of the Boston Teachers Union, told the Globe she praises parents for the help they've given their children with at-home learning and said she was surprised daily attendance hadn't fallen further than it did. 
"I truly do think it's a reflection of how hard educators are working to connect with students," Tang told the paper. "Not only for their academics, but also their social-emotional needs."