COVID
Boston and other communities are rolling back on their reopening plans. Here's what to know.
"Unfortunately, we are at the point where we need to take stronger action to control COVID-19."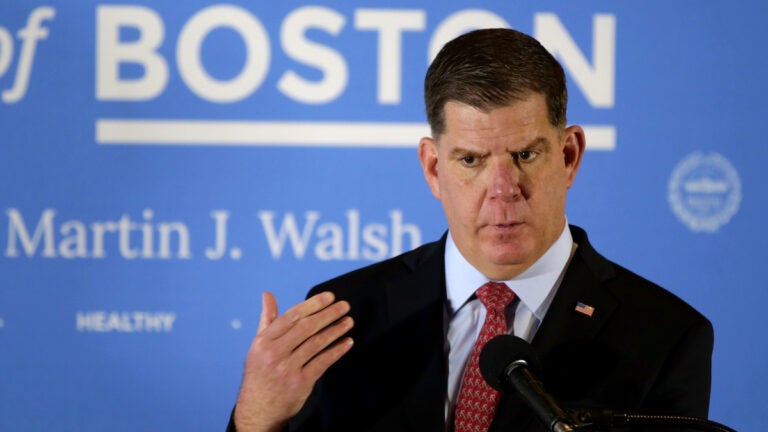 Mayor Marty Walsh announced Monday that Boston and other nearby communities will roll back reopening protocols in an effort to stem rising coronavirus case counts and shut down certain venues, from gyms and museums to movie theaters and event spaces.
Starting Wednesday, Boston will operate under a "modified" Phase 2, Step 2 of the state's reopening plan, with similar restrictions also coming in Somerville, Newton, Arlington, Brockton, Lynn, and Winthrop, officials said.
"Unfortunately, we are at the point where we need to take stronger action to control COVID-19 in Boston, and urgently, to ensure our health care workers have the capacity to care for everyone in need," Walsh said in a statement. "We are hopeful that by reducing opportunities for transmission throughout the region, we will reduce the spread of this deadly virus and maintain our ability to keep critical services open."
The new restrictions go beyond those issued by Gov. Charlie Baker that took hold Sunday, under which communities in the state were put under Phase 3, Step 1 of the reopening. Boston, notably, had not advanced beyond that point of reopening, though the change did apply some new measures to gyms, offices, and restaurants.
"This is not about targeting specific sectors that cause the virus," Walsh told reporters during an afternoon press conference Monday. "This is an effort to reduce overall (virus) activity outside the home using mechanisms afforded by the state's reopening plan. In fact, we want to minimize the negative impacts on working people and small businesses. After three weeks we will then reevaluate the situation to see where we are with the virus here in the city of Boston."
Here's what will be impacted for at least three weeks starting Wednesday:
What will close:
Movie theaters
Museums
Aquariums
Gyms and indoor fitness centers, including those using alternative spaces (one-on-one personal training sessions are allowed, however)
Indoor recreational and athletic facilities (centers for youth ages 18 and under, collegiate and professional sports, and indoor pools that require pre-registration and are limited to one person per swim lane are exempt)
Sightseeing and organized tours
Indoor historical spaces and sites
Indoor recreational venues "with potential for low-contact," such as driving ranges, bowling alleys, rock-climbing facilities, and batting cages
Indoor event spaces, including private party rooms, social clubs, meeting rooms, and ballrooms ("Private social clubs may continue to operate, if they serve food, consistent with restaurant guidance," officials say.)
Indoor and outdoor gaming arcades that are "associated with gaming devices"
What can remain open but with new restrictions:
Indoor dining is allowed; however, a 90-minute limit on seatings will be "strictly enforced," and bar seating is prohibited unless a restaurant receives approval from Boston's Licensing Board. Pool tables, darts, trivia games, and other activities are prohibited.
Office spaces are capped at 40 percent capacity.
Non-athletic, indoor instructional classes for people at least 18 years old must adhere to the 10-person capacity limit.
Outdoor theaters and performance venues, along with outdoor event spaces used for celebrations and gatherings "not designated in Phase 4," can operate with a 25-person capacity limit.
Television, motion picture, and streaming production.