Coronavirus
Live updates: The latest on the COVID-19 pandemic in Mass.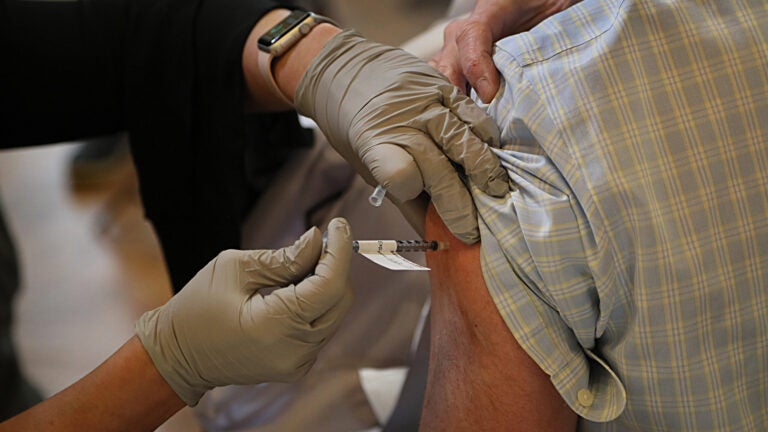 Access last week's coronavirus live updates here.
'I will do whatever it takes': Brigham and Women's workers react to receiving the COVID-19 vaccine (Dec. 17)
As the long-awaited COVID-19 vaccine makes its way to frontline workers across the nation, and many celebrate, workers at Brigham and Women's Hospital became among the first in the nation to be vaccinated for a virus they've helped their patients battle for months.
The hospital began vaccinating its staff on Wednesday; it had received 2,300 doses of the Pfizer vaccine on Tuesday, according to NBC10 Boston.
COVID-19 ICU nurse Debelyn Leach told the station she was hesitant at first, however, she decided to go for it.
"My personal reason [for getting vaccinated] is I don't want to get COVID," Leach said, according to NBC10. "I've seen what it does to my patients, and I want to avoid that at any cost. I will do whatever it takes."
Dr. Catalina Gonzalez Marques worked overnight in the emergency department before receiving her vaccine.
"I'm Latina, so seeing patients with my last name is very hard," she told the station. "Many are skeptical about the vaccine, so if I can convince my community to get vaccinated, why not do it?"
Here's how the snowstorm is impacting Mass. COVID-19 testing sites (Dec. 17)
With the Bay State waking up to a fresh coating of snow brought on by a nor'easter Thursday morning, anyone seeking to get a COVID-19 test is best advised to check the operating hours before heading out in the storm, state officials say.
"Due to snow expected on 12/16 and 12/17, some testing hours may be disrupted," an alert posted to the state's COVID-19 Test Site Locator map says. "Contact your testing provider before traveling to a testing location on 12/17."
According to The Boston Globe, a half-dozen testing sites across Massachusetts had already announced Wednesday they planned to close because of the impending storm.
In Boston, the city's website alerted test-seekers to keep an eye on the local testing site locator page for updates.
"We hope to continue operating COVID-19 mobile testing sites despite the expected storm on Thursday, December 17," the website says. "We will assess the need for temporary closures based on the latest weather forecast."
According to city officials, the mobile testing site at the Anna M. Cole Community Center in Jamaica Plain is indeed closed — the only mobile site that had been slated to be open Thursday.
In Cambridge, the resident-only, drive-through site at the Cambridgeside mall was still operational amid the snow.
"Those who have a scheduled appointment should receive an email reminder confirming appointment or cancellation of the event if the weather was worse than anticipated," the city's website says. "It is ok to arrive late if the weather has prevented you from getting to your appointment on time."
And in Somerville, COVID-19 testing at Assembly offered by Cambridge Health Alliance was closed for the day, according to the city's website.
Snowstorm could shut down COVID-19 mobile testing sites (Dec. 16)
The impending snowstorm arriving in Massachusetts Wednesday night could force Boston's mobile COVID-19 testing sites to close Thursday, Boston 25 News reports. 
Most of Massachusetts could see at least 8 inches of snow, though Cape Cod and the Islands are expected to receive less.
"We're sort of working with the city," Aaron Chan, director of nursing for LCG Boston, which under a partnership with the city operates the testing site at the Anna Mae Cole Community Center in Jamaica Plain, told the news station. "We may postpone Thursday's testing if we get a lot of snow. There's going to be quite the cleanup; people won't be able to get here safely. So we may postpone to Friday. If not, just reopen on Sunday during our normal hours."
Meanwhile, the East Boston Neighborhood Health Center is set to decide Wednesday whether it will shut down its testing site, according to Boston 25.
Chan said the Jamaica Plain site conducts about 600 to 700 tests a day and has seen high demand amid the holiday season.
Mass. DPH to launch vaccine dashboard (Dec. 16)
With health care workers beginning to receive the first of two doses of the Pfizer and BioNTech coronavirus vaccine, the Massachusetts Department of Public Health will launch a dashboard next week to publicly report immunizations throughout the state, officials say.
The dashboard, managed by DPH and the COVID-19 Command Center, will use data reported by hospitals to the health department, according to a press release.
The announcement came as hospitals across Massachusetts began receiving and administering initial doses this week under the three-phase vaccine rollout plan.
Four hospitals received 5,850 doses on Monday, and 17 more were expected to receive 53,625 additional doses on Tuesday, according to officials.
"Pending the approval of Moderna's Emergency Use Authorization, the Commonwealth, based on federal guidance, has been told to anticipate 180,000 doses of the Pfizer vaccine and 120,000 doses of the Moderna vaccine," the press release says. "In all, the (Baker-Polito) Administration expects the Commonwealth to receive 300,000 doses by the end of December."
Individuals with questions regarding when they will be vaccinated can email [email protected] for clarification.
2 Thanksgiving gatherings in Medford helped fuel surge of over 700 cases there since holiday (Dec. 15)
Since Thanksgiving, Medford has seen a surge of more than 700 new COVID-19 cases, and two known clusters have reportedly contributed to the spread.
The Boston Globe reports that one of the clusters stemmed from Raso's Bar and Grille, which was open on Thanksgiving. One patron that day later tested positive, and officials say roughly 30 cases have been linked to the restaurant around that time. The other cluster was from a private gathering at a home.
Medford officials have warned anyone who dined at the restaurant between Nov. 23 and Nov. 30 to contact the city's Board of Health Resource Line.
"People have sacrificed so much in these last 10 months," Mayor Breanna Lungo-Koehn said in the announcement. "We have worked hard to get kids back in school, to keep our businesses open, and prevent hospitals from being overwhelmed. The blatant disregard for following the guidelines and orders from the State including gathering sizes, and from what I am seeing, people not wearing masks, is putting our community at risk."
The message from the city said the Raso's cluster may have stemmed from "a potentially oversized gathering."
Raso's is owned by Richard Raso, who also serves as a Medford police officer. He released a statement to the Globe, noting that the restaurant followed virus protocols, and disputed the claim about the gathering size.
"Raso Grille has at all times been in compliance with all state orders, city orders, and CDC guidelines in its operations and denies any allegations of a potential oversized gathering," Raso said in the statement. "The safety of our customers and employees remains our first priority and we will continue to ensure all proper protocols are in place and followed."
Vaccines arriving at facilities around Mass. (Dec. 15)
The COVID-19 vaccine developed by Pfizer and BioNTech began arriving at hospitals around Massachusetts on Monday.
Boston Medical Center, Falmouth Hospital, Signature Healthcare Brockton Hospital, and Cape Cod Hospital received shipments ahead of schedule, and over a dozen other facilities anticipate receiving the first doses early this week, The Brockton Enterprise reports.
Some of those facilities include MelroseWakefield Hospital, UMass Memorial Medical Center in Worcester, Tufts Medical Center, and Boston Children's Hospital, which all expect shipments to arrive on Tuesday.
Tufts planned to start administering the first round of the two-dose vaccine to frontline health care workers Tuesday afternoon.
At MelroseWakefield, the rollout is slated to begin Wednesday, NBC 10 Boston reports. Employees will receive the second dose in about 21 days.
"Our goal is to be able to vaccinate as many people as we can, and any lost time is lost time," Chief Medical Officer Dr. Steven Sbardella told the news station.
The initial wave of distribution will send batches to 21 hospitals across eight counties along with the state Department of Public Health laboratory, according to the Enterprise. The vaccine will ultimately be redistributed to 74 hospitals in Massachusetts.
"The vaccine distribution will be a long process that plays out over several months," state Secretary of Health and Human Services Marylou Sudders said on a call with stakeholders Monday afternoon. "There are several complexities, obviously, with a two-dose regimen. The timelines could change based on production."