COVID
Massachusetts releases COVID-19 guidelines for celebrating the December holidays
"This holiday season, take the long view."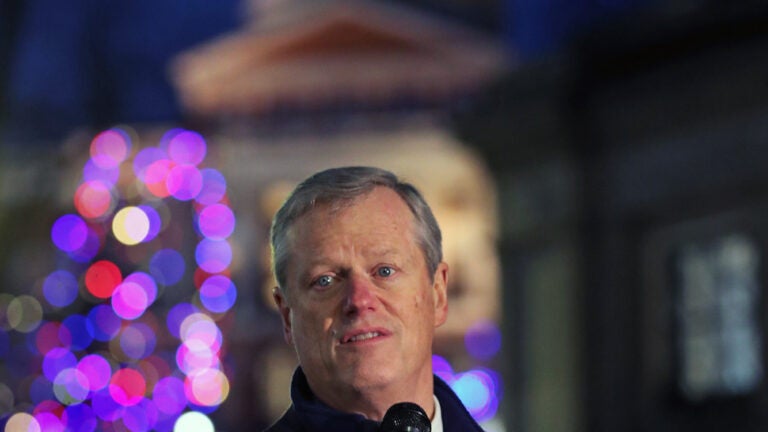 A recent poll indicated that nearly 70 percent of Massachusetts residents plan to celebrate the December holidays alone or only with members of their own household due to the COVID-19 pandemic.
Gov. Charlie Baker has a message for the other 30 percent: "Reconsider."
After a "troubling" increase in COVID-19 rates after Thanksgiving led state officials and some communities to reimpose certain restrictions, the Baker administration is urging residents against inter-household gatherings and travel for Christmas, Hanukkah, Kwanzaa, and New Year's Eve in order to avoid a similar scenario playing out as the pandemic enters its first full winter season.
"After seeing what happened in the aftermath of that one day, Thanksgiving, I don't think we should kid ourselves about the holidays in December," Baker said during a press conference Tuesday afternoon at the Massachusetts State House.
The state's Department of Public Health released updated guidance Tuesday for the December holidays, echoing previous guidelines for Halloween and Thanksgiving but with a specific focus on limiting gatherings to members of the same household.
"It's pretty simple," Baker said Tuesday. "The safest way to celebrate this year is with members of your own household and to postpone or cancel any travel plans."
The guidelines say residents who do plan to travel should be prepared to comply with the state's quarantine requirements for people entering and returning to Massachusetts.
Similar to the Thanksgiving guidance, the guidelines encourage virtual gatherings only with extended family members and friends, as well as virtual Santa visits and caroling. Driving around to look at holiday lights in a car with members of your own family is also listed as a low-risk activity.
For those who are planning in-person versions of those events, the guidelines stress the importance of mask wearing and social distancing.
The guidelines also discourage the sharing of food, drink, or utensils, as well as big meals around a single table (the state also has a 10-person limit on private indoor gatherings involving more than one household). For any such indoor event, officials suggest opening windows and doors to improve ventilation.
Still, Health and Human Services Secretary Marylou Sudders told reporters that, given the season, they're not encouraging residents to bank on outdoor gatherings.
"Really, my advice — and we've asked a lot of people — is to really rethink this holiday season, so that we can all celebrate next year in a way that is really important to us and our traditions," Sudders said, noting that outdoor plans end up getting complicated by snow.
"This holiday season, take the long view," she said.
The administration has also encouraged residents to participate in virtual — rather than in-person — religious ceremonies, amid the evidence that places of worship in Massachusetts have been the source of several dozen COVID-19 clusters.
While not included in the official guidance released Tuesday, Sudders added that she personally believes in wearing a face covering at virtually all times, "including in your home."
"So the holiday photos will be a little bit odd this year," she said. "But next year we'll all look at them and say, 'We all have smiles we can see.' I really am really asking people to dig deep and really think about next year's celebrations with all those people that we love."
With the first vaccines rolling into Massachusetts this week, officials framed the plea as a one-time sacrifice to help the state weather the winter season and return to normal next year.
"It's not a secret that we're in a second surge here in Massachusetts," Baker said. "And while hope is clearly right around the corner — arriving in dry ice in the form of the vaccine — it's not here yet."
Baker noted that the average number of new daily COVID-19 infections nearly doubled following Thanksgiving, as did the rate of positive tests in Massachusetts. While the increase appears to have tapered off within the last several days, Massachusetts is still averaging a nearly 6 percent positive test rate as of Tuesday — which is triple what it was at the beginning of November — and hospitalizations due to the disease continue to rise.
As of Tuesday, there were 1,834 people in Massachusetts hospitalized due to COVID-19, and state officials reported 55 confirmed deaths due to the disease.
"These aren't just numbers; they're people and their stories and their relationships … but the data points do speak to how COVID-19 moves," Baker said, adding that the virus "thrives" when people let their guard down.
"Over Thanksgiving in Massachusetts, it clearly did," he said.
"We really do need the help of everybody to make sure that we don't have a repeat, so that our hospital system can continue to provide the critical medical care that it does so well for those who need it," Baker continued. "And I can't emphasize enough that this is not forever. This is once — one time, one month, one year — where Christmas, Hanukkah, Kwanzaa, New Year's Eve, really do, and should be different. Next year, we'll probably be able to celebrate those holidays just like we used to. But not this year."