Coronavirus
Here's a look at the 187 Mass. communities with the highest rates of COVID-19 cases
There are 29 additional communities on the list over last week.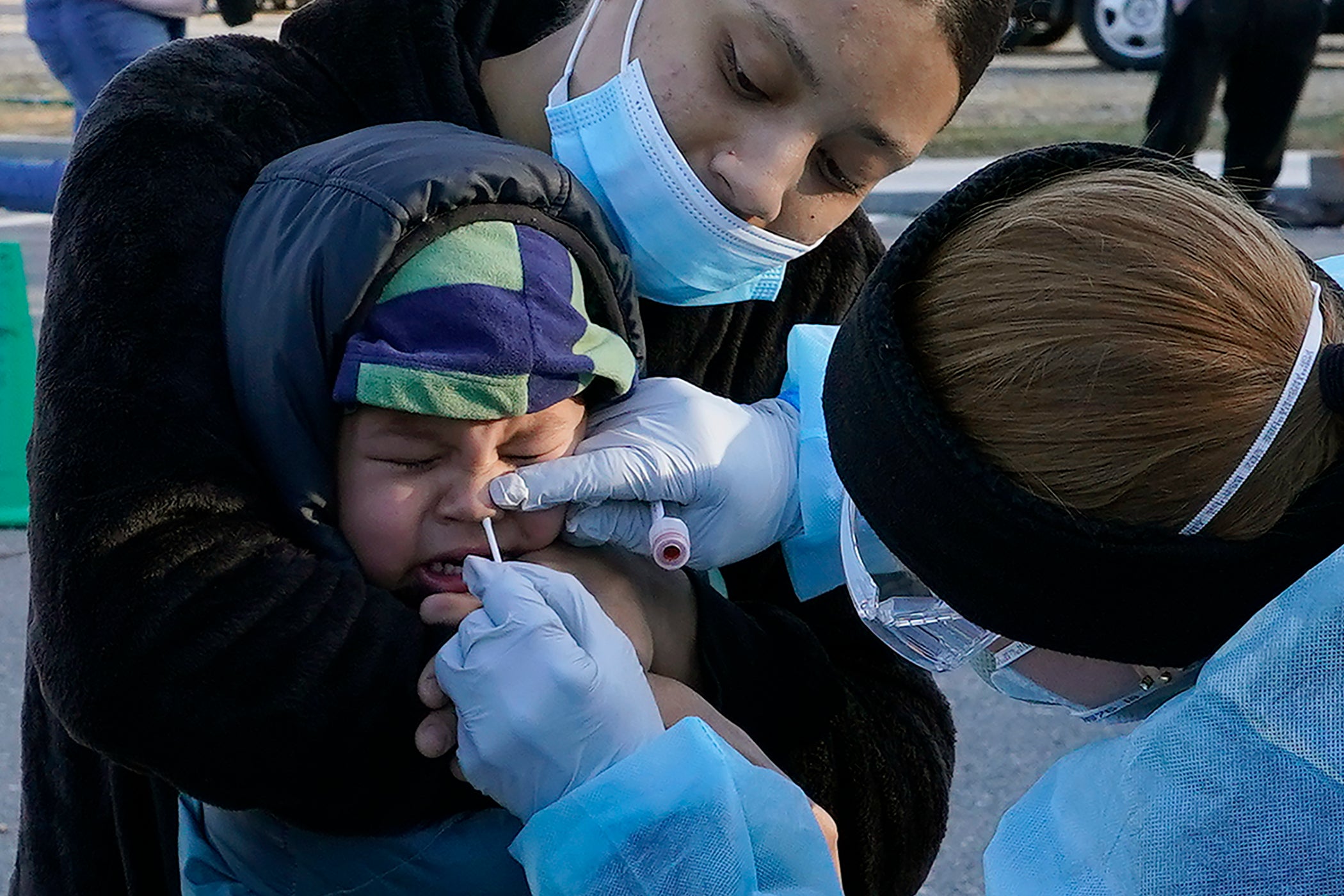 This week, 187 Massachusetts communities are considered high risk for coronavirus transmission, according to state data released on Thursday.
That's 29 additional communities over last week, and now more than half of state towns and cities are in the red zone — there are 351 municipalities in Massachusetts.
The uptick in highest-risk communities comes as Massachusetts saw the first doses of the COVID-19 vaccine administered this week. There's been such a demand for the vaccine among health care workers that the Mass General Brigham online appointment site crashed from the traffic.
Amid the vaccine news, Massachusetts officials are warning residents to not gather in large groups for the holidays.
"After seeing what happened in the aftermath of that one day, Thanksgiving, I don't think we should kid ourselves about the holidays in December," Gov. Charlie Baker said during a Tuesday press conference.
Here's a look at each of the highest-risk communities, and their average daily case rates per 100,000 residents for the last 14 days:
1. Lawrence
Average daily case rate: 204.8 per 100,000 residents
2. Nantucket
Average daily case rate: 184 per 100,000 residents
3. Saugus
Average daily case rate: 135.7 per 100,000 residents
4. Lowell
Average daily case rate: 134.4 per 100,000 residents
5. Revere
Average daily case rate: 134.2 per 100,000 residents
6. Methuen
Average daily case rate: 133.6 per 100,000 residents
7. Lynn
Average daily case rate: 130.4 per 100,000 residents
8. Lynnfield
Average daily case rate: 128.2 per 100,000 residents
9. Chelsea
Average daily case rate: 125.6 per 100,000 residents
10. Dracut
Average daily case rate: 119 per 100,000 residents
11. Tyngsborough
Average daily case rate: 118.1 per 100,000 residents
12. Everett
Average daily case rate: 114.8 per 100,000 residents
13. New Bedford
Average daily case rate: 111.5 per 100,000 residents
14. Middleton
Average daily case rate: 110.3 per 100,000 residents
15. Fall River
Average daily case rate: 109.2 per 100,000 residents
16. Haverhill
Average daily case rate: 107.2 per 100,000 residents
17. Winthrop
Average daily case rate: 107.1 per 100,000 residents
18. Peabody
Average daily case rate: 105.5 per 100,000 residents
19. Leominster
Average daily case rate: 102.6 per 100,000 residents
20. Southbridge
Average daily case rate: 101.8 per 100,000 residents
21. Norfolk
Average daily case rate: 95.5 per 100,000 residents
22. Acushnet
Average daily case rate: 93.6 per 100,000 residents
23. Swansea
Average daily case rate: 91.8 per 100,000 residents
24. West Bridgewater
Average daily case rate: 91.2 per 100,000 residents
25. Salem
Average daily case rate: 90.9 per 100,000 residents
26. Worcester
Average daily case rate: 90.5 per 100,000 residents
27. Springfield
Average daily case rate: 88.7 per 100,000 residents
28. Ludlow
Average daily case rate: 87.2 per 100,000 residents
29. Northborough
Average daily case rate: 86.9 per 100,000 residents
30. North Andover
Average daily case rate: 86.3 per 100,000 residents
31. Auburn
Average daily case rate: 85.4 per 100,000 residents
32. Berkley
Average daily case rate: 84.9 per 100,000 residents
33. Danvers
Average daily case rate: 84.2 per 100,000 residents
34. Seekonk
Average daily case rate: 84.1 per 100,000 residents
34. Tewksbury (tie)
Average daily case rate: 84.1 per 100,000 residents
36. Holyoke
Average daily case rate: 83.8 per 100,000 residents
37. Avon
Average daily case rate: 83.2 per 100,000 residents
38. Leicester
Average daily case rate: 82.4 per 100,000 residents
39. Somerset
Average daily case rate: 81.8 per 100,000 residents
40. Fitchburg
Average daily case rate: 81.1 per 100,000 residents
41. Framingham
Average daily case rate: 80.6 per 100,000 residents
42. Millbury
Average daily case rate: 80.5 per 100,000 residents
43. Marlborough
Average daily case rate: 80.4 per 100,000 residents
44. Concord
Average daily case rate: 79.7 per 100,000 residents
45. Woburn
Average daily case rate: 78.8 per 100,000 residents
46. Malden
Average daily case rate: 77.7 per 100,000 residents
47. Fairhaven
Average daily case rate: 77.2 per 100,000 residents
48. Brockton
Average daily case rate: 75.4 per 100,000 residents
49. Randolph
Average daily case rate: 74.3 per 100,000 residents
50. Taunton
Average daily case rate: 73.7 per 100,000 residents
51. Swampscott
Average daily case rate: 73.4 per 100,000 residents
52. Milford
Average daily case rate: 71.8 per 100,000 residents
53. Webster
Average daily case rate: 71.1 per 100,000 residents
54. Wilbraham
Average daily case rate: 70.8 per 100,000 residents
55. Rochester
Average daily case rate: 70.5 per 100,000 residents
56. Braintree
Average daily case rate: 70.4 per 100,000 residents
57. Clinton
Average daily case rate: 70 per 100,000 residents
58. Gardner
Average daily case rate: 69.7 per 100,000 residents
59. Stoneham
Average daily case rate: 69.6 per 100,000 residents
60. Bridgewater
Average daily case rate: 69.1 per 100,000 residents
61. Groveland
Average daily case rate: 68.9 per 100,000 residents
62. Sutton
Average daily case rate: 67 per 100,000 residents
63. Billerica
Average daily case rate: 66.9 per 100,000 residents
64. Marion
Average daily case rate: 66.8 per 100,000 residents
65. Dighton
Average daily case rate: 66.7 per 100,000 residents
66. Abington
Average daily case rate: 66.6 per 100,000 residents
67. Hanson
Average daily case rate: 66.4 per 100,000 residents
68. Rehoboth
Average daily case rate: 66.3 per 100,000 residents
69. Raynham
Average daily case rate: 66.1 per 100,000 residents
70. Boylston
Average daily case rate: 65.2 per 100,000 residents
71. Chicopee
Average daily case rate: 64.9 per 100,000 residents
72. East Bridgewater
Average daily case rate: 64.8 per 100,000 residents
72. Rockland (tie)
Average daily case rate: 64.8 per 100,000 residents
74. Shrewsbury
Average daily case rate: 64.7 per 100,000 residents
75. Halifax
Average daily case rate: 64.5 per 100,000 residents
76. Lakeville
Average daily case rate: 64.1 per 100,000 residents
77. Dartmouth
Average daily case rate: 63.7 per 100,000 residents
77. Shirley (tie)
Average daily case rate: 63.7 per 100,000 residents
79. Westborough
Average daily case rate: 63.4 per 100,000 residents
80. Freetown
Average daily case rate: 63.1 per 100,000 residents
81. Attleboro
Average daily case rate: 63 per 100,000 residents
82. Norwood
Average daily case rate: 62.1 per 100,000 residents
83. Whitman
Average daily case rate: 61.6 per 100,000 residents
84. Mattapoisett
Average daily case rate: 61.1 per 100,000 residents
85. Wilmington
Average daily case rate: 60.7 per 100,000 residents
86. Topsfield
Average daily case rate: 60.6 per 100,000 residents
87. Princeton
Average daily case rate: 59.7 per 100,000 residents
88. Chelmsford
Average daily case rate: 59.6 per 100,000 residents
88. Stoughton (tie)
Average daily case rate: 59.6 per 100,000 residents
90. Holbrook
Average daily case rate: 59.2 per 100,000 residents
91. Hanover
Average daily case rate: 59.1 per 100,000 residents
91. Weymouth (tie)
Average daily case rate: 59.1 per 100,000 residents
93. Salisbury
Average daily case rate: 58.9 per 100,000 residents
94. Ayer
Average daily case rate: 58.2 per 100,000 residents
94. Melrose (tie)
Average daily case rate: 58.2 per 100,000 residents
96. Burlington
Average daily case rate: 57.8 per 100,000 residents
97. Mansfield
Average daily case rate: 57.7 per 100,000 residents
98. Westport
Average daily case rate: 57.6 per 100,000 residents
99. Spencer
Average daily case rate: 57.3 per 100,000 residents
100. Andover 
Average daily case rate: 57 per 100,000 residents
100. Charlton (tie)
Average daily case rate: 57 per 100,000 residents
100. West Springfield (tie)
Average daily case rate: 57 per 100,000 residents
103. North Attleborough
Average daily case rate: 56.5 per 100,000 residents
104. Wakefield
Average daily case rate: 56.4 per 100,000 residents
105. Newburyport
Average daily case rate: 56.3 per 100,000 residents
106. Paxton
Average daily case rate: 56.2 per 100,000 residents
107. Greenfield
Average daily case rate: 55.8 per 100,000 residents
108. Palmer 
Average daily case rate: 55.6 per 100,000 residents
109. Amesbury
Average daily case rate: 54.7 per 100,000 residents
110. North Reading
Average daily case rate: 54.5 per 100,000 residents
110.Norton (tie)
Average daily case rate: 54.5 per 100,000 residents
112. Edgartown
Average daily case rate: 54.2 per 100,000 residents
112. Quincy (tie)
Average daily case rate: 54.2 per 100,000 residents
114. Sterling
Average daily case rate: 53.6 per 100,000 residents
115. Lunenberg
Average daily case rate: 53.5 per 100,000 residents
116. Southampton
Average daily case rate: 53.4 per 100,000 residents
117. Boxford
Average daily case rate: 53.3 per 100,000 residents
117. Pittsfield (tie)
Average daily case rate: 53.3 per 100,000 residents
119. Mendon
Average daily case rate: 53.2 per 100,000 residents
120. Westminster
Average daily case rate: 52.7 per 100,000 residents
121. Rutland
Average daily case rate: 52.5 per 100,000 residents
122. Agawam
Average daily case rate: 52.4 per 100,000 residents
123. Rowley
Average daily case rate: 52 per 100,000 residents
124. Lenox
Average daily case rate: 51.7 per 100,000 residents
125. Grafton
Average daily case rate: 51.5 per 100,000 residents
126. Blackstone
Average daily case rate: 51.4 per 100,000 residents
126. Middleborough (tie)
Average daily case rate: 51.4 per 100,000 residents
128. Hudson
Average daily case rate: 51.2 per 100,000 residents
129. East Longmeadow
Average daily case rate: 50.8 per 100,000 residents
130. Brookfield
Average daily case rate: 50.4 per 100,000 residents
131. Wareham
Average daily case rate: 50.2 per 100,000 residents
132. West Newbury
Average daily case rate: 49.5 per 100,000 residents
133. Ashland
Average daily case rate: 48.9 per 100,000 residents
134. Medway
Average daily case rate: 48.7 per 100,000 residents
135. Deerfield
Average daily case rate: 48.4 per 100,000 residents
136. Oak Bluffs
Average daily case rate: 48 per 100,000 residents
137. Holden
Average daily case rate: 47.8 per 100,000 residents
138. Reading
Average daily case rate: 47.7 per 100,000 residents
139. Plainville
Average daily case rate: 47.3 per 100,000 residents
140. Merrimac
Average daily case rate: 47.2 per 100,000 residents
141. Athol
Average daily case rate: 46.5 per 100,000 residents
142. Dudley
Average daily case rate: 46.4 per 100,000 residents
143. Millis
Average daily case rate: 46.3 per 100,000 residents
143. Northbridge
Average daily case rate: 45.5 per 100,000 residents
145. Gloucester
Average daily case rate: 45.3 per 100,000 residents
146. Oxford
Average daily case rate: 44.7 per 100,000 residents
147. Tisbury
Average daily case rate: 44.5 per 100,000 residents
148. Marshfield
Average daily case rate: 44.4 per 100,000 residents
149. Waltham
Average daily case rate: 43.6 per 100,000 residents
150. Ipswich
Average daily case rate: 43.2 per 100,000 residents
151. Georgetown
Average daily case rate: 42.9 per 100,000 residents
152. West Boylston
Average daily case rate: 42.8 per 100,000 residents
153. Uxbridge
Average daily case rate: 42.6 per 100,000 residents
154. Littleton
Average daily case rate: 42.5 per 100,000 residents
155. Westford
Average daily case rate: 42.4 per 100,000 residents
156. Douglas
Average daily case rate: 42.2 per 100,000 residents
156. Walpole (tie)
Average daily case rate: 42.2 per 100,000 residents
158. Bellingham
Average daily case rate: 42 per 100,000 residents
159. Barnstable
Average daily case rate: 41.2 per 100,000 residents
160. Pembroke
Average daily case rate: 40.7 per 100,000 residents
161. Sturbridge
Average daily case rate: 40.5 per 100,000 residents
162. Easton
Average daily case rate: 40 per 100,000 residents
162. Newbury (tie)
Average daily case rate: 40 per 100,000 residents
164. Ashburnham
Average daily case rate: 39.8 per 100,000 residents
165. Montague
Average daily case rate: 38.9 per 100,000 residents
166. Plymouth
Average daily case rate: 38.6 per 100,000 residents
167. Becket
Average daily case rate: 38.5 per 100,000 residents
168. Westfield
Average daily case rate: 38.2 per 100,000 residents
169. Yarmouth
Average daily case rate: 38 per 100,000 residents
170. Southborough
Average daily case rate: 37.7 per 100,000 residents
171. Carver
Average daily case rate: 37.3 per 100,000 residents
172. Pepperell
Average daily case rate: 36.6 per 100,000 residents
173. Lee
Average daily case rate: 35.5 per 100,000 residents
174. Winchendon
Average daily case rat: 35.2 per 100,000 residents
175. Townsend
Average daily case rate: 34.5 per 100,000 residents
176. Lancaster
Average daily case rate: 33.3 per 100,000 residents
177. Franklin
Average daily case rate: 31.6 per 100,000 residents
177. Granby (tie)
Average daily case rate: 31.6 per 100,000 residents
179. Southwick
Average daily case rate: 31.3 per 100,000 residents
180. Monson
Average daily case rate: 29.8 per 100,000 residents
181. Great Barrington
Average daily case rate: 28.7 per 100,000 residents
182. Templeton
Average daily case rate: 27.7 per 100,000 residents
183. Cohasset
Average daily case rate: 27.2 per 100,000 residents
184.Adams
Average daily case rate: 26 per 100,000 residents
185. Hull
Average daily case rate: 24.8 per 100,000 residents
186. Orange
Average daily case rate: 22.9 per 100,000 residents
187. Brewster
Average daily case rate: 18.7 per 100,000 residents
Here's all of the state's weekly individual community data: