Coronavirus
Where to go as Boston-area food pantries turn people away, and how to help donate
Locals lined up before this week's snowstorm to stock up on meals, but many were too late.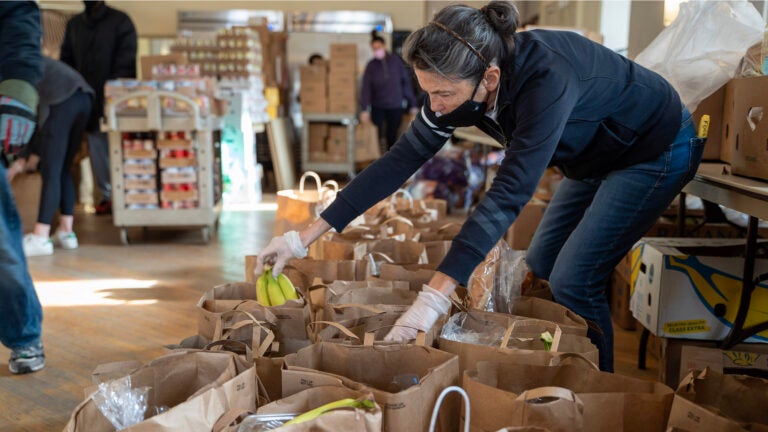 Ahead of this week's nor'easter, locals gathered at food pantries to stock up on meals for the storm, yet after supplies ran dry many were turned away and were forced to spend money they don't have at neighboring grocery stores.  
La Collaborativa, a food pantry in Chelsea, began handing out groceries before the storm on Wednesday, but within two hours, nearly 1,000 boxes of food were all gone, Boston 25 News reported. 
Those who were turned away, the station reported, ended up forming a line at the nearby Chelsea Market Basket that wrapped around the front of the store. 
Dozens of families were turned away at the food pantry in #Chelsea today, ahead of the storm.

They were forced to go grocery shopping.

For one family "I barely have money for rent/bills. Now, I have to buy groceries for my family of 7."

It's 💲they don't have. 💔@boston25 pic.twitter.com/STc14oIBaS

— Malini Basu (@MaliniBasu_) December 17, 2020
With the snowstorm across the state making it even harder for families that are already struggling to get food amid the coronavirus pandemic, detailed below are some resources for those in need and tips for those looking to help. 
The First Baptist Church in Jamaica Plain preemptively cancelled its normal Thursday food bank pickup due to the winter storm and is instead calling on residents of the area to donate an array of food items to fill grocery boxes that will go to roughly 300 families this weekend. 
"It is crucial we are still able to get groceries out this weekend as our delivery operation will be closed down next week because of the holidays," officials wrote in a Facebook post. 
The pantry is specifically in need of tomato sauce, shelf stable milk, dried beans, apples, oranges, bananas, sweet potatoes, fresh green veggies, canned soup, and bread. Donations can be dropped off at the First Church on 6 Eliot St. anytime between 9 a.m. and 5 p.m. Friday.
Boston.com has also compiled a running list of food banks and pantry locations in need of donations as food insecurity rises during the pandemic. 
At 366 Centre St. in Jamaica Plain, residents have set up a community fridge that's both in need of donations and open for people to take from. Similar community fridges are posted around the Boston area, with one in Somerville at 35 Prospect St., and another at 1 N Beacon St. in Allston.  
An updating list of where to go for food closets, food banks, soup kitchens, and food boxes across Boston can also be found here.