COVID
Charlie Baker announces new restrictions on businesses and gatherings due to concerns about holiday-linked COVID-19 surge
"The intent of these restrictions will be to pause activity and reduce mobility ... without closing our schools or our businesses."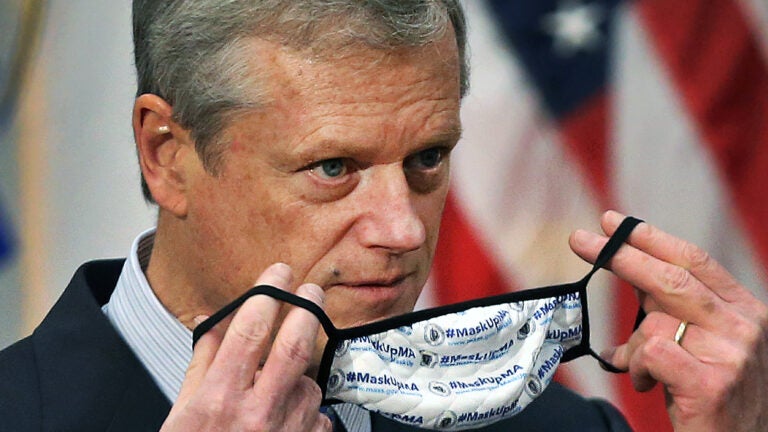 Massachusetts Gov. Charlie Baker isn't reimposing any additional business shutdowns in response to the recent increase in COVID-19 cases.
But he is implementing several new restrictions this weekend.
During a press conference Tuesday afternoon, Baker announced that capacity limits will be reduced to 25 percent for a range of sectors, including offices and restaurants. Statewide gathering limits — both for private residences and public spaces — will also be reduced to 25 people outside and to 10 people inside, the governor said.
The new rules — which add to the state's nighttime stay-at-home advisory and mask mandate — will take effect this Saturday, Dec. 26, and remain in place for at least two weeks.
"Together, the intent of these restrictions will be to pause activity and reduce mobility, so we can reduce the spread of the virus, without closing our schools or our businesses," Baker said.
The new capacity limits  — which come on top of existing sector-specific safety rules — apply to offices, restaurants, retail businesses, grocery stores, places of worship, gyms, movie theaters, casinos, close contact personal services, libraries, arcades, hotel common areas, and driving and flight schools.
Currently, most of those industries are subject to a statewide 40 percent capacity limit. However, it's the first time Massachusetts has imposed percentage-based occupancy limits on restaurants, which were previously only subject to social distancing rules and table limits.
According to the administration, workers and staff will not count towards the occupancy count for restaurants, places of worship, close contact personal services, and retail businesses — including grocery stores.
During the press conference, Baker alluded to research showing that "significantly" reducing occupancy maximum to encourage distancing can effectively limit transmission of the virus. But he also said the new limits are also meant to send a message ahead of the upcoming holidays, which officials fear could exacerbate already-high levels of COVID-19 infections and hospitalizations.
"We would like to see people spend the next couple of weeks — between Christmas to the week after New Year's — with, as regularly as they possibly can, just with those they live with," he said.
Additionally, the new statewide gathering limits — which, until Saturday, allow public gatherings at large as 25 people indoors and 50 people outdoors — means that all gatherings will be subject to the same standards, whether they're at an event venue or a private home (private gathering were already subject to a 25-person outdoor maximum and a 10-person indoor limit).
Marylou Sudders, the state's health and human services secretary, also announced Tuesday that — beginning Saturday — hospitals must postpone or cancel all non-emergency elective procedures, "unless postponement would lead to high risk or significant clinical decline of an individual's health."
"To be clear, we are not shutting down healthcare," Sudders said. "Ambulatory, outpatient treatment, preventive procedures — including mammograms, pediatric appointments, radiology, cancer screenings — are not impacted. Inpatient and emergency services remain open."
Along with the new restrictions, Baker said the administration plans to announce a new state relief funding Wednesday aimed at small businesses that will be "most negatively affected by these decisions."
"The hope is to deliver funding that meets this moment, is tailored to our local needs, and that compliments recent federal action," Mike Kennealy, the state's housing and economic development secretary, said Tuesday.
The new rules comes after Baker hinted Monday that the state was considering additional steps to prevent the spread of COVID-19, in anticipation of another holiday-induced coronavirus surge. While the Republican governor has repeatedly blamed the recent increase in cases and hospitalizations on private gatherings, he has faced increasingly vocal calls to reimpose shutdown orders on restaurants, gyms, and other indoor settings where the risk of transmission is highest.
Earlier this month, Baker ordered the entire state to roll back to the first step of Phase 3 of the reopening process — effectively closing a limited number of indoor recreational venues and reducing capacity limits for many businesses — and issued tighter face covering restrictions for restaurants, gyms, and offices. The administration also announced the Massachusetts health care system will limit some elective procedures, with hospitals across the state at roughly 80 percent capacity.
In the wake of the post-Thanksgiving increase in cases, the state released guidance last week for the December holidays, urging residents to avoid gatherings with people outside their immediate household.
"We're basically begging everyone to stay within their immediate household over the course of this holiday season," Baker said Monday, arguing that "what we all choose to do as individuals will have as big an impact on this as anything that we can do as a commonwealth."
Baker also said Tuesday that even a limited business shutdown order — as other states have imposed this fall — would require "shutting all kinds of things down that are that hard to start up again" for individual businesses."
"This is deemed to be a temporary move to deal with a very particular and very specific issue associated with what would be the typical approach that most people would take to that period between Christmas and New Year's, and we'll see where the data is and what it says with respect to whether it goes longer than this," he said.
Still, the reluctance to reimpose more aggressive restrictions on businesses, as well protections for individuals, amid rising hospitalizations — that even Baker says could threaten to overwhelm the local health care system — has been subject to increasing criticism.
"The most recent action from the administration is grossly insufficient, allowing high-risk activities such as indoor dining to continue even as the state opens field hospitals and tells sick residents to delay needed medical treatments," read a open letter this week signed by more than 200 lawmakers and health care professionals.
"The governor and the legislature have also failed to take steps to ensure all residents are able to follow the state's public health guidance, such as passing comprehensive housing stability legislation, paid emergency sick leave, and providing support to small businesses and employees impacted by COVID-19 related closures," the letter added.
Massachusetts reported 3,760 new COVID-19 cases and 41 new deaths due to the disease Monday, as the number of hospitalizations in the state ticks up toward 2,000.
Just nine days after the statewide reopening rollback took effect, Baker said Tuesday that "nothing really changed my mind"
"I just pay attention to the data," he said, adding that the initial nighttime stay-at-home advisory and mask mandate announced in early November had an effect on rising cases earlier this fall — before the post-Thanksgiving increase hit.
Baker did acknowledge that his office has usually waited for three weeks of data before making additional decisions. And while the post-Thanksgiving uptick in infections also appears to have leveled off, Baker said they wanted to get ahead of a December repeat.
"The holidays are upon us," Baker said. "And I think, from our point of view, the look in the rearview mirror at the impact that Thanksgiving had made it important for us to put a message out and some guidance changes out prior to the arrival of the next holiday break."
Baker also acknowledged that the new capacity limits on places of worship — which he has cited as a transmission concern — won't take place until after the holiday, meaning the current restrictions will be in place for Christmas Eve. But he indicated that decision was intentional.
"Honestly, the main reason we picked the day after Christmas, instead of the day before Christmas, was we know that many people, hopefully, will participate in a faith service of some kind, safely, on Christmas Eve or Christmas Day," Baker said. "Now it's perfectly possible to do that safely, and we would hope people would follow the rules."