COVID
Bobby Kennedy, Jr.'s niece, a NY doctor, is speaking out against his COVID vaccine misinformation
"As a doctor, and as a member of the Kennedy family, I feel I must use whatever small platform I have to state a few things unequivocally."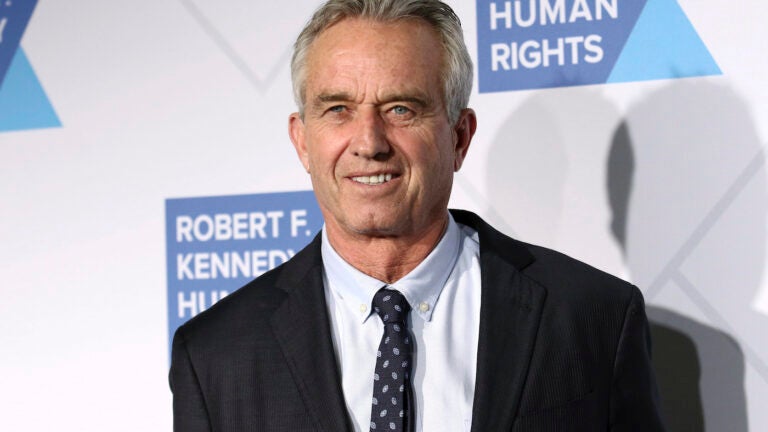 The niece of Robert F. Kennedy, Jr. is speaking out against the longtime anti-vaccination activist, who has raised doubt and misinformation surrounding the new COVID-19 vaccines.
In an opinion piece published Wednesday by The New York Times, Dr. Kerry Kennedy Meltzer, an internal medicine resident physician at NewYork-Presbyterian Hospital, wrote that her uncle is sharing incorrect information about the vaccines now being administered across the country.
"As a doctor, and as a member of the Kennedy family, I feel I must use whatever small platform I have to state a few things unequivocally," Kennedy Meltzer, the daughter of Kathleen Kennedy Townsend, the sister of Robert F. Kennedy, Jr., wrote. "I love my uncle Bobby. I admire him for many reasons, chief among them his decades-long fight for a cleaner environment. But when it comes to vaccines, he is wrong."
The elder Kennedy, son and namesake of the former U.S. Attorney General Robert F. Kennedy, since at least 2005 has staunchly advocated a debunked theory that vaccines cause autism and other health conditions. Kennedy is the chairman of the Children's Health Defense — previously named the World Mercury Project — a nonprofit organization that promotes anti-vaccine activism.
As the COVID-19 vaccines have started rolling out this month, Kennedy has expressed views that the shots have not been thoroughly tested.
In her piece Kennedy Meltzer highlighted a Dec. 17 Facebook post by her uncle: "We clearly have a systematic problem when government health regulators have utterly abdicated their responsibility to safeguard public health and refer safety concerns about shoddily tested, zero-liability vaccines to pharmaceutical companies."
Both the vaccine developed by Pfizer and BioNTech and the one created by Cambridge-based Moderna, Inc. were granted emergency use authorization by the Food and Drug Administration following clinical trials, during which over 20,000 and 15,000 participants received the two vaccines, respectively. Both of them concluded the two vaccines are safe.
Kennedy Meltzer wrote her uncle's concern "that the COVID vaccine is potentially unsafe, and hasn't been properly tested … is widespread, and dangerously wrong."
"According to a report published by the Kaiser Family Foundation on Dec. 15, roughly a quarter of Americans say they 'probably or definitely would not get a COVID-19 vaccine even if it were available for free and deemed safe by scientists,'" Kennedy Meltzer wrote. "If this number holds, then Dr. Anthony Fauci's estimate that at least 75 percent of Americans must be vaccinated for the country to achieve herd immunity, and effectively end person-to-person spread of the disease, could be unachievable."
Kennedy Meltzer sees this trend among her own patients, she wrote.
"I recognize, with some trepidation, that people may wonder why I feel I need to speak out publicly about vaccines and against my uncle," she wrote. "The truth is, his name and platform mean that his views carry weight. After three hours, his Facebook post accusing government regulators of abdicating their responsibility to protect the public had 4,700 reactions, 2,300 shares and 641 comments."
The post, Kennedy Meltzer wrote, linked a story from a "dubious source — a website aligned with the Children's Health Defense organization that publishes conspiratorially tinged stories on 'Big Pharma' and 'Big Food.'" But the premise within it was accurate: that two health care workers in the United States suffered allergic reactions to the COVID-19 vaccine, she added.
"As of today, more than 2.1 million people in the United States have been vaccinated and only 11 have reported a serious allergic reaction," Kennedy Meltzer wrote. "In comparison, a recent study showed 11 percent of all Americans have a food allergy and one quarter of them have been given an epinephrine prescription.
"This is normal, and no cause for alarm," she continued. "Serious side effects of the COVID vaccine have been extraordinarily rare, but health care providers are aware of them, and are responding appropriately by monitoring vaccine recipients, especially those who have a history of allergies."
Kennedy Meltzer's piece is not the first time Kennedy's anti-vaccination views have been publicly denounced by his relatives. Last year, Kennedy Townsend — the former lieutenant governor of Maryland — former Massachusetts U.S. Rep. Joseph P. Kennedy II, and the late Maeve Kennedy McKean, of Georgetown University's Global Health Initiatives, penned a Politico op-ed urging the public not to listen to him as the number of reported measles cases soared to its highest point in decades.
"These tragic numbers are caused by the growing fear and mistrust of vaccines — amplified by internet doomsayers," the trio wrote at the time. "Robert F. Kennedy Jr. — Joe and Kathleen's brother and Maeve's uncle — is part of this campaign to attack the institutions committed to reducing the tragedy of preventable infectious diseases. He has helped to spread dangerous misinformation over social media and is complicit in sowing distrust of the science behind vaccines."
In her piece, Kennedy Meltzer, who has received the coronavirus vaccine, also reflected on her experience caring for patients as COVID-19 surged in New York City last spring.
"There were times when I called my patients' family members, and told them that their loved ones couldn't talk because they needed an emergent breathing tube," she wrote. "I reached out over FaceTime to some of the same families when it was time to say goodbye to their loved ones."
As cases continue to rise again, Kennedy Meltzer argues that the "vaccine is our best opportunity to save lives."
"When the vaccine is offered to you, I urge you to take it," she wrote. "Do it for yourself, for your family and for your friends. Do it for your country."